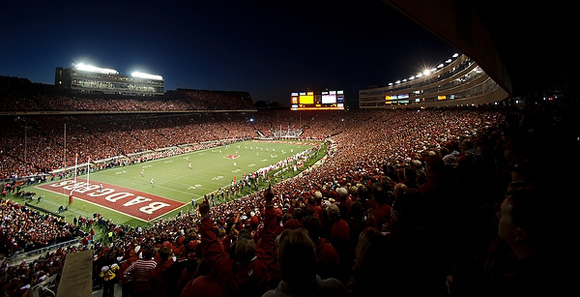 It's easy to strike up a conversation about Ohio State's football schedule when the Buckeyes have "Michigan" printed for late November. The annual clash of college football titans is regarded as one of the greatest rivalries in all of sports. It's a throw-the-records-out type of game that is competitive and physical on an almost yearly basis.
Trips to Ann Arbor are especially treacherous for Ohio State. But that isn't until the 12th game. Before that, the Buckeyes must navigate a relatively light course. All it takes is one slip-up, though. It only takes one glance at the past, oh, 143 seasons to understand the difficulty of traversing a full schedule unscathed. Even in victory, last season's Purdue game was a perfect example.
When Ohio State finished 12-0 last year, chatter about a national championship haltered fairly quickly due to the Buckeyes' strength of schedule. It could be a detriment again in a season Ohio State is eligible for the postseason. A September trip to California will not present the Buckeyes with an easy victory, as the Golden Bears showed in Columbus last year. Cal has a new, up-tempo offense this season and the first road test is never relaxed. But where the slate got tougher was the announcement of a night game at Northwestern.
Some may scoff at that assessment. Sure, the Wildcats don't bring the cache that conference opponents in the SEC bring, but this isn't your father's Northwestern. Pat Fitzgerald, the hero of the mid-90s resurgence, which included the improbable Rose Bowl run in 1995, has quietly built a budding Big Ten power on the shores of Lake Michigan – not that Ohio State has noticed. It's been four years since the two schools played.
The Wildcats won their first bowl game since the 1949 Rose Bowl with a New Year's Day win over Mississippi State last season. They also finished with 10 wins and the three losses came by a combined 19 points. With a bulk of the offense returning, Northwestern is thinking Legends Division championship in 2013.
Kain Colter and Venric Mark might not be household names, but they have the ability to be one of the most dynamic quarterback-running back tandems in the conference. Mark is one of the top players in the country that few have heard of. He finished 2012 as the Big Ten's third-leading rusher with 1,366 rushing yards – six yards per carry – and 12 touchdowns.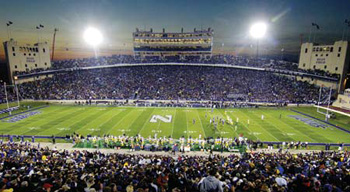 An almost entirely new front seven could have difficulty with the mobility of Colter and Mark. Colter also has the services of five-star wide receiver Kyle Prater. The game is still early enough in the season that cohesion could be an issue for the Silver Bullets.
Ryan Field will never be confused for Ohio Stadium. And scarlet and gray will be scattered throughout the 47,000-seat venue, but that doesn't diminish the fact that Ohio State has a history of struggling at Northwestern at night.
Games played under Musco lights and a moonlit sky on the road are generally tougher. That's a fact in college football. The Buckeyes are well aware, falling victim at Penn State, Wisconsin and Northwestern in the past 10 years. They've even lost three home night games during that same span.
What were once viewed as novelty games have turned into the norm. Fans have embraced night games and TV networks drool when the ratings come back. Coaches do their own salivating because of the free advertising for recruiting purposes.
"I do think our schools understand and recognize just how special that big stage can be on Saturday night," Big Ten Senior Associate Commissioner Mark Rudner said last week.
As recently as 15 years ago, not every Ohio State game was televised live. That era, even for Louisiana-Monroe, is gone.
"People view a night game as more of an event," Tom Schott, Purdue associate athletic director for communications, said to the Lafayette Journal and Courier last week. "There's something unique about a night game that makes it more special. There's prime time television to show off your program. It's an event for people coming to the game and it's exposure for people watching it on TV."
During Ohio State's national championship season of 2002, the theme of close victories was established early on with a miracle win at Cincinnati. Next in line was Northwestern. The Wildcats would finish the season 3-9 overall and just 1-7 in the Big Ten. But in October when the Buckeyes came to town, they didn't appear to be a lost team.
The game is most remembered for Maurice Clarett's Jekyll and Hyde performance. He had 140 rushing yards and two touchdowns, but also fumbled three times and was seen arguing with running backs coach Tim Spencer. Ohio State won, 27-16.
Two years later was a different story. The Buckeyes would not leave victorious, the first time in 25 games against Northwestern. Ohio State entered the game undefeated and ranked seventh in the nation. The 33-27 overtime loss sent the Buckeyes into a tailspin that included three consecutive losses, dooming a once promising season.
Night games have that potential. Ohio State is 30-13 all-time, impressive when the pitfalls are considered. But in recent years, road games at night have doubled as haunted houses. 
The Buckeyes bid a national title adieu in Madison during the 2010 season after a crushing loss, while the next season included blowing a 21-point second-half lead at Nebraska.
Urban Meyer hopes 2013 resembles a fun house.