It's been my experience that there are few fan bases that have fans as committed and as thoroughly excellent as Ohio State fans. They are a dedicated bunch indeed, supportive of the program through the ups and downs and always willing to show up and cheer on their eleven warriors, brave and bold.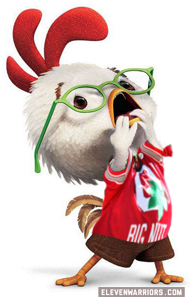 It is that commitment to the Buckeyes that no doubt drives their refusal to settle for any hint of mediocrity within the school's large – and often in charge – athletic department. Coaches with historical winning percentages, responsible for rebuilding and maintaining the nation's elite sports programs, are often discarded and replaced by the "next" great coach, and so on and so forth. 
For Buckeye fans, it's been a fairly pleasant ride the last 15 years or so. The football program has remained in the national spotlight – albeit with a few bumps in the road – and the lure of playing football at Ohio State has not worn off for most of Ohio's best and a good number of the country's finest athletes who recognize a chance to play at Ohio State as rare and special.
CAN YOU WIN WITH MEDIOCRE RECRUITING?
From 2002–11, Ohio State – despite a historic 10-year stretch that saw a 105-25 record – struggled (for the most part) to land nationally lauded recruiting classes.
In fact, during that 10-year run, only three times did Jim Tressel put together a Rivals.com Top 10 recruiting class at Ohio State. His average finish? Just 14.4, and only three classes (2002, 2008, and 2009) finished in the top 10 of Rivals rankings.
One area that saw the Buckeyes struggle mightily in recruiting was the offensive line, an area that Tressel seemed to allow his offensive line coach, Jim Bollman, to recruit as he saw fit. The normally hands-on and micromanaging Tressel must've turned a blind eye to Bollman's recruiting, because there's no other explanation for how it could have produced such lackluster results.
Ohio State's 2006–11 recruiting classes (six classes' worth) were especially frustrating for Buckeyes fans. During that span, Bollman and Tressel accepted commitments from 15 offensive linemen, 2.5 per year. While players like Mike Brewster, Mike Adams, JB Shugarts and Bryant Browning played a lot of games for the Buckeyes, many players like Connor Smith, Evan Blankenship, Tommy Brown, Chris Carter (since moved to defense) and Antonio Underwood (now redshirting with a torn ACL) never made – or have yet to make – an impact on the program. 
When Jim Tressel was ignominiously dismissed following a scandal-laden 2011 winter, it was with great trepidation that Buckeye fans from across the globe waited for the announcement of their new leader. That announcement came in November of 2011 and with the name "Urban Meyer" came expectations even higher than the lofty standards that became synonymous with Buckeye football under his predecessor. 
Meyer quickly got to work on the recruiting trail – with a focus on the pressing need along the offensive line – and he and his staff were able to sway Ohio's two top offensive linemen, Taylor Decker and Kyle Dodson, from commitments they'd made to Notre Dame and Wisconsin, respectively. They also lured Joey O'Connor, a Penn State commitment, to Columbus.
Something funny happened along the way though: Michigan and Notre Dame, the biggest regional rivals Ohio State is forced to contend with, didn't bow down and kiss the (two) ring(s) upon the hands on the newly anointed king of Midwest recruiting. Rather, they amped up their assault and went to work harder than ever before, fighting the Buckeyes tooth and nail for a number of big-time talents over the last two recruiting cycles, and up to now it's been a good fight.
Brady Hoke and Brian Kelly have re-energized their schools with a return to the basics, promoting family atmospheres and quality educations at schools steeped in tradition and historical success. That seems to have played well to the players they've approached, some of which might find the in-your-face, almost maniacal pace at which the Buckeyes operate on a daily basis – combined with the big-city atmosphere of Columbus – to be too much. Offensive linemen are big, cerebral and protective by nature; many of them come from the smaller towns around the country and from Catholic school powerhouses, so it's not hard to see where "what they are selling" at Notre Dame and Michigan plays well.
Notre Dame went toe-to-toe with Urban and his staff for Hunter Bivin, Colin McGovern and John Montelus in the 2013 class and bested the Buckeyes on each count, and started off the 2014 class with Ohio native Jimmy Byrne, who picked the Irish over Ohio State and Michigan. This past week saw New Jersey's Quenton Nelson, a primary target for Kyle Trout and the other Buckeye commits, choose the Irish as well. Is it their top-flight business school, small-town atmosphere and religious backdrop that have given the Irish the edge despite inconsistencies on the field? After a trip to the national title game a year ago, it stands to reason that it will be even more difficult to beat Notre Dame for this type of player, as the on-the-field success can now stack up comparably to the school's reputation.
Michigan's "big guy" recruiting suffered "big time" under Rich Rodriguez as he attempted to overhaul a roster full of maulers and road graders with undersized prospects that could run his style of offense. That didn't work and Brady Hoke and offensive coordinator Al Borges jumped the shark trying to right the ship. In their 2013 recruiting class, Michigan signed seven offensive linemen (Ohio State's 2006, 2007 and 2008 class totaled six), which had many people wondering if Hoke was aware that other positions existed. While Buckeyes were quick to point out the Wolverines' need for this many OL considering the defensive line talent Urban Meyer was bringing in, there was no denying the fact that Michigan kicked Ohio State's butt head-to-head. David Dawson, Chris Fox, and Logan Tulley-Tillman all spurned the Buckeyes for the Sun and Blue. Mason Cole, a top 2014 lineman from Tarpon Springs (Fla.), also chose Michigan over the Buckeyes early in this recruiting cycle. 
URBAN MEYER'S HISTORY
If you look at Urban Meyer's history, there's no doubt that he values offensive linemen.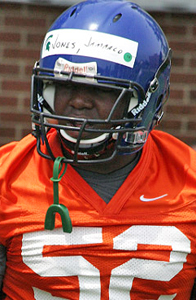 From 2006–10, the recruiting classes that finished with Meyer at the helm for Florida, he signed 17 of them, six more than the Buckeyes did in that same span. He signed them from Florida, Georgia, North Carolina, Kentucky, Indiana and Illinois. In two months he added three four-star offensive linemen to his first class at Ohio State and two a year ago, despite the beatdown he took from Notre Dame and Michigan, in Centerville's Evan Lisle and Timothy Gardner from Indianapolis.
This year, with Kyle Trout and Marcelys Jones – who was just named the OL MVP at Rivals.com camp series in Pittsburgh – have gotten the Buckeyes off to a good start along the line, and Meyer and OL coach Ed Warinner are all over the map trying to land potentially three more. As a rule, this is not a staff that reaches for a player to hit a number, so Buckeye fans should rest assured that the players recruited will be players that can play at Ohio State, or they won't be recruited, period.
Whether it's Jamarco Jones, Braden Smith, Damian Prince, Alex Bookser, Nick Richardson, Alex Dalton, Frank Ragnow or some unknown commodity from the high school level who blows the coaches away, or Jermaine Eluemunor or Chad Mavety from the JUCO ranks, Urban Meyer and his staff are going to find five offensive linemen who they believe in and who can play at Ohio State.
So, relax. It's all going to be ok.