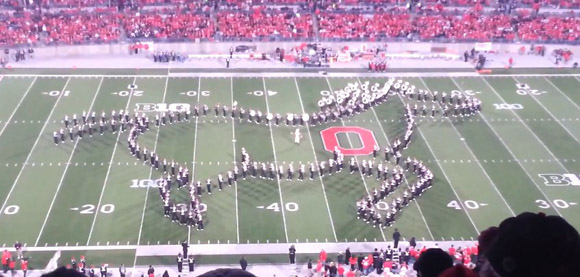 From the moment an Ohio Stadium-record crowd of 106,102 roared for three hours, thirty-three minutes on Oct. 6 as Ohio State tallied 63 points on the Nebraska Cornhuskers, Urban Meyer has been smitten.
Few coaches crave winning more than Meyer. But it wasn't the win that left him so thrilled last October. It was the night game atmosphere that energized the Buckeyes and left recruits longing to be at Ohio State.
The impact was immediate and lasting. Meyer made a call to action to athletic director Gene Smith and the rest of the Big Ten: more night games and pick up the recruiting effort.
Meyer got No. 1 in the form of two home night games for 2013 – Wisconsin on Sept. 28 and Penn State on Oct. 26, both at 8 p.m. – the first time in history the Buckeyes have played two games under the lights at the Horseshoe in the same season. Ohio State will travel to Northwestern for an Oct. 5 night game, and there's a possibility the Sept. 14 trip to Cal could be a late kickoff.
There was some trepidation from fans in the beginning. Ohio State is a program that thrives on tradition and night games, while welcomed and anticipated, are still considered a novelty. But in an era of constant change in college athletics, games played under the lights of college football's cathedrals have become commonplace.
"I love tradition, but I love recruiting better," Meyer said in February. "Recruiting is really important in the game of college football. Like, really important. More important than anything else. You get my point? The electric atmospheres we experienced at Penn State – I don't want to use the term 'SECish', but that was as good as there is.
"Our atmosphere for Nebraska was as good as I've ever been around. There were others that were OK. But we don't have time to be OK. There's not much time. Every time you have an OK game, you're not being great. We're fighting for some things to make that."
"I love tradition, but I love recruiting better."
It's all about keeping up with the Joneses, and in this case that's the SEC, winners of the past seven national championships. The conference, located in the Sun Belt, hosts many of its biggest games at night in primetime. The games attract legions of fans, millions of eyeballs and the nation's best recruits. Ohio State has discovered the same formula, but the Buckeyes have only played 12 home night games in the nearly 100-year history of Ohio Stadium. 
Smith found Meyer's comments and challenges refreshingly candid. Some of his Big Ten counterparts disagreed, but portions of Meyer's words were misconstrued and seen as taking a shot at the conference. That wasn't his point. He's coached in the SEC, taken a program to unprecedented heights and knows exactly what it takes to reach the mountaintop again: recruits.
On-field play against the SEC proves all anyone needs to know. But if there was any inkling of doubt about the gap between the two conferences, the past week's NFL Draft served as a final verdict.
"Well, (recruiting is) not only important, it's essential," Meyer said on 97.1 The Fan. "It has to happen. And I don't know enough about what goes on in the other programs. I know I have a lot of respect for the tradition and their historical success they've had, but we do need to, as a conference, keep pushing that envelope to be better.
"When you see 11 of the SEC teams are in the Top 25 in recruiting, that's something we need to continue to work on and improve."
It's easy to see why Meyer is so hyped up about recruiting. After all, it is the lifeblood of the sport. And like all relationships, first impressions make an enduring impact. When a recruit walks into Ohio Stadium, coaches want him to remember the buzz, the noise and the support.
There was a time not so long ago when fear accompanied night games. Ohio State fans developed a harsh attitude and the reputation latched on to the entire fan base. But those days have since passed.
"I was very pleased that we progressed as an institution where we could do night games," Smith said. "If you remember back to the Texas game (in 2005), there was a lot of trepidation and concern. But we've progressed where I'm very comfortable that we can manage night games."
Smith's concerns now lie with the players. Multiple road night games, which the Buckeyes have experienced multiple years, leads to middle of the night arrivals back in Columbus.
"That's not just a competitive disadvantage but also a student-athlete welfare issue," Smith said. "So we need to have two at home and one on the road as opposed to suffering the other side of that. That was my impetus, Urban's was recruiting. I agree with that. Our effort is to have a couple night games at home and one on the road, unless we change our television contract. We might look at November night games. But right now I'm very comfortable with having two at home and one on the road."
When Maryland and Rutgers enter the Big Ten in 2014, there could be an even bigger influx of night games for the conference. That could include games in November, most notably Ohio State-Michigan.
The Big Ten has indicated that it is open to allowing November night games, something the league has been reluctant to do for years. None were scheduled for the upcoming season, but when they become reality, 'The Game' will be at the top of the list.
Ohio State's six noon games last season did not make Meyer a believer in the early starts, though the Buckeyes did have one of the top recruiting classes. The mood on the banks of the Olentangy was drab, vigor nearly nonexistent inside the venerable stadium.
"As much respect as I have for the traditionalists, I want the 18-year-old to walk out of that stadium and go 'Whoa. I've gotta be there,'" Meyer said. "I don't want them to have to get up at 4 in the morning every time and drive to come to our games. We're going to push for that. You can fight and say you want to do (something else), that's fine.
"Recruiting, recruiting, recruiting. Then you know what's most important after recruiting? Recruiting."