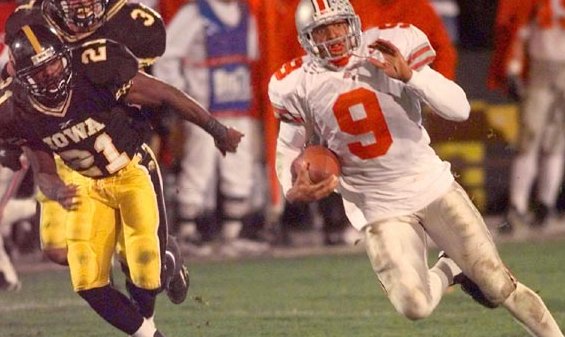 On the way to seven national titles, 34 B1G championships, and the sixth-most wins in college football history (837), Ohio State fans have seen literally dozens of truly special single-season offensive performances turned in by Buckeye greats.
Reflecting on some of those special performances during a hops-fueled debate a few weeks back, myself and a couple buddies were trying to determine exactly which Buckeye of the modern era (loosely defined as 1970 to today) indeed had the most dominant offensive season.
As you're no doubt aware from your own friendly debates, comparing players across different eras, and even worse, trying to compare a quarterback's single-season greatness to a running back's domination to a receiver's majestic season is an exercise in futility.
Last week, in an effort to identify, by skill position, exactly which Buckeye greats had the most transcendent single-season offensive performance, I took a look at the running backs and my unscientific evaluation determined Eddie George's 1995 Heisman campaign was the single-greatest individual season for a ball carrier, nudging the sensational 1984 exploits of Keith Byars by a nose of the football. 
Today, the wide receivers are on the clock, and next week I'll finish up with the quarterbacks. 
With only four receivers in the history of Ohio State putting up at least 1,000 receiving yards in a single season, it was pretty easy to whittle the group to a final four of David Boston 1998, Terry Glenn 1995, Cris Carter 1986 and Michael Jenkins 2002. 
Jenkins was a big-play machine during the magical championship season of 2002. Beyond the clutch plays, his efforts that year produced the fifth-most receptions and fourth-most yards in school history. Remarkably, that wasn't enough to be a finalist.
Carter was as acrobatic and as sure-handed as they come and at the time, his '86 campaign was unquestionably the finest season a wide receiver had produced to that point. Becoming the first first-team All-American split-end in the history of Ohio State, Carter tallied what still stands as the third-most receptions in a season with 69 and receiving yards with 1,127. He put up five 100-yard games and his 11 touchdown catches are still good for fourth-most in a single-season in Columbus.
Despite their clutch play and gaudy stats, I still can't rank Jenkins in '02 as any higher than fourth and though Carter became the scarlet-standard for future OSU receivers and eventually became one the top two or three receivers in the history of the NFL, his '86 season still falls short of the spectacular seasons turned in by Boston in '98 and Glenn in '95.
With that, let's examine the incredible years turned in by Boston and Glenn and try to decipher which one truly put up the most dominant single season in the history of Ohio State football.
A walk-on out of Brookhaven High School, Terry Glenn didn't appear destined for stardom. After a redshirt freshman season, Glenn totaled just 15 receptions in 20 games spanning the next two seasons, making his breakout '95 campaign all the more unbelievable.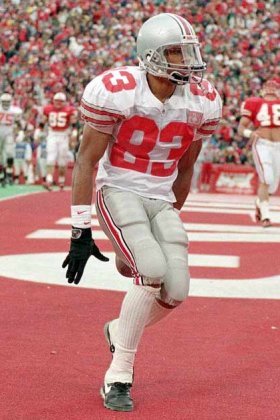 With Bobby Hoying at the controls and Eddie in the backfield, the team wasn't exactly loaded at wideout with Glenn and Buster Tillman tabbed to handle the bulk of the load at wideout. Guys like Dimitrious Stanley and Dee Miller were on the roster but not ready to be factors, meaning TE Rickey Dudley and George out of the backfield would be counted on to supplement the passing game. 
Glenn gave fans just a small taste of his big-play ability in a season-opening win over Boston College as he hauled in a 46-yard reception to set up a score and threw a block on Shawn Springs' sick 97-yard kickoff return, taking out two would-be tacklers, to spring the play. 
After grabbing a touchdown catch in a big win over Washington the following week, Glenn seized the spotlight in a 54-14 dismantling of the Pitt Panthers. 
In a record-setting day that saw Ohio State quarterbacks pass for a combined seven touchdowns, Glenn was the prime benefactor as he set the school record with a ridiculous 253 yards receiving, on nine catches, tying the school record for touchdown receptions in a game (4) in the process. With Eddie doing damage on the ground and Glenn through the air, the Buckeyes had two players now in the Heisman conversation.  
Glenn would again put his big-play ability on display the following week as the Buckeyes took Notre Dame behind the woodshed, 45-26. 
Ohio State struggled early, trailing 10-0, before Glenn hauled in a 10-yard slant to put OSU on the board. Later, after Notre Dame was forced to punt after a Dudley touchdown catch gave Ohio State a slim 21-20 lead, Glenn made arguably the play of the game. 
Running a 10-yard hitch from the OSU 18-yard line, Glenn snagged a Hoying toss and split two defenders, including alleged speedster Allen Rossum, and raced untouched down the middle of the field for an 82-yard touchdown and a 28-20 Buckeye lead. For the game, Glenn totaled 128 yards on just four catches, good for a 32-yard average. 
Continuing a brutal scheduling stretch, the Buckeyes invaded Happy Valley and Glenn again responded with nine catches for 175 yards and a pair of scores in a dramatic 28-25 win. Glenn would find the end zone once on just 55 yards receiving the following week in a typical physical battle at Wisconsin and haul in two more touchdown passes the next week against Purdue, giving him a then-school record 12 touchdown receptions – in only seven games. 
Glenn would rack up two-touchdown performances against Iowa and Indiana but simply didn't answer the bell in Ohio State's crushing 31-23 loss in Ann Arbor to ruin a run at perfection. In the days leading up to the game, Glenn commented that Michigan was nothing special and during the game, Glenn dropped two balls and generally didn't live up to expectations while being covered by a freshman by the name of Charles Woodson. In the Citrus Bowl loss to Tennessee, Glenn managed seven grabs for 95 yards but was again kept out of the end zone. 
Despite the meh finish, Glenn still became Ohio State's first Biletnikoff winner, was a first-team All-American, led the nation in receiving yards per game and yards per catch while setting the OSU mark for touchdowns by a receiver with 17 – that's three more than any other Buckeye receiver in history. 
As legendary as Glenn's fireworks were during the '95 season, David Boston's 1998 resume is a hair better, and as a result, the finest single-season performance ever turned in by a wide receiver. 
The numbers:
BOSTON '98 VS. GLENN '95: TWO LEGENDARY WIDE RECEIVER PERFORMANCES
PLAYER
TOT REC
REC/GAME
TOT REC YDS
YPC
YPG
100 YD-G
TD
BOSTON '98
85
7.1
1,435
16.9
119.6
9
13
GLENN '95
64
5.3
1,411
22.1
117.6
7
17
BOSTON NET
21
1.8
24
(5.2)
2.0
2
(4)

 
Coming off a silly '97 season in which he caught 73 balls for 970 yards and 14 touchdowns, including the game-winning catch in the Rose Bowl win over Jake the Snake's Arizona State Sun Devils, David Boston would not be sneaking up on anyone during his incredible 1998 season. 
The team was stocked on both sides of the ball and had legitimate national championship aspirations, entering the season at #1 in the polls. Boston went right to work in the opener in Morgantown, turning seven catches into 129 yards, including a 39-yard score in a convincing 34-17 win over a talented West Virginia outfit. A week later he would show his skills running the fade, easily high-pointing a ball for six against Toledo.
Boston did his thing here and there over the next three games, then went bonkers over the final seven. 
In a 45-15 thrashing of Minnesota, Boston caught 10 passes for 191 yards and two touchdowns. The 191 yards still stand as the sixth-most all-time in school history. The following week, he went for over 100 through the air again and took two more passes to the house. 
With he and Joe Germaine in another groove, the Hoosiers couldn't hold Boston down the following week as he found the end zone through the air twice more. 
Though it looked like Ohio State was on cruise control, up 24-9 midway through the 3rd quarter the next weekend against Sparty, the dream of a perfect season came crashing to a halt. 
Supremely pissed from the upset that crushed their title chances, the Buckeyes took out their frustrations on Iowa. Boston was in beast mode, catching five balls for 163 yards and a pair of touchdowns in a 45-14 blowout, setting up a chance to tie for the conference crown in the annual showdown with Michigan.
No doubt looking to avenge the '97 loss to Michigan, Boston played like a man possessed. He put the Buckeyes up, 21-3, with a 30-yard catch and run in which he took an out route up the left sideline to paydirt, taunting Marcus Ray on the way. The move earned a flag with the refs on high alert after last year's game but in reality, Boston deserved a medal for putting the turncoat in his place. 
Michigan would cut the lead to 21-10 at the half, but Boston ensured there would be no comeback. Again undressing Andre Weathers, Boston torched him on a simple post and Germaine put the ball on the money for six. It was semantics from there and when the clock struck zeroes, Boston had put up the most astonishing day ever by an Ohio State receiver against Michigan, tallying 10 catches for 217 yards and two touchdowns. 
The 217 yards also represented the fourth-most in a game by a Buckeye as he single-handedly accounted for nearly two-thirds of Ohio State's 330 passing yards in the delectable 31-16 win. 
The victory clinched a three-way share of the conference title but though Ohio State was 10-1, they were forced to go to the Sugar Bowl since both the Buckeyes and Michigan had been to the Rose Bowl more recently than the Badgers. 
In the Sugar, Ohio State cruised to a 24-14 decision, earning a #2 national ranking in the process. Though Boston was nursing a severely sprained ankle, he posted another double-digit receptions outing, hauling in 11 passes for 105 yards to earn Sugar Bowl MVP honors. 
Over the final seven games, Boston eclipsed a 1,000 yards receiving with 10 touchdowns. 
For the year, his 85 receptions and 1,435 receiving yards set school records that still stand, as does his 7.1 receptions per game, one full catch more than second-place Billy Anders ('66). Boston also set a school record with nine games of 100+ receiving yards and his 13 touchdowns rank third. 
Boston was a first-team All-American and probably should've won the Biletnikoff but Troy Edwards was getting glossed heavily for putting up video game stats against the stiff competition on Lousiana Tech's schedule. In all seriousness, Edwards was a boss that year but Boston did his work against significantly higher-caliber defenses. 
Bottom line, the battle for best season by a wideout is just as close as the competition at running back last week. In the end, I give Boston the nod for having the best single season in the history of Ohio State wide receivers. The more complete receiver, Boston could use his size to beat you in traffic or his speed to torch you in the open field. He was a little more consistent than Glenn, posting the school-record nine games of 100+ yards, was huge down the stretch, and he performed better in big games including the scale-tipping work of art against the Wolverines.