It's never to early to: shop for Christmas presents (according to my mom) or talk about football prospects and their talents.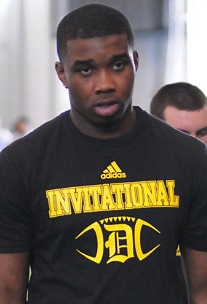 It's with that thought in mind that I present to you St. Paul (Minn.) Cretin-Durham sophomore sensation Jashon Cornell, who was offered his 12th scholarship offer today, this one coming from the Ohio State Buckeyes. 
Cornell is a solid 6-foot-4, 227-pound defensive end who has reported 4.6 speed in the forty-yard dash, almost unheard of measurable numbers for a player who just turned 16-years old in December. Cornell is the type of player, and person who can kick-start a recruiting class, or a program (like say, the home-state Gophers) with a simple phrase: "Yes, coach, I'm in."
Those are not words one should expect to hear from the sophomore, who holds a lofty GPA (3.4) at Cretin-Durham, one of the country's premier athletic high schools, to go along with his on-the-field accolades. Cornell plans to study either law or business in college, but right now the business that's on his mind is measuring up to this the standards he set this past season as his junior year, the year he anticipated college attention coming his way.
"It feels really good right now," Cornell said. "I feel like I'm on the top of the world, but I know I still have to be humble and hungry. It was really unexpected, though, I thought I will get (this attention) in my junior year football season."
When I first spoke to Cornell, about a week and a half ago, he was not sure what the Buckeyes had to offer because he'd only received a few fliers from them, but had not been in contact personally.
That changed today.
"I've got a couple questionnaires from them," he said during our first conversation. "I plan on giving Coach Meyer a call sometime soon."
That was a call Cornell didn't need to make, as it turned out, because the Buckeyes came calling on him.
"I talked to Mike Vrabel today. He told me that the coaching staff watched my film and that they were really impressed with me as a sophomore," Cornell added. "They like my speed and quickness off the edg and they like my footwork and hands as well."
Cornell work out with UnsignedPreps.com, a company that helps provide recruiting assistance, exposure, training and mentoring to young athletes, and they know they've got something special with this "freakshow athlete."
"Jashon's very mature, both mentally and physically," Levi Bradley, head of recruiting for the company told Eleven Warriors. "He's a legitimate 6-foot-4 and 230-pounds and has tremendous upside, he's going to be a big-time player. He's got a great understanding of the game and work ethic as well. He is not just enjoying the offers and taking it easy, he works out six times a week. He puts in the work and earns it."
With two-plus years ahead of him, Cornell is in no hurry to make a decision and has not even considered narrowing a list, because that list is bound to grow exponentially in the next few months, but he hopes to visit Ohio State this summer. Until then, Bradley says, they are going to tell Cornell what they tell all their prospective student-athletes. 
"Find the school that best compliments what you do," he said of what should matter to recruits the most. "Jashon is unique in his recruitment because he is truly wide-open, with a capital 'W'. He's not in love with the SEC, he's not against the Big Ten or the Pac-12. He's got good people around him and they will make sure that he ends up in the place that best suits his abilities and offers the chance to get on the field the earliest. His mom has basically already decided that she's going to move close to where ever he decides to go to school."