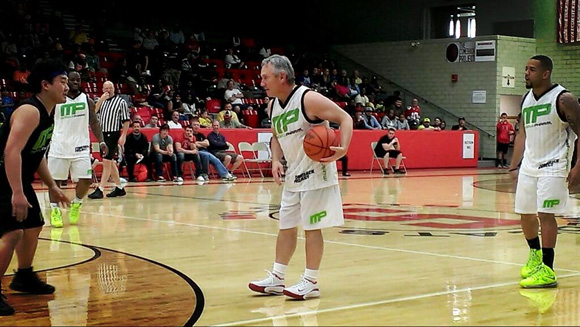 Jim Tressel, football coach. That's the association most people make of the former Ohio State head coach. It's no wonder – he did spend 36 years as a coach. But Tressel's true calling is mentoring young people.
From the moment he walked onto a University of Akron field in the fall of 1975, Tressel has had a keen eye on helping his players grow both on and off the playing field. When recruits enter his presence, they are just teenagers. Oftentimes, when they leave, Tressel has helped mold them into productive members of society.
That's what brought him back together with a handful of his former players on Saturday afternoon in a warm high school gym outside Youngstown. Maurice Clarett, the enigmatic star of Ohio State's lone national championship team of the past 44 years, was hosting a charity basketball game that raised funds for a youth center near his hometown.
Clarett's odyssey from star football player turned convict is a well-told tale. But following a nearly four-year stay in prison, he has succeeded in putting his life back together. At the center of it all has been Tressel.
The head coach never gave up on his running back. Not after Clarett filed a false police report that led to a full-season suspension, not after Clarett fed the NCAA a laundry list of allegations against the football program, and not after serious crimes were committed. If there is one word to describe Tressel, it is loyal.
It was that loyalty that ultimately contributed to his dismissal from Ohio State. But Tressel's guidance and faith in others remains unwavering, and it's moments when his former players grasp achievement that Tressel is most proud of. That was on full display at Struthers Fieldhouse.
"It just kind of affirms what I knew (Clarett) was capable of," Tressel said. "Maurice can do and be whatever he'd like to be. Things happen in life – that's the way it is. He didn't allow that to stop him from doing the great things he wants to do. This is just a beginning."
Former Buckeye and fellow Warren Harding graduate Dan "Boom" Herron has occupied a front-row seat to most of Clarett's life. He witnessed the prodigious talent in high school and watched closely when things began spiraling out of control. Now the two friends are workout partners. The transformation Herron has seen is nothing short of extraordinary.
"It's great. To see what he went through and for him to come out like this is a great thing," Herron said. "They always say you learn from your mistakes. Look at him – that's it."
In a book released last year, Clarett described a life filled with football and violence growing up on the rough and tumble streets of the Mahoning Valley. His rise to stardom on the football field and all that came with it off the field eventually disrupted a future filled with NFL riches. 
The detour nearly derailed his life. Clarett took to drugs and alcohol before an armed robbery and subsequent chaotic events – which included a bulletproof vest, assault rifle and Grey Goose – led to a seven-year prison sentence.
It was behind bars where Clarett finally made a U-turn of his own, veering his life back down a path of prosperity.
"I've been blessed for 40 years to have a chance to do these types of things, and it's fun that it's continuing."
"I cleared my head, away from the drugs and drinking," Clarett says in 4th and Goal: One Man's Quest to Recapture His Dream. "Suffering causes you to mature."
That's evident in the projects Clarett has been part of since he re-entered regular-day life in 2010. The reclamation has included patching up a once fractured relationship with his alma mater, Ohio State. He is looked at once again as one of the driving forces behind the Buckeyes' 2002 national title, not a pariah.
When Tressel, Clarett and the rest of the 2002 team was honored last season during the Michigan game, Ohio Stadium reached decibels not heard since Chris Gamble caused the ground to rattle against Penn State in that same championship year.
Upon Clarett's release from prison, he took summer classes at Ohio State and, with Tressel's go-ahead, used the Woody Hayes Athletic Center to work out. The two are still in frequent contact, and when Clarett phoned Tressel last year to provide a vision for his latest community outreach event, all Tressel did was ask for the date.
"It's great to see guys come back to their communities, especially Maurice," said Tressel, who was introduced to the 1,800 in attendance by Clarett as 'the president of Youngstown.' "It's just a bunch of good people, a great cause and it was a lot of fun."
There was no sweater vest for Tressel. He traded it in for a pair of high tops and a basketball jersey. The player/coach led his team to victory, though that was just a small token in a much larger objective. 
For Tressel, it's more proof that developing relationships and teaching young people to reach their potential remains a valuable tool. So much so that he quickly accepted a position as vice president of strategic engagement at the University of Akron when it was offered a year ago. Take away the coaching duties and the job description isn't all that different from the positions he held at Youngstown State and Ohio State.
Instead of 120 people, Tressel now oversees more than 28,000. And if you think he has any plans of slowing down now that he's hit age 60, guess again. He still wakes up before sunrise and sometimes puts in 15-hour workdays.
"It's so much fun to watch (students) grow and be a part of events and talk to young people," Tressel said. "I've been blessed for 40 years to have a chance to do these types of things, and it's fun that it's continuing."
The message of paying forward is rooted in all of Tressel's former players, and they'll continue to pass along the memo that has been ingrained in so many before and after them.
"You always need people like that," Herron said. "We're from a great community. If (kids) find that one person they can look up to and follow, that's great."
That figure has been Tressel for a diverse group. Whether players have lacked father figures, grew up in rough neighborhoods or came from a strong household in an affluent community, inevitably they've latched onto Tressel for counsel.
Player-coach relationships offer some of the strongest bonds and connections two people share. It seems even more so with Tressel and his former players. When he was hoisted on the shoulders of his 2002 team at the Michigan game, Jake Stoneburner said he shed a tear. 
There are countless stories about good deeds Tressel has done for fan favorites and walk-ons alike. When asked what Tressel did to help shape his growth, Herron replied, "Everything."
"Everybody that played under Coach Tressel, he's been such a great role model for all of us," Herron said. "He's a great person to follow and he showed us the right steps to take.
"We're still close. I still look up to him and still get a lot of information from him."
Said Tressel: "That's what you do if you're a parent, and if you're a coach you're just like a parent. And just because (Saturday) was a wonderful day doesn't mean the rest of one's life will be wonderful. You just keep doing what you can do to help others and never forget where you came from and who was there to help you."
Jim Tressel has not and will not.