Shake and bake, breaking ankles, clowning, or okiedoke freakshow. The term "juke" goes by many names but we all know it when we see it. The ability of one human to make another human think one way then go the other is the most celebrated humiliation in sports.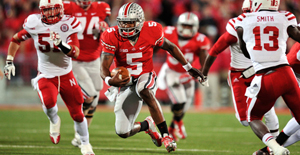 What makes the move so great is that its appeal spans across a wide breadth of sporting genres. Just take a look at exhibit, A, B and C.
With that said, arguably nowhere is the juke more apparent than on the gridiron.
Over the years, players like Barry Sanders and Michael Vick made it an art form. As they headed onto the field, it seemed it was their personal mission to make their opponents look foolish.
Only the best athletes can collect ankle bones on a regular basis, and Ohio State is lucky enough to have one of them in Braxton Miller.
Miller's arm and downfield vision continue to develop, but sometimes when a play breaks down he is forced to abandon both of those in favor of what he does best: get shifty.
Over the course of last season, Miller added a number of plays to his highlight reel, but none were flashier than those that occurred when he made the decision to tuck it and run.
Miller has a gift for getting into the open field and he'll usually find it no matter the number of defenders an opposing team throws his way.
He made a myriad of would-be tacklers look like total Melvins last year, but no okiedokes were greater than the following plays. So, without further adieu, I give you Braxton Miller's top five jukes of the 2012 season.
#5 Stutter Step: Miami
The first on the list came during the opening game of the season. 
Up 21-3 early in the third quarter, Braxton Miller rolled left on an option, faked the pitch, then t-t-t-t-t-ook it to the house with a pretty little stutter step.
#4 Side Step: Cal
At number four we have this little beauty which came with roughly 5 minutes left to play in the first quarter vs. Cal.
Early on the Buckeyes were looking sluggish, punting on their first two possessions. Then Urban drew up this keeper for Miller. What wasn't on the white board was the defensive lineman in Brax's face immediately after faking the handoff.
No matter. Miller "Fogo De Chao'd" two would-be tacklers on his way to a 55-yard score.
#3 I Don't Even Know: Nebraska
Number three on the list is this play right here. Down 17-7 against Nebraska, the Buckeyes needed something to go their way. On the offense's first play of the second quarter, Braxton did this. I'm not even sure how to describe it.
"I had him, Coach, and then…I didn't."
The 72-yard run to the Cornhusker 3 would serve as a jumpstart for the Buckeyes' first offensive TD of the game. The six points would also open up the scoring floodgates as the Scarlet and Gray went on to put up 63 points.
#2 Spin Move:

UAB

In a game that was a lot closer than it should have been, the Buckeyes found themselves down, 12-7, to UAB late in the second quarter.

Operating from the shotgun on a designed run, Miller snatched a snap out of the air then hit the circle button to take it in for a 12-yard score. Video game stuff, folks.
#1 AirboRne: Penn State
While all of the aforementioned plays were feathers in Miller's cap, none was more electrifying than this TD against Penn State. You'd be hard-pressed to find a more impressive one-yard pick up than this.
With third and goal from the 1, Miller received the snap and had the option to hand it off to Carlos Hyde.
Unfortunately, Carlos was busy getting bull-rushed by a PSU defender, so Miller was forced to improvise. And my goodness did he improvise.
It's not often you see a player juke someone in mid-air. The score would put the Buckeyes up, 21-10, and they would go on to collect their ninth win of the season.
Keep ballin', Brax. We see you.