Living on the lighted stage approaches the unreal / for those who think and feel / in touch with some reality / beyond the gilded cage – Rush, "Limelight"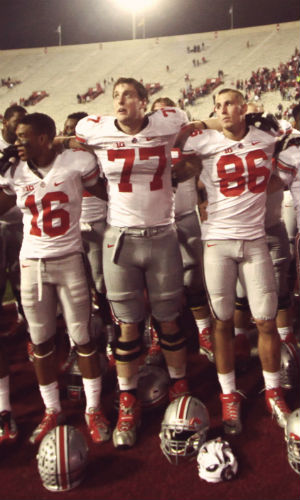 Athletes in collegiate revenue sports live in the limelight and the weekend of the 2013 NFL Draft must have approached (and surpassed) the unreal for tight end-turned-tackle Reid Fragel. While Fragel sat and waited for a phone call from an NFL team to let him know he was being picked, a lot of Ohio State fans beyond the gilded cage scratched their heads and wondered if he'd get selected if there were 2,112 picks in the Draft.
The former Buckeye, who played three seasons at tight end before switching to offensive tackle last year, was projected to go as high as the third or fourth round by some so-called draft experts. As Saturday started slipping away and teams started taking chances on athletes with character issues (hello Cleveland!) or guys from small schools, it appeared Fragel's universal dream of being an NFL Draft pick would go unfulfilled.
The Bengals stepped up with the 240th overall pick and selected Fragel. He was the 16th of 18 offensive tackles selected, although a few of the guards chosen will be converted to the position.
Cincinnati could have made the steal of the entire draft by picking Fragel Rock, because he's got the tools to become a starter. As a seventh-rounder, Fragel's been cast in an unlikely role, but he's certainly not ill-equipped to act.
Reid's conversion to right tackle was born of necessity, with depth issues at the position due to years of negligent recruiting by Jim Bollman and his one-size-fits-all approach to deploying his offensive line. It was a position that had underperformed significantly in the final years of the Jim Tressel era and the zombie season under Luke Fickell.
All the world's indeed a stage and Fragel is a player. He learned the tackle position quickly, bulked up, and made a case to become a starter by the 2012 spring game. When fall camp opened, he quickly claimed the spot.
It took a few games, but Fragel grew into a very solid right tackle. By the end of the season, he played the position about as well as anyone in the entire Big Ten. He frustrated William Gholston in the conference opener at Michigan State, and only got better from that point on. 
Ohio State fans had to be pleased overall with Fragel's play at right tackle, including the fact that he wasn't creating the large number of false start penalties from that position that we'd seen for the last few years. Fragel put up barriers to keep Braxton Miller intact.
The NFL doesn't think a whole lot of the B1G these days, which alone may have been the reason Reid slipped so far into Saturday's picks. Whether that's from a lack of talent or merely a perceived one is perhaps debatable.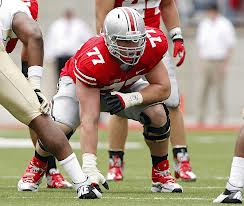 Fragel was the second offensive tackle selected from the conference — Wisconsin's Ricky Wagner went to the Baltimore Ravens in the fifth round with the 168th pick.
Still, the professionals largely draft on potential, and there may be fewer offensive linemen picked this weekend with more upside and room for development than Fragel. He's only played tackle for one season.
Being an ex-tight end, Reid possesses more athleticism than most offensive linemen. Line play in the League is highly dependent upon athleticism. Size, speed, strength, quick hands and feet, and arms long enough to outreach a defender are the most desirable traits.
Frame-wise, Fragel compares well to 2011 first-round pick Nate Solder — a converted tight end from Colorado. Solder was the second offensive tackle taken in the 2011 draft, going 17th overall to New England. The Pats spent a valuable pick on Solder, considering he wasn't a sure thing.
"Nate Solder from Colorado has a huge upside, but remember, he's a converted tight end; he's a work-in-progress," said Jon Gruden.
Solder and Fragel are both 6-foot-8. Solder weighs in at 320 to Fragel's 308. Fragel's arms are slightly shorter than Solder's (33.08 inches, compared to Solder's 35.5) Both have the requisite size, and Reid has yet to spend time in with an NFL training staff.
Fragel's performance at the NFL Scouting Combine wasn't bad either. He managed 33 reps in the bench press, whereas Solder managed 21 his Draft year. Solder's vertical jump was 32 inches against Fragel's 30, but the ex-Buckeye bettered the ex-Buffalo by three inches in the broad jump. Fragel's shuttle was within .34 seconds of Solder's and his 3-cone drill was just .18 seconds off the Patriot starter's time.
At Colorado, Solder played one season at tight end in 2007, making three catches for 50 yards, before converting to tackle. He played three seasons on the offensive line from 2008-11 before being drafted in the first round. We'll never know if Fragel's career arc could have been similar, but we'll always cherish the 42-yard tight end seam pass in the 2010 Sugar Bowl, as well as Fragel's other meaningful contributions in three years at his old position.
Solder plays left tackle, the highest-paid offensive line position in the NFL. Fragel will likely remain on the right side, barring a leap in development or a devastating rash of injuries to Cincinnati's line.
The Patriots saw something in Solder, and they were right. He has been part of one of the better offensive lines in the AFC for a couple of years now, giving the Pats great value for their pick. If Fragel becomes a starter, or even cracks the two-deep, the Bengals will have done well.
If he wishes to be, he must put aside the alienation of being picked so late in the Draft and get on with the fascination, the real relation, the underlying theme.