"With the first pick in the 2013 NFL draft, the Kansas City Chiefs select Eric Fisher, offensive tackle, Central Michigan University."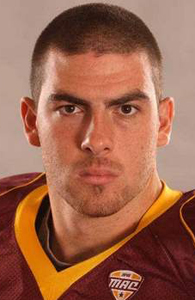 That was the start of this year's NFL Draft, and with those words Roger Goodell, the NFL's beloved overlord, set off an avalanche of nonsensical finger-wagging across social media networks and throughout locker rooms across the nation as coaches encouraged their young players with a chorus of "See? You don't have to be a five-star player to get to the NFL. Rankings don't matter; how hard you work matters."
It sounds good, doesn't it? There's obviously some truth to that, as what you put in to any job generally equates to what you get out of it, but the numbers don't lie: stars do matter. Maybe not to the degree that recruiting services and analysts alike would like them to, because they don't want to acknowledge that while there's a significant amount of science to discovering the best of the best from tens of thousands of high school players around the country, at the end of the day you "can't measure heart" and all those other niceties that turn a below average offensive tackle from Rochester Hills who didn't even earn an offer from Western Michigan into the top pick in the NFL Draft.
Weathermen and recruiting analysts, each of them correct about the same percentage of the time, and the underlining reality is this: even the best of them is just guessing, according to most people.
The facts are debated time after time and every year there's a player who proves the "experts" wrong, but it stands to reason that the stars do matter, although like any other statistic, you can could make them say whatever you want.
What else matters? Coachability? The program you end up in? The region you're from? Who coaches you and utilizes your skills to the utmost? Certainly. 
Rivals.com is the longest-running scouting agency of the "Big Three" services, and in my opinion (and guess what? It's my column, so what I say goes, ok?) has less regional bias than do their biggest competitors, Scout.com and ESPN.com. So, for this little exercise today, Rivals is the database I'll be turning to for the data I'm presenting here which will look at the NFL Draft's first-round results from 2009–13, five years of five stars, four stars and three stars trying to turn childhood dreams into professional football careers. 
From 2009–13, there have been 160 NFL first-round picks, and looking at the 173 Rivals five-star players from 2005–10 (the first and last year of draft eligible, non-redshirting players) we see that 16% (27) of them were first-round NFL Draft picks. While this number seems less than spectacular, when you consider that there are approximately 2,656 scholarships offered to Division I football players every year (85 players per NCAA D-I team/4=21.5 scholarships x 125 D-I teams) and less than 1-percent of them garner 5-star status, the number becomes a bit more impressive. The largest five-star group, the 2009 Rivals group which consisted of 33 players, saw four guys with their names called in round one (Trent Richardson, DJ Fluker, Dre Kirkpatrick and Sheldon Richardson), and the smallest group of five stars (26 in 2010) had three players drafted in the first round on Thursday night (Dee Milliner, Sharrif Floyd and Matt Elam.) 
The 16-percent (27 players) includes two players selected first in the draft and 16 drafted in the NFL's top 10 picks, or 32-percent of the top 10 in the last five years. Being one of the nation's top 1-percent of high school football players pays off. As a five-star player coming out of high school, you've got roughly a 20-percent chance of being a first-round pick and absolute multi-millionaire. 
What about being a four-star player according to Rivals.com? That would make you a football player ranked somewhere (on average) between the 28th and 300th-best player in the country, keeping you in the top 12-percent of the players in the country.
Pretty good, right? Absolutely. But with that, the chances of being a first-round pick in the NFL Draft plummets to 5-percent, even though 40-percent of all first-round picks in the last five years were four-star players and 30-percent of all top 10 picks were four-star caliber players. 
Have I lost you yet? I hope not.
If you're a three-star player from Rivals.com, then you fall between 301-750 according to their expert analysts, keeping you ranked higher than 87-percent of the country if you're at the top of the three-star list, and and ranking ahead of 72-percent of each and every player getting D-I football scholarships. You're getting a paid-for education at the country's top academic institutions while playing football and gaining legions of fans and the attention of curvaceous coeds everywhere, a pretty sweet deal no doubt but it likely means that your dream of being an NFL first-round pick has gone the way of the dodo.
Only 2-percent of three-star players become NFL first-round selections, despite the fact that the last five drafts have seen nearly 27-percent of the first-round picks come from this group. It's all about the numbers, and the odds are not in your favor. There have been only 43 players out of an estimated 2,250 three-star players eligible for the draft the last five years to become first-round picks, although 13 of those players have been top 10 picks.
In the same span, 2009–13, there were 25 draft picks that were rated two-stars or less who were selected in the first round, and six players (12-percent) who were selected as a top 10 pick. Those numbers sound comparable, but it becomes a significant disparity when you take into consideration that players ranked two stars or less make up roughly 72-percent of all Division I scholarship offers. Bottom line? As a two-star player or lower, you've got roughly a .06-percent of getting drafted in the first 10 picks of the NFL draft, and a .26-percent shot of being selected in the first round, period.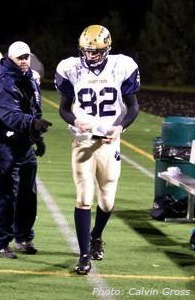 Recruiting analysts take a lot of flak from fans and trolls alike about their misses, but the numbers illustrate a few things. First of all, it's an absolute inexact science that can be – and is regularly – impacted by the the efforts of players who strive to prove people wrong, by college coaching staff turnover, lack of playing time behind other highly ranked players, etc. Alabama reels in five-star players at a pretty amazing rate, and turns them out as first-round picks (6 of the 27 five-stars drafted in this study played for Nick Saban and the 'Bammers) just as regularly. 
What about the Buckeyes? How have their five-star talents panned out?
Since the 2005 recruiting class, the Buckeyes landed nine players who were ranked as Rivals.com five-star players. One of them became a first-round pick (Beanie Wells), putting the Buckeyes (11-percent) below the national average of 16-percent.
Of the eight other five-stars talents, Ohio State has had a mixed bag of results in the draft. Mike Adams (2nd), DeVier Posey (3rd) and Alex Boone (7th) were the only other players drafted in the first-year player draft. Terrelle Pryor (supplemental draft) leaves some questions to go along with the lingering smell of sorrow, Dorian Bell transferred early, Robert Rose never lived up to the hype and Corey "Pittsburgh" Brown is preparing for his fifth season at Ohio State hoping to earn playing time competing against a bevy of talented underclassmen, with the chances of him earning a spot in next year's first round – or any round – resting comfortably between slim and none.
In that span, Ohio State has signed 61 four-star players, only one (1.65-percent) of them (Cameron Heyward in 2011) becoming a first-round pick. Again, the Buckeyes' top talent was below average.
Where did Jim Tressel's recruiting pay off? Not at the top, apparently. Regarded a "miner" of talent, someone who found plenty of "diamonds" in the rough, Tressel's draft output surely increased sharply with three-star and lower players, right?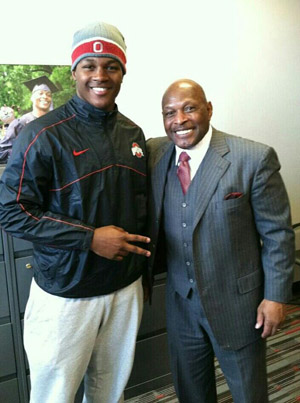 Not exactly, at least not since 2005. Malcolm Jenkins was the lone player in that group to become a first-round pick in the NFL. One for 44 among three-star players (2-percent) puts the Buckeyes right on the average around the country. Two stars or lower? The Buckeyes did not have any of them drafted in the first round, although 25-percent of Tressel's two-star or lower players (one out of four, Donald Washington) were drafted.
How much does recruiting matter when it comes to winning football games? Clearly the Buckeyes have had one of the league's top recruiting classes for 10 years running, and they've dominated with four* conference championships, winning the league in 2006–09 (2010 taken off the books, disaster year in 2011, ineligible in 2012). It's been a great run of football despite very little recruiting success turning into long-term NFL success. There have been 23 Buckeye players selected between 2009–13, with three first-round choices. This year's draft saw only three Ohio State players drafted following two years of turnover and turmoil. 
What's on the docket now that Urban Meyer is at the helm? His recruiting savvy speaks for itself and his teams' on-the-field performance has made him one of the game's most respected coaches.
In Urban Meyer's first two full recruiting years at Ohio State, he's nabbed four five-star players, and his penchant for collecting high-end talent has led to 26 (7 in the first round) Florida Gators drafted between 2009–13, all recruited under his watch. 
It's clear that recruiting rankings do matter, but coaching matters as much, and the Buckeyes are in great shape for the future.