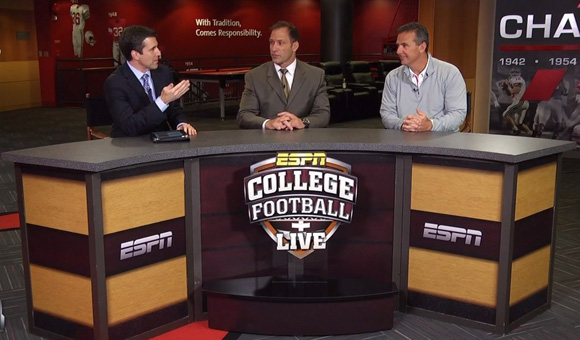 Ohio State coach Urban Meyer appeared live on ESPN's SportsCenter as part of College Football Live's Spring Bus Tour Tuesday morning and discussed his team, what they've improved upon and his tight ends, whom he called "the best I've ever had."
On how he addressed fundamentals improvement:
"You break down the fundamentals of offense and defense. On defense it's tackling and disengaging a block. I thought tackling we much improved. If you remember, the beginning of the season last year, we were about as bad as I've ever seen. Ryan Shazier is a perfect example: The first five games, he's a guy running around, not leveraging the ball, not tackling and trying to strip the ball. And just through a series of hard work, practice and tape, he got better. The one area we're not very good at is the disengagement of a block and we've worked extremely hard. We're still not where we want to be with that."
Improvements at wide receiver:
"Our concerns were legitimate. If you think about last year, we were at times – I shouldn't say non-functional, that might be a little harsh – but there were a couple of position groups that were non-functional. This year, after spring practice, I think we have identified a legitimate All-Big Ten candidate at wide receiver and that's Philly Brown. Devin Smith has shown flashes of it, but needs some consistency. And then you have Mike Thomas, Evan Spencer and some other guys that are continuing to improve and need to continue to improve. Chris Fields has also earned a spot on our team.

"The tight end area is the best I've had and I had Aaron Hernandez at Florida. I have two legitimate guys that are very good blockers, good receivers, Nick Vannett and Jeff Heuerman, so we're going to utilize all of our personnel." 
On Hyde and the running backs:
"I love Carlos Hyde. He's better than I thought. I think he could be one of the best in the country. I have to be careful about him because he doesn't handle praise very well, but he does things – he's a 235-pound back and when he goes it's [something] and he went most of the time, not all of the time last year.

"Our backups are intriguing. You have three of them: Bri'onte Dunn, Rod Smith, and Warren Ball. They've all shown flashes of being very good. They're certainly nowhere near where they need to be to be the starting tailback at Ohio State. Then you have Ezekiel Elliott and Dontre Wilson coming in so we have some guys to evaluate and choose [from], but we have not picked a backup right now."
On how he'll handle the inevitable first loss at Ohio State:
"Well, those are the speed bumps. You don't want to handle it too well. I like the guys that get kind of – I guess nauseous isn't the right word – but sick to their stomach."
---
Video of Meyer's appearance on the College Football Live set Tuesday: