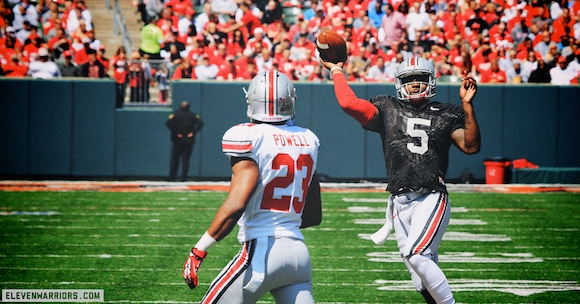 CINCINNATI – Ohio State fans have been cooped up for nearly five months, waiting for spring's thaw to signal the start of the 2013 football season – even if it just a series of practices.
On the first play of Saturday's spring game, Buckeye Nation got a glimpse of the souped-up Corvette that Urban Meyer said should be the best offense in the Big Ten. Braxton Miller connected with Evan Spencer for a 49-yard gain, and three plays later found Devin Smith open in the end zone for a 20-yard touchdown. The scoring drive took all of 52 seconds.
The air raid had begun. This Corvette did not rust during the cold, snowy winter.
Before a hearty crowd of 37,643 fans in Paul Brown Stadium, teams Scarlet and Gray combined for 438 passing yards and four touchdowns. Pesky 21 mile-per-hour wind gusts did nothing to deter a passing attack that ranked 101st last season.
"It was a pass-heavy game, an area that we weren't very good at last year, an area that we have to get better in," Meyer said. "I thought at times that Braxton Miller and a couple of the wideouts, Philly Brown in particular, did very well. It's been a continuation of what started all spring and Philly Brown is turning into a legitimate All-Big Ten candidate at wide receiver for us, which we need."
Scarlet beat Gray, 31-14. On Friday, members of the losing Gray team – coaches included – will do some landscaping work at the Buckeye Grove, located south of Ohio Stadium. The area honors every Ohio State football All-American since Boyd Cherry was recognized in 1914.
"We need to build camaraderie," Kenny Guiton, a member of the Gray team, said.
All eyes have been on Miller since he was named the Buckeyes' starting quarterback as a true freshman. He doesn't shy away from having the spotlight pointed squarely on him, and even in a spring scrimmage, everyone in attendance wanted to catch sight of the Heisman Trophy candidate.
Donning a black no-contact jersey, Miller completed 16 of 25 passes for 217 yards and two touchdowns. Running the ball has long been his forte, but a two-hand touch sack rule greatly impacted his rushing numbers. He was sacked seven times and gained -13 yards on 11 rushes.
"I don't know how many of them were sacks. They blew the whistle early," Miller said, laughing.
For 14 practices, Adolphus Washington and Noah Spence's names have become synonymous with Ohio State football. They lived up to the billing on the 15th, sacking Miller a combined seven times – Washington four and Spence three. In all, the Gray team had nine sacks, adding up to 39 yards.
The Scarlet team featured a bulk of the starting offensive line, though Jack Mewhort and Corey Linsley were held out of action. The lack of continuity seemed to have a big effect on the play of the line. Chase Farris got the start at right tackle, while Taylor Decker started at left tackle. Both struggled throughout the day, with Washington and Spence beating them around the edge.
"(Washington and Spence) work hard. They have to fill big shoes," Miller said. "They proved we have to keep working at the right tackle position."
Guiton, the savior of 2012, fared much better behind the Gray line, completing 9 of 14 passes for 116 yards and a touchdown. He was only sacked once.
With Miller dealing with pressure on an almost play-by-play basis, Guiton and the Gray squad were able to tie the game at seven on a five-yard pass to Chris Fields. He finished the game with five receptions for 37 yards and exhibited all the tools Meyer is looking at in a receiver. So confident is Meyer that he named Fields a starter for the Aug. 31 season opener versus Buffalo.
"I'm naming him a starter today," Meyer said. "I told him I would if he finished the spring (well). He's a wonderful guy that was very inconsistent last season. He's earned a starting spot. I know Tom Herman feels the same way."
Perhaps the highlight of the day for Ohio State was the two-minute drill Miller led before the half. It was an eight-play, 59-yard masterpiece that was capped with a three-yard back-shoulder throw to Philly Brown. Mixed in was an assortment of short passes accompanied with broken tackles.
2013 Ohio State Spring Game
Miller led three more scoring drives in the third quarter – one ending with a five-yard touchdown run from the quarterback, a 25-yard Drew Basil field goal and a six-yard run by Fields on an option end-around.
Smith (76 yards), Brown (25 yards) and Bri'onte Dunn (61 yards) each had five receptions for Scarlet. Dunn's pass-catching ability was on full display during the scoring drive before halftime. He caught two passes on the drive, breaking numerous tackles.
A Michael Thomas four-yard reception was the lone second-half score for Gray. Thomas did finish with a game-high seven catches and 79 yards. It's the second straight head-turning spring performance he's put in.
Third-string quarterback Cardale Jones was the passer on Thomas' touchdown, and he completed six more passes, finishing 7 of 16 for 65 yards. He was sacked once and fumbled twice.
A couple turnovers aside, Meyer deemed the day a rousing success.
"To have almost 40,000 people show up for a scrimmage, to have the Reds Museum treat us the way they did, there are so many things I wish we could do here," he said. "Coach Hayes started the tradition years ago when they would go visit a place, he'd take them around and educate the players. I think that's a great concept. It's been a great trip."