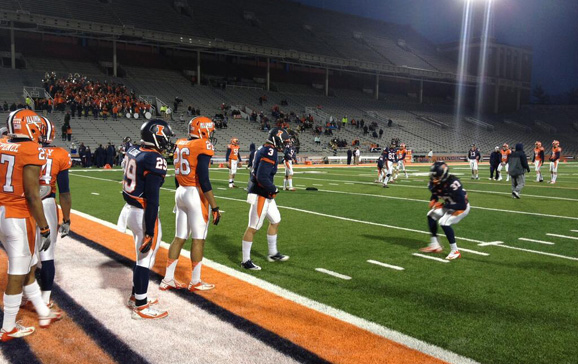 The losing side was largely successful in picking on the winning side's secondary:
For the Orange - which totaled 463 yards, including 384 through the air - O'Toole was 34-of-52 for 362 yards and two touchdowns, but had four interceptions. Ayoola carried 16 times for 68 yards and two touchdowns, while Justin Hardee caught six passes for 104 yards. Osei had eight catches for 98 yards. Darius Mosely had a team-high 10 tackles, while Teko Powell totaled 1.5 sacks and Kenny Nelson added a sack.
And yes, the winners got a trophy. For a Spring game.
As head coach Tim Beckman walked into the room for his press conference earlier this week, he lugged a large, square trophy that he placed on the table next to the lectern. The trophy has a gold football coated in fingerprints and dust sitting atop a square, wooden surface, with golden football players at each of its four corners.

The front lists years from 1984 until 2001, and space for the winner of that year's game. The Blue team in '84, and Orange team from 1985-1987, and then for some reason it stops listing a winner.

Maybe everyone stopped caring?
Anything to encourage competition. Still, it ain't IlliBuck.