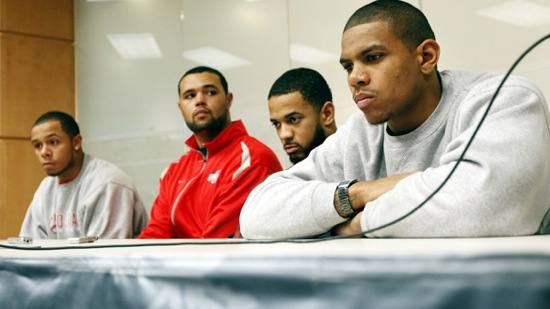 Right around this time in 2011, Ohio State football was in the throes of a daily nightmare. The Lantern took a look back at the mess and connected with Jim Tressel to revisit how the scandal went down. What's most interesting is his lack of clear hindsight and contrition in what happened.
"If my fault is on the loyalty side, I'll take it," Tressel said.
It was on the compliance side, actually.
Tressel said OSU's violations were a result of "personal decisions" made by his players.

"Sometimes they're the right decisions, and sometimes they're the wrong," Tressel said.
If those violations were reported when discovered, the whole matter becomes a couple weeks of embarrassment, a few game suspensions and a smattering of secondary violations. Tressel would also still be coaching at Ohio State.
Tressel said he is not sure he could have prevented Tattoo-Gate from happening.
Um...we've got a few ideas: Accurate reporting to NCAA, a stronger culture of compliance, and if anything else: GMail and a burner phone.
Regardless, Ohio State came out of its mess with a clean bill of health, and Urban Meyer says the scandal has barely affected his ability to sell the program:
Aside from having fewer scholarships, however, Meyer said Tattoo-Gate has not caused him any additional issues in recruiting.

"It's one of the easiest sells I've ever had," Meyer said of recruiting players to OSU. "We have a very good graduation rate, very good APR (Academic Progress Rate), our support system's incredible. Then you start talking about facilities, walk around you see great facilities, you see everything's in order, you see 12-0 season, great momentum."
Also of interest from the article: The sixth Tatgater, Jordan Whiting, who had transferred to Louisville last season is no longer on the Cardinals' roster and is registered to resume the pursuit of his Marketing degree at Ohio State.