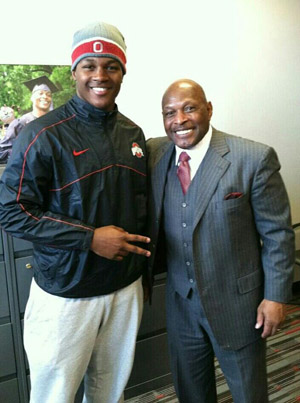 It's been a big two weeks for Ohio State football recruiting as stars from the 2014 class made their way to campus for visits.
Perhaps the biggest visitor of them all was Hinesville (GA) Liberty County linebacker Raekwon McMillan, who was in Columbus Monday through Wednesday of last week.
The 6-foot-2, 240-pound linebacker is considered one of Georgia's top players and is the No. 1 inside linebacker prospect on the 247 Composite index. He holds offers from almost every major college in the nation, including the likes of Ohio State, Alabama, Clemson, Florida, Florida State, Georgia, Notre Dame, Oregon, Texas, USC, and many others.
McMillan has had the Buckeyes as one of his top schools ever since he was offered last April and currently has the Scarlet and Gray as his sole leader. His trip to Columbus last week was his fourth. On this trip, McMillan had the opportunity to meet many key figures in the Ohio State athletic program, including former two-time Heisman Trophy winner Archie Griffin.
We caught up with McMillan to get the scoop on his most recent trip to Columbus. Read on for what his leaders look like, when he expects to make a decision and more.
What did you get to do and see on your visit to Ohio State last week?
I went up there mainly to get a chance to sit down with Coach Meyer and talk about the Ohio State program. I also got to meet Anthony Schlegel, the guy linebackers work out with in the offseason when they can't be instructed by Coach Fickell. In addition to that, I got the chance to meet the athletic director, Gene Smith, Archie Griffin, and Bobby Carpenter.
Did you get to sit down with any players over the visit? What did they tell you?
I had the chance to talk to Ryan Shazier and Curtis Grant on the visit. They were mainly telling me about Coach Fickell. They told me he's a great coach and he invited all of the linebackers over to his house for Thanksgiving.
What was your favorite part of the visit?
My favorite part of the visit was sitting down with Coach Meyer. We had a really long talk about the two championships he won at Florida. He told me when he won them that Tim Tebow wasn't the first person he handed the crystal ball to. The first person he handed it to was his middle linebacker, Brandon Spikes. Coach Meyer is an offensive-minded guy, but he also knows the importance of defense.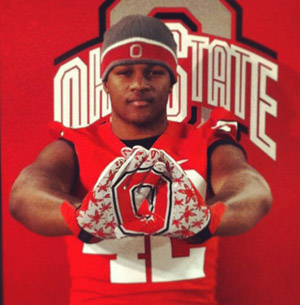 How often do you talk to Coach Meyer?
I talk to him about once or twice a week. We usually just talk about football and catch up on recent events.
Who do you have as your leader right now?
Right now, Ohio State is on top. I don't have a list after that though. I'll have a top three, top five, top eight, top ten – something like that in a couple of weeks.
What are some of the things you like about Ohio State?
I love the feeling I get when I'm on campus. I can definitely picture myself playing for Ohio State.
When would you like to make your decision?
I'm going to pick my school either in December or at my All-American game in January. I'm going to be enrolling early, so that's the latest I can decide.
What will be the biggest factors in your decision?
It's mostly going to be about the relationships I have with that team's coaching staff. The feeling I get on campus is also pretty important.