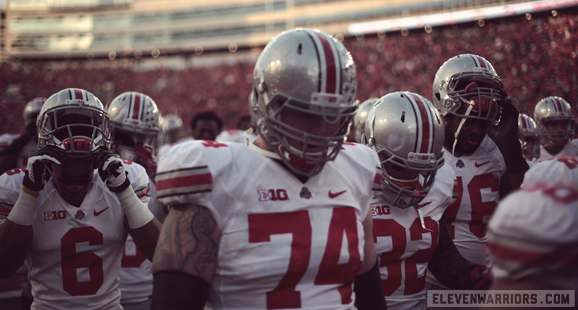 Urban Meyer has been a head coach for more than a decade now. He's won two national titles, helped lead multiple teams to undefeated seasons and coached numerous NFL draft picks, including a No. 1 overall selection and a Heisman Trophy winner.
But through all the years and scanning all the rosters, two players stand above the hundreds of others that have put on the orange and brown, red and white, orange and blue, and scarlet and gray.
Inside Meyer's opulent office at the Woody Hayes Athletic Center hang two jerseys: Tim Tebow and John Simon. The No. 15 and No. 54 pullovers represent the essence of leadership in Meyer's eyes. Tebow's status is legendary, while Simon was an uplifting presence during Ohio State's 12-0 season last year.
One story is of Simon sobbing in the locker room after the Buckeyes' close win over Cal in September.
"I'm giving out game balls and rewards, and here's a 6-foot-4, 260-pound grown ass man," Meyer said. "A tough guy, one of the toughest guys I've ever been around. I introduce him and he loses it in front of our team.
"I start getting a terrible feeling in my stomach. I go home that night and I can't sleep. We're undefeated, we just beat a very talented Pac-12 team, yet there's something seriously wrong with our program, and it started with me."
That's the effect Simon had on Meyer. He was able to make a 26-year coaching veteran who'd won two national championships question himself.
"I didn't feel that anyone on our coaching staff could've given that same emotion that John Simon did," Meyer said. "We weren't giving enough."
There won't be a repeat occurrence with the coaches. Instead, Meyer is searching for the next jersey number to hang on his office wall. There's an empty space awaiting the third honoree. And there's a front-runner for that lofty position: offensive lineman Jack Mewhort.
"I think he's the guy to watch," Meyer told a crowd on Monday at the Hall of Fame Luncheon Club in Canton. "I walk him by my office all the time. I show him that spot."
No pressure. Not only is it going to take Herculean leadership to win the ultimate prize, it will take Mewhort and others to push the Buckeyes to that next level.
"That's the essence of how we're going to do," Meyer said. "And it's not just because you're a great player. It's because you're one of the most selfless, toughest human beings to ever play the game."
Said Mewhort, the occupier of the No. 74 jersey: "I know Coach Meyer expects a lot out of me as far as being a leader, and I definitely want to be a guy that he can depend on. I don't want to let him down with that, so I come out here every day working and trying to improve as a leader and get everybody moving in the same direction."
"He's got self-discipline, self-respect, and work ethic," Meyer said. "He's a guy that's tough as nails."
Although Mewhort was a captain at Toledo St. John's, he said the role does not come naturally to him. He's been a quiet figure at Ohio State, branching out with a humorous Twitter account. But when Meyer pulled him aside a year ago and urged him to be the leader on the offensive line – a unit that up to that point was completely unproven – Mewhort accepted the task.
The end result was a revamped line that developed into one of the team's strengths, which as recently as two seasons ago seemed as likely as a tsunami hitting Central Ohio. Mewhort also became the sounding board and inspirational force Meyer coveted.
"There's a quote around here that 'Leaders aren't born, they're made,'" said Mewhort. "I'm a pretty observant guy. I've spent a lot of time in my younger years around here watching the older guys, paying attention to guys in leadership positions. I'm trying to take what I've seen from good leaders and apply that now."
At the top of list might be staying out of trouble. It's hard to preach teamwork and togetherness when your off-the-field actions don't reflect the same pretty picture. Mewhort knows that best, having been arrested last summer during the Memorial Tournament. The incident is now hundreds of miles in the rearview mirror, as if not to make a Picasso resemble a finger painting. 
"Jack was a good kid before that incident. He just made a bad decision," offensive line coach Ed Warinner said. "He just learned that you've got to be responsible and accountable."
The cornerstone of the line, Mewhort has already been granted the captaincy by Meyer, who made the announcement at a speaking engagement in Toledo. Mewhort is known for his meticulous attention to detail, which comes in handy during position meetings.
"It's not a dictatorship at Ohio State, and we let our players choose captains," Meyer said. "However, all those votes have to pass by my desk. So I'm going to tell you who one will be."
The way Mewhort carries himself – a quiet confidence combined with intangibles that are vital – makes him a well-liked teammate. So much so that his ideals and traits are being passed down.
"Everyone says, 'I want to be like that guy,'" Warinner said.
"He's got self-discipline, self-respect, and work ethic," Meyer said. "He's a guy that's tough as nails.
"Everything you'd want in a leader."
Just like those Tebow and Simon guys.