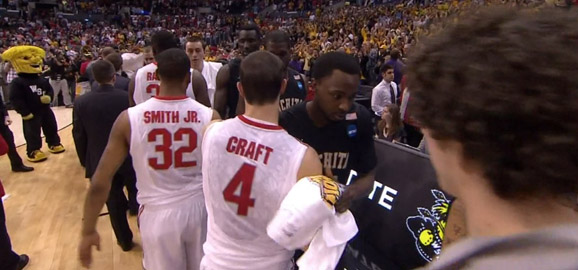 LOS ANGELES – For 40 days and 40 nights, Ohio State had magic on its side.
An 11-game win streak included wins over top-five teams, a Big Ten Tournament championship and back-to-back buzzer-beating victories in the NCAA Tournament. But when it needed to pull a rabbit out of hat against No. 9 seed Wichita State in the West Regional final, the trick couldn't be completed.
"As we talked about in the locker room, we played so well for such an extended period of time, and we weren't very good to start the game," said Ohio State head coach Thad Matta. "Give Wichita State credit. Tremendous, unbelievable basketball team. They're playing as well as any team we've played this year."
In a nightmarish 30-minute span, the second-seeded Buckeyes fell behind by 20 points, shooting poorly, lacking energy and generally being outplayed by the Cinderella Shockers. Ohio State missed its first seven shot attempts, five of which came from Deshaun Thomas, and didn't score until nearly four minutes had elapsed.
With 12:09 left in the second half, Wichita State led, 53-33. Sensing the season was on the brink, the Buckeyes mustered a 23-6 run that cut the deficit to three points. But that was as close as they could get, losing, 70-66, at Staples Center.
"It's as tough a loss we've had," Thomas said.
Ohio State's flaws were exposed for all to see during the game's first 30 minutes. Poor shooting, a lack of scorers, bad offensive flow and inconsistent rebounding led to the Buckeyes being 18-7 overall and 8-5 in the Big Ten on Feb. 17.
All those wrongs were righted during the win streak. But the Shockers put an end to Ohio State's sudden uptick in production. The Buckeyes were 8 of 33 from the field in the first half, were outrebounded, 27-17, and the defense went haywire.
"The way we shot coming into the Elite Eight, everything was falling," Thomas said. "Today, it just wasn't our night. Nothing was falling."
Wichita State's guards were able to drive on Aaron Craft, and the Shockers ended the half on a 20-7 run, including a stretch of eight straight points against Ohio State's small lineup, which had been so reliable in recent weeks.
But everything finally clicked when all hope seemed to be lost. Down 20 in the second half and 15 with less than seven minutes left, the Buckeyes nearly capped a comeback for the ages.
LaQuinton Ross scored eight consecutive points, Thomas had five and a comedy of errors befelled the Shockers at the most inopportune time. Wichita State caught a ball out of bounds, dropped a ball out of bounds and failed to make a layup. The hot-shooting Shockers also began missing shots.
They made two monumental plays in crunch time, though. First came a three-pointer when Ohio State cut the lead to 3, and with Wichita State up four with 1:34 left, the Shockers got an offensive rebound and then scored with the shot clock nearing zero to extend the advantage to six points. Both the 3 and rebound came from Tekele Cotton.
"That missed rebound is the thing sticking with me," said Ross, the player responsible for guarding Cotton. "I can't get that out of my mind."
Deshaun Thomas, in perhaps his final collegiate game, scored 21 points and Ross had 19 – 15 coming in the second half. Thomas missed nine of his first 12 shots from the field. The Buckeyes shot 31 percent for the game, their lowest since falling to Kansas in December.
"(Wichita State) played Big Ten defense," Matta said. "They loaded the box and what you have to do is be able to knock down a couple shots and get a couple points in transition. Unfortunately, we couldn't do either."
Both Thomas and Ross were asked about their futures. Thomas was noncommittal, while Ross said he's returning for his junior season.
"I'm just going to go home, enjoy my family, get back in the gym, and think about this," Thomas said. "This is a great group of guys I have around me and great coaching staff, so I'm going to enjoy my time off and not remember this loss and get back in the gym and get better."
Said Ross: "I really haven't even thought about leaving."
The Buckeyes only led twice, 8-7 and 9-7. They trailed by 13 at the half, and it wasn't largely to do with Wichita State playing well. The Shockers only shot 35.5 percent in the half, though they were buoyed by five 3s. Missing one of nine free throws also helped.
"You shoot 24 percent in the first half in the Elite Eight and you're probably going to be down double-digits at halftime," Matta. "Geez, we never had a feel-good moment in the first half."
But Ohio State's lack of forced turnovers and transition points was the main culprit in its defeat. The Buckeyes finished with zero fast break points. The aggressive, athletic and physical style Wichita State employed seemed to catch Ohio State off guard.
"We didn't score in transition at all today, and that's been our calling card throughout this run, getting stops and scoring in transition," said Craft, who finished 2-of-12 shooting. "We didn't score at all. We really didn't get very many easy buckets tonight and it shows."
For the fourth consecutive season, one bad half of basketball has ended a potential national championship for the Buckeyes.
"I've lost my three tournament games now by eight points combined," Craft said. "It's tough. It's crazy tough. It's very tough to grasp how important a possession is in the first half and how that can come back to haunt you in the second.
"We had quite a few of those today, just plays that we don't usually make. We weren't really playing our style of basketball. They took us out of our rhythm. It's tough. Every possession counts. Every possession is important."
Wichita State becomes the fifth mid-major program (Butler twice) to reach the Final Four since 2006 and the fifth nine seed or higher to reach the sport's pinnacle since seeding began in 1979.
Kansas and Kansas State entered the NCAA Tournament with high seeds and Final Four hopes. Instead, the Shockers are kings of the Sunflower State. It's their first Final Four since 1965.
"We're happy, but I'm still shocked," Wichita State senior and Georgia native Carl Hall said. "We've got a team full of fighters. I brought them all together near the end and said, 'No matter what happens, I love y'all.' We had to fight so hard. We've got each other's backs, and it's hard to beat a team that's got five guys who work together like us."
Ohio State found out on Saturday night and disappeared.
"Everybody remembers the last game. I'm not going to," Matta said. "I'm going to remember this season because I'm very, very proud of what these guys have accomplished this year."