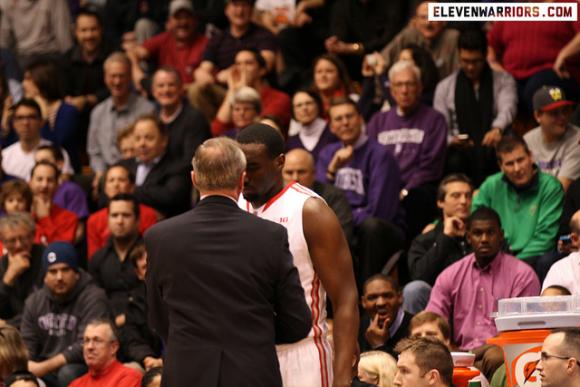 LOS ANGELES – Thad Matta is not shy about getting on his players. If a kick in the butt is needed, Matta is just fine with using his boot.
Evan Ravenel felt Matta's wrath at Northwestern in an event that became highly publicized. Ravenel, Ohio State's lone senior, missed a point-blank shot at the rim and believed he was fouled. He slammed down the ball, showing his displeasure with the officials before trotting back downcourt.
Matta was seen screaming at Ravenel, trying to get his attention, but he ignored his head coach's overtures. So Matta sent Amir Williams into the game and completely unloaded on Ravenel when he walked back to the bench.
"I wanted to get his pizza ordered for the trip back," Matta quipped after the game.
"He had kind of lost his composure and he was arguing with an official. I'm watching him walk down the floor, and I was trying to get his attention, and he was somewhere else, so I tried to snap him back into it."
ESPN talk shows made a big deal out of the outburst due to Matta's face turning so purple with rage. But the chewing out didn't seem that out of the ordinary in regard to college basketball coaches laying in to players.
Ravenel later apologized on his Twitter account, saying his "emotions" got the best of him.
"It won't happen again," he tweeted.
And it hasn't for him, but Deshaun Thomas earned a tongue-lashing from Matta during Ohio State's first Big Ten Tournament game against Nebraska. The trip to the principal's office sparked another purple-faced moment for Matta.
Thomas had forced a shot early in the shot clock and played lazy defense on multiple Cornhuskers possessions. Shortly thereafter, the Buckeyes trailed, 15-6, and Thomas was seated next to his head coach.
"I felt like we needed a timeout to say, 'Hey, this is what I was talking about last night in the final meeting. It's what I talked about this morning after the film session. If you're not ready to go, you're going to get embarrassed,' and we were getting embarrassed out there," Matta said. "It was just the little things that we weren't doing that was bothering me."
Thomas finished with 19 points and nine rebounds in Ohio State's 71-50 win.
In the lead-up to the Arizona game, Lenzelle Smith Jr. became the target. During the Buckeyes' win streak, Smith wasn't at his best, particularly during the postseason, where his numbers dropped dramatically.
"Last game, he wasn't being himself and coach yelled at him a little bit," said point guard Aaron Craft, explaining Matta's motive. "We wanted him to get into the groove a little bit."
In a performance that could be described as a total team effort, Smith finally broke out of his hex, finishing with six points, eight rebounds, two assists, a block and a steal. 

Arizona's Solomon Hill scored 16 points on 7-of-11 shooting, thanks to Smith's heady defense, though, Hill went scoreless for the final seven minutes of the game.
"I was feeling a little guilty. I felt like I let my team down," Smith said of his recent play. "I was not doing my best to help this team win. That was selfish. I can't be like that. I've got to be the glue guy, the X-factor to help this team win."
Craft, one of the team's leaders, entered Ohio State in the same recruiting class. With Smith as a peer, Craft said he let Matta's speaking do the chore.
"this program is a train. What guys fail to realize is this train will run no matter what."
"He's a junior. He can handle himself," Craft said. "He did a great job of taking a step back and looking at the whole picture.
"We need him to do what he did tonight."
Thanks to a revered coach, the message was delivered and received.
"He tells us everything we need to hear," Smith said. "He's said it so many times: this program is a train. What guys fail to realize is this train will run no matter what. No one is bigger than this university and this team. If you want to be a part of it, great. If not, you'll get left at the station."
---
SIBLING LOVE: Criticism doesn't come often for Aaron Craft. He is praised roundly for his game and grades. In the past year, he's been featured in Time and Sports Illustrated. But there is one person that's hard to satisfy: little sister Cait.
She is active on Twitter and does not shy away from giving big brother and best friend a stern talking to. For example, Craft fouled Mark Lyons with 1:33 left in Thursday's game after he had already knocked the ball away from Lyons. The shot clock was running low and the ball was near midcourt, making a basket seem unlikely. The foul resulted in two made free throws and trimmed Ohio State's lead from six to four.
An angry Cait, a member of the Ohio State women's team, tweeted: "Aaron that's dumb. You already did your thing.. Took time off the clock. What were you thinking?"
Aaron is all right with it, though. He said it wasn't his finest moment nor was Cait the only person upset with him.
Craft struggled throughout the game with point-blank shots. It's been his go-to move during the Buckeyes' win streak. But on Thursday, the ball seemed to have eyes, staying out of the hoop at all costs.
"Aaron couldn't buy a layup today if he wanted," Cait tweeted.
It was the second straight game Cait hurled disapproval at her brother, who happens to be the heart and soul of the Buckeyes and arguably the best defender in college basketball.
In the waning moments of the Iowa State game, before his heroics, Craft had a smorgasbord of miscues – missed free throws, missed jump shots, turnovers. His loving sister was exasperated by the turn of events.
"Alright Aaron, some free throws would be nice," she tweeted.
The siblings have an intense but kind rivalry. It spans every type of activity imaginable – basketball, academics, Rubik's cube, watermelon eating, etc. If a competition can be had, they're usually trying to beat the other.
Someone who's had a front row seat to it for the past three years is Thomas. 
"They're competitive. They have the same mentality. They work hard," Thomas said. "When Aaron's at her games, he's like, 'You can't make that foul, you can't miss those layups!' It's just so competitive between them, and that's what's great.
"Aaron loves his sister, but they're always bickering at each other and laughing. But they stick together."
Cait displayed that well after Aaron made the biggest shot of his life.
"I guess those free throws are forgiven," she tweeted.
---
SHOCKING THE WORLD: Few 9 seeds have ever looked this good. In its run to the Elite Eight, Wichita State has dominated for almost all 120 minutes. The only lapse was a brief stretch against top-seeded Gonzaga when the Shockers' offense and defense went haywire.
Wichita State has won their three tournament games by a combined 36 points. It may play in a mid-major conference, but as Missouri Valley Conference teams have shown, they can play with the big boys.
"It doesn't matter what conference you play in," said Wichita State senior forward Carl Hall. "Anybody can play with anybody. When the NCAA Tournament starts, there's no No. 1 team. When they throw the ball up, the teams are even. Everyone deserves to be there."
Some may call it a Cinderella story. Wichita State is doing anything but crashing the ball. It has a plethora of quality wins and sent Gonzaga packing with ease. The Bulldogs were supposed to be the underappreciated mid-major of the West Region.
Instead, the Shockers have taken Hollywood by storm. And if there isn't a happy ending in Atlanta, they'll be less than satisfied. Most teams from outside the power conferences would be happy with a trip to the Elite Eight that included beating a 1 seed.
"we have tradition and we have history. We are not named South Central Kansas State. We're Wichita State."
"When you're involved in it, just like the season, it's hard to reflect back because you're right in the middle of it,'' head coach Gregg Marshall said. "Right now, I'm just grinding like the guys say. I'm trying not to be satisfied. We're trying to continue to give these guys the best chance that we can do as leaders to win. They're playing pretty well.''
Wichita State has a complete team – guards and bigs that could play in any conference – and a head coach that seems to be a candidate for bigger jobs every March.
"I've been a head coach for 15 years and probably for 10 of those years there's been conjecture about me leaving," Marshall said. "I've made one coaching move in 15 years. I'm not a jumper. I'm very pleased to be the head coach at Wichita State. I'm content, happy, you can't buy happy. I have a great group of guys here playing in the Elite Eight, and that should be the focus."
The success also isn't uncharted waters for the program. The Shockers advanced to the Final Four in 1965 and have played in three Elite Eights. They believe a return trip to the Final Four, almost 40 years after the fact, is possible.
"We just have a great basketball program, we have tradition and we have history," Marshall said. "We are not named South Central Kansas State. We're Wichita State."
---
CALIFORNIA DREAMIN': A 4:47 p.m. start on a workday probably isn't an ideal time for a game in LA. The NCAA might have learned that lesson last night. When the Ohio State-Arizona game tipped, Staples Center was barely half full.
The City of Angels doubles as the City of Traffic Jams.
The palatial arena was mostly filled up by halftime, but the game still did not sell out. The announced attendance was 18,232, a few thousand shy of capacity. Some of the upper sections of were completely void of spectators.
But plenty of those in attendance were wearing scarlet and gray. Ohio State's Southern California alumni base is one of the largest in the country. The close proximity to Arizona benefited the Wildcats – they had more fans – but the Buckeye supporters filled two sections to capacity. They also had fans scattered throughout the arena.
"I felt we had good fan support," Ravenel said. "Buckeye Nation always travels well. That's not a cheap trip. The way our fans come out and support us, it's incredible."