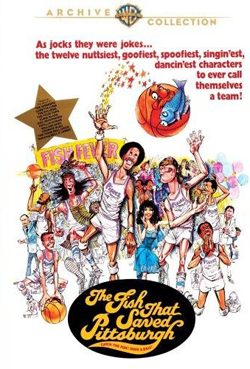 Did you know that Sean Miller was once one of America's top prepubescent dribbling prodigies?
He even has a movie credit:
Alas, Miller's big-screen career lasted a handful of seconds, just one scene in which he dribbled three basketballs at once as the actor Nicholas Pryor walked by and asked, "How tall is your mother?" It is true, though. Before Miller became a basketball coach, before he took over at Arizona, before he guided the Wildcats into the Round of 16, there was "The Fish That Saved Pittsburgh."

Released in 1979, the film became something of a cult classic. Strangers ask Gary Stromberg, one of its producers, about it all the time. He heard Shaquille O'Neal once ranked it among his favorite movies. Same with Donovan McNabb.

"I remember that kid from the movie," Stromberg said this week in a telephone interview. "I didn't know that was Sean Miller until just now. I had no idea he became a coach."
The son of a basketball coach, Miller dribbled everywhere he went as a young boy. This led to performances at halftime of a Pittsburgh Steelers' game, and an appearance "The Tonight Show with Johnny Carson."
Miller was so good at dribbling that he caught the attention of a man that sees no joy in life:
Somehow, Miller's dribbling came to the attention of Bo Ryan at Wisconsin, then an assistant coach. Ryan, an economics and marketing major, wanted to spice up the university's basketball camp. So he flew in three basketball magicians, Miller, the youngest of the three, included. As part of his routine, Miller wore a Superman costume.

"Those were the three best at the time," Ryan said in a telephone interview. "Probably in the world. In the '80s, there were all these kids whose dad took them to the gym for 10 hours a day, all these instructional videos. But Sean is the one that people from my generation remember."
[H/T @LoriSchmidt]