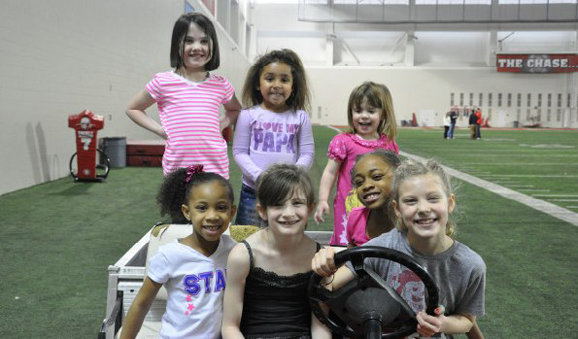 The Ohio State football coaching and support staffs held the first "Father-Daughter" day at the Woody Hayes Athletic Center Wednesday, with nine young ladies getting quality time with dad on the job.
In addition to sitting in on a coaching meeting - albeit, briefly - the young ladies proceeded to play in the basketball court, racquetball court and indoor practice field. They took part in an Easter egg hunt in the player's lounge and then worked on some crafts, including making "good luck" signs for their fathers. They hung the signs in Dad's office, blew bubbles, watched Dora the Explorer and ended their day with lunch and a hug from Dad.
Our first reaction to this is that it's a cool idea. Our next reaction? Wow, is this staff young.
Also, you can say you were there the day "Dora the Explorer" appeared in an Ohio State football press release.