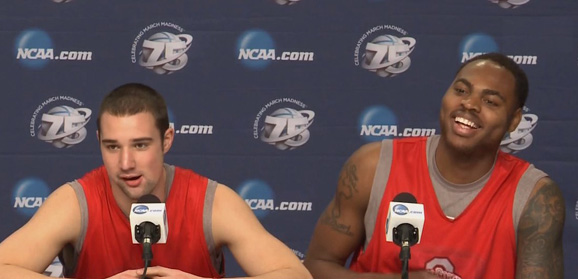 LOS ANGELES – Aaron Craft's buzzer-beating three-pointer that rattled UD Arena on Sunday and sent the state of Ohio into euphoria was not the first last-second shot a Buckeye converted in the NCAA Tournament. It's not even the first by a Findlay native.
Forty-five years ago, in the 1968 regional final, Findlay's Dave Sorenson connected on a hook shot with three seconds remaining to upset fifth-ranked Kentucky on its home floor in Lexington. It sent Ohio State to the Final Four.
In 2007, the Buckeyes were benefactors of another buzzer-beater in Lexington when Ron Lewis delivered against Xavier. It didn't propel Ohio State to the Final Four – at least not immediately. But that would be the final destination.
Will Craft's shot serve as another tournament moment that results in a Buckeye Final Four berth?
"You hope so," said Ohio State head coach Thad Matta.
"I hope our guys have confidence. I don't like the fact that we had a 13-point lead and squandered it, but I'm proud of the way we finished it."
Sorenson's game-winning basket isn't the only indelible image reminding fans of the current season. During the 1967-68 season, Ohio State appeared listless in the middle of the Big Ten season. This was during the time that only the conference champion advanced to the NCAA Tournament.
But the Buckeyes rebounded and tied Michigan and Iowa for the conference crown, and then defeated the Hawkeyes for the Big Ten's tourney bid.
Still, winning on Kentucky's home court in the venerable Memorial Coliseum was far-fetched. The Wildcats were led by legendary head coach Adolph Rupp and future Hall of Famer Dan Issel.
In the closing seconds of the Kentucky game, the Wildcats failed to get a defensive rebound, much like the Cyclones on Sunday. And in similar fashion, a heart-pounding finish was imminent.
"The whole world fell in when Sorenson hit that shot," said Kentucky star Dan Issel in the book Adolph Rupp: Kentucky's Basketball Baron. "I think half of us already had our bags packed for California (Los Angeles was the Final Four host)."
Fred Taylor, who engineered Ohio State's only basketball national championship in 1960, drew up a play for Steve Howell, not Sorenson or Bill Hosket. When Howell failed to get open, Sorenson ended up with the ball, scoring the last of his team-high 24 points. 
The dejection from Kentucky players evoked the solemn reaction and faces of Iowa State's heartbroken players after Sunday's game. A senior-laden team, the Cyclones had a golden opportunity to advance in an already havoc-filled region.
Instead, Craft extinguished those dreams in one fell swish.
"It's tough," Iowa State's Korie Lucious said, with a look of anguish on his face. "I mean, we worked all year to get to this point."
Give Iowa State credit; Rupp refused to shake hands with Taylor and stormed off the court and did not talk to the media. The hero of Sunday, Craft, received far different treatment.
When an Ohio State spokeswoman announced that Craft was waiting in the hallway to speak with reporters, she was nearly trampled by the eager reporters. The stampede surrounded the calm point guard, and he remained as down to earth as ever. 
"It's a very humbling experience," Craft said. "My teammates believe in me, and I was very fortunate to come through for them."
A Good Game Spoiled: It was setting up to be LaQuinton Ross' day. He hadn't yet had an official coming-out party. But on national television, Ross was introducing himself with flair.
In a back-and-forth game with Iowa State, the Buckeyes were searching for a spark. The previous Sunday the same situation presented itself. Ohio State and Wisconsin were matching each other shot-for-shot in the Big Ten Tournament championship game. In a timeout during the second half, Matta asked for someone to step up.
Ross wasn't the likeliest candidate; nonetheless he fit the bill. One week later, he made his presence felt again, scoring 10 straight points, almost single-handedly giving the Buckeyes a 13-point lead.
But less than two minutes later, it had all evaporated. In the end, the story was Craft and his game-winner for the ages. Disappearing was a 17-point performance by Ross, his fifth double-digit scoring output since the Big Ten season started.
As Ohio State was cruising to the Final Four last season, Ross spent the festivities attached to the bench. He played all of 35 minutes his freshman season, half of which was taken away due to academic issues.
If a return trip occurs this year, Ross is likely to be a key part.
"His abilities make him an impact player. He can have a great game every night."
"His abilities make him an impact player," said point guard Shannon Scott. "He can have a great game every night. If he does that, it gives us a good chance of winning."
In the Buckeyes' first two tournament games, Ross played a total of 41 minutes and finished with 24 points and 10 rebounds. His outing Sunday was especially noteworthy – 17 points on 6-of-10 shooting, including 3 of 5 from three-point range.
"Stepping up in big games is something I appreciate doing," Ross said.
Matta was able to exploit the zone defense Iowa State employed by sticking Ross at the three-point line. It forced the Cyclones to stretch the defense or risk giving up open shots. But Ross didn't score in the final eight minutes and had a traveling call go against him in the closing minutes that loomed large with the game tied before Craft's heroics.
"I love the fact he was dialed in and he was making big-time plays," Matta said. "He's just something different for us."
Unless Arizona fails to show up – and it didn't, the Wildcats were at Staples Center today – Ohio State is going to need Ross to get past the Sweet 16 and ultimately advance to the Final Four. It was Deshaun Thomas who stepped up in last season's tournament. So far, Ross looks like the moment-embracer for 2013.
"He's been playing great this whole postseason," Scott said. "He's been a big mismatch for most team because of his size and ability to score the ball. If we can use that against Arizona, it'll help us out a lot."
Lyon In Wait: When Mark Lyons transferred to Arizona to finish his career with former head coach Sean Miller, he envisioned a similar scenario that played out during his time in Cincinnati.
Lyons was part of a Sweet 16 with Musketeers, but he wanted to go two steps further. The dream of every young basketball player in America is to play in the Final Four. Two years later and 2,000 miles away, Lyons has returned to the regional semifinal to finish what he set out for.
"It's a great feeling," he said. "I'm playing for my original coach who recruited me and with a bunch of guys who believe in me. We've been coming together as a team. It's great to be back in the Sweet 16 and trying to advance."
In the Wildcats' first two tournament games, Lyons hasn't left anything to chance. He's averaging a tournament-best 25 points per game, including scoring a career-high 27 against Harvard. It came on near flawless shooting, as Lyons finished 12 of 16 from the field.
Arizona looks like the team that started the season 14-0, not the one that was 12-6 in the Pac-12 and 5-5 in its final 10 games of the season. It has decimated the competition, though it only had to defeat two double-digit seeds to advance to the Sweet 16.
Lyons is a point guard with swagger that sometimes rubs his opponents the wrong way. A confident cockiness adds another dimension to an already outstanding skillset. Lyons can shoot, penetrate in the lane or facilitate the offense with crisp passes. 
"Mark is filled with confidence and when he gets his confidence going it's contagious on our entire team," Miller said. "The bigger the game can really bring out the best in him.
"It's two-fold. You try to do two things to take advantage of that talent, and at the same time you ask him to get better at something that he's really not comfortable with. There are times when he's a float-out combo guard and there are times when it doesn't look the same as a team with a true point guard. But I wouldn't trade him."
Coaches will always stick up for their own players, and Miller and Lyons have a history dating to the recruiting trail. But Craft might have Miller rethinking his no-trade clause.
Trey Burke, Quinn Cook and Keith Appling are only three of the opposing guards that have had miserable days due to Craft's annoyingly effective defensive skills.
Former Arizona guard Momo Jones, the nation's third-leading scorer, learned how difficult it was going against Craft in Iona's first round loss on Friday. Jones was limited to nine points, just the second time he was held to single digits all season. It was more than 12 points under his season average.
"Give credit where credit is due. I think he played good defense," Jones said. "I think I took some bad shots. Things just didn't fall tonight. Can't knock the guy. He played some good defense."
Like Jones, Lyons is the offensive catalyst for his team. He's the creator and in turn, his level of play provides a boost to the rest of the Wildcats. Against Craft, Lyons will be depended on to serve as a buffer of sorts. If one thing is certain in this year of uncertainly, it's that one man can't beat Craft. 
Running On: Amid the hysteria in UD Arena in the immediate aftermath of Craft's miracle 3, one Ohio State player got a little overzealous and rushed onto the floor. Ironic, considering Craft showed little to no emotion.
"I got so much crap on Twitter and close to 80 texts saying how dumb I was," sophomore walk-on Jake Lorbach said. "My teammates and coaches just laughed at me. I was kind of afraid I'd get yelled at."
It was an unrecognizable face to many, but to his teammates, Lorbach has been an incredible example of perseverance. After a star-studded career at Lakewood St. Edward, a powerhouse in the Cleveland area, Lorbach enrolled at Ohio State. But his playing career – both basketball and volleyball came to a screeching halt.
Lorbach came to Ohio State to earn a medical degree and pursue a future as a doctor. Last spring, during the Buckeyes' Final Four run, an idle observer got the itch to return to the court.
"I really wanted to make it," he said. "There was a point last spring where I realized how much I missed basketball. I called Coach Boals and he told me when they were having tryouts. I tried out for two days and they called me back to practice with the team for two weeks, until they finally told me I made the team."
The two-week practice period were some of the most stressful of Lorbach's life. Forget medical exams, this was an opportunity of a lifetime to fulfill a fantasy young kids in Ohio envision in the driveway.
David Eggelhoff, Ohio State's director of basketball operations, was in charge of contacting Lorbach after each day to deliver a "Come back" or the dreaded pink slip.
"I was so anxious," Lorbach said. "I would keep getting emails to tell me to come back. I was always anxious every night."
"I was so anxious. I would keep getting emails to tell me to come back."
Never once did the thought of quitting cross Lorbach's mind. But the medical profession is out of the picture for the time being, the only casualty of Lorbach's playing career.
Due to the demands of being a student-athlete, the course load was too heavy. He can go back to school anytime to be a doctor. You can only have one chance to be a member of one of the top basketball teams in the country. 
He's now majoring in business and will graduate with a valuable degree from the Fisher College of Business.
"That was my biggest challenge," said Lorbach, about his academic switch. "I was used to spending six or seven hours in the library. Once I was on the basketball team, it dropped to two or three hours a day. It was tough for me."
Realizing he is in the current position he's in is hard to fathom for the sophomore. Lorbach said he has moments every night where he can't believe he's on the team. His friends do a good job or reminding him, though.
"My friends are like, 'Dude, you're playing in the United Center, where Michael Jordan won six NBA championships,'" he said. "Now I get to play in the Staples Center. My friends always say they are jealous."
Rightfully so. The capper may have come last week when Lorbach played the final minutes of the Iona game and got in the box score with a free throw. In two minutes, he managed one point and one rebound.
Competing in the Ohio high school state championship is nothing to slouch at. But the NCAA Tournament is the pinnacle for amateur basketball players.
"This is on such a bigger scale," Lorbach said. "It's definitely something I've always dreamed of ever since I tried out for the team in October. I never thought it was something I could do."
"It's always something in the back of my mind. I'm not selfish telling the guys to run up the score or anything. But it's always nice when I can get in.
"My friends and family were pumped that I got in and scored."
So much so that it left one of his aunts in tears. Had his court storming resulted in a technical, it would have been Matta that was in tears.