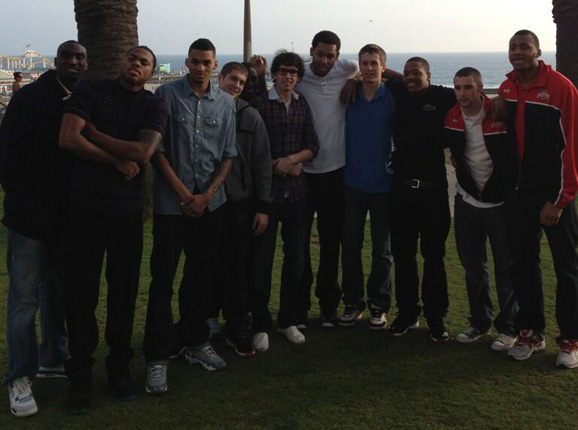 The Ohio State men's basketball team arrived in Tinseltown shortly after 4 p.m. local time Tuesday and did what a lot of tourists do in LA: They hit up the Third Street Promenade in nearby Santa Monica. Here they are posing for a photo with the famous Santa Monica Pier in the background.
Quick observations from the photo: 
Aaron Craft looks thrilled to be in California and not to be studying for his organic chemistry exam.
Lenzelle Smith Jr. is clearly the team dad. The dad belt gives it away.
Amedeo Della Valle brought his Hollywood clothes for the trip.
LaQuinton Ross's body language speaks volumes about where he is in his career right now. Ready to be alpha, but not quite there yet.
Deshaun Thomas is good at striking Dr. Dre poses.
Other highlights from the team's first day in LA:
Goodluck to everybody taking the Econ midterm. Instead, I'm going to Hollywood.

— Amedeo Della Valle (@Ame_DV_33) March 26, 2013
Just had these cali navel oranges wheew they was good...

— Evan Ravenel (@erav30osu) March 26, 2013
Slow down, gents. Can't have too much fun. Dad says it's time for bed:
I'm so damn sleepy and it's only 9 o'clock ova here

— Lenzelle Smith, Jr. (@L_ZELLE32) March 27, 2013