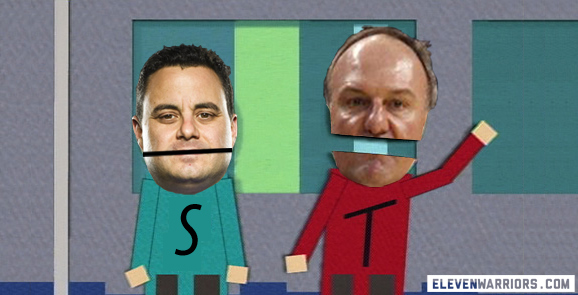 In the mid-90s, it wasn't rare to find Thad Matta and Sean Miller in a cramped Oxford, Ohio, office talking basketball strategy during the early morning hours. The two young coaches would converse about a life filled with coaching and achieving milestone victories. 
Nearly 20 years later, they've each accomplished many of the goals they set out for. Matta has appeared in two Final Fours, a national championship game and won countless conference championships. Miller took Xavier to the brink of the Final Four and is restoring Arizona to its lofty status.
In between all the job changes, seasons and recruiting trips, the two have remained close friends. On Thursday, that friendship will take a two-hour break when No. 2 seed Ohio State and No. 6 seed Arizona meet at Staples Center in the West Regional semifinal.
"Thad is certainly my best friend in coaching and a guy that means a lot to me," Miller said. "I wouldn't be here if it wasn't for him."
Their friendship began at Miami (Ohio), where Matta and Miller were assistants together under Herb Sendek for one season. Ironically, the No. 12 seed RedHawks upset Lute Olson's fifth-seeded Arizona Wildcats in that season's NCAA Tournament in Dayton.
Matta moved on to Western Carolina the next year and Miller navigated to Pittsburgh. When Matta was hired to be head coach at Xavier prior to the 2001-02 season, he phoned Miller, then an assistant at North Carolina State under Sendek again, to be his top assistant.
Miller accepted and the two friends enjoyed three of the most successful seasons the Musketeers have ever experienced. That prompted the big state school up the road to become interested in the budding superstar head coach a little more than an hour's drive to the south.
When then-Ohio State athletic director Andy Geiger met with Matta, he knew he had his man. Geiger had gone through this process before with another high-profile hire in 2001. That time he went with his gut instinct after meeting a head coach from a small in-state school. Jim Tressel would go on to have one of the most successful tenures in program history, the same track Matta is currently on.
For the past nine seasons, Ohio State has been on a runaway train of success. His protégé recognizes it from almost 2,000 miles away.
"He's one of the best, if not the best, right now coaching," Miller said. "I think his team really reflects that."
When Matta left Xavier, he told his athletic director no search was necessary for the next head coach. The best candidate was already on campus. Miller took the reins and continued the upward trend Xavier was on.
"Thad is just a very unique person," Miller said. "He has that quality where you want to follow him. I think that's one of the many reasons why he's such a great coach. The players on his team love to play for him. He has a way of making things fun. He's also one of the most competitive people that I've ever met."
As fate would have it, it was Matta and the Buckeyes who dealt Miller-led Xavier one of its most difficult losses in school history – a 78-71 gut-punch in overtime. The setting was the second round of the 2007 NCAA Tournament at Rupp Arena.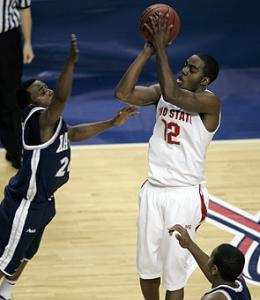 The Musketeers led by 11 points in the second half, only to have Ron Lewis rip their heart out with a game-tying three-pointer to end regulation. Then it was all Buckeyes in overtime. To date, that is the lone Matta-Miller matchup.
Until Thursday.
At various points this season, Ohio State and Arizona have been the picture of elite and inconsistency, typifying the wacky, up-and-down college basketball season. In a year where no clear-cut favorite has emerged, there is no reason why the Buckeyes or Wildcats can't cut down the nets in Atlanta.
The head coaches probably just wish they didn't have to attain that at the expense of the other.
Matta and Miller still talk regularly, and on Selection Sunday – Christmas for basketball coaches – a conversation was had. Miller mentioned to Matta that he believed Arizona received a favorable draw because a trip to the regional would be a glorified home game in Los Angeles.
"I think we're in LA, too," Matta replied.
Indeed, the two friends overlooked the fact that they were placed in the same region.
"We had no idea," Matta said. "That puts in perspective how coaches think. Everybody else is like, 'Who's going to get to the Final Four?' Coaches are just trying to win one."
That thought was reinforced on Sunday when Ohio State averted disaster when Aaron Craft made a last-second shot to defeat 10th-seeded Iowa State. It thwarted a disastrous end to the Buckeyes' ever-evolving dream season.
Hours before the Ohio State-Iowa State game, Matta received a text message from a Tucson, Arizona, phone number.
"We're waiting for you in LA," it read.
The Wildcats had already punched their ticket to the Sweet 16 by blowing out Cinderella story Harvard. They'll provide the Buckeyes with another stiff test, posing a challenge with skilled shooters and a tall lineup.
Arizona began the season with 14 consecutive victories, including wins over Florida and Miami. A second-place finish in the unimpressive Pac-12 dropped the Wildcats' stock, though. But with resounding victories in its first two tournament games, fans are clamoring for Arizona's first Final Four in more than a decade.
"(Sean has) done a tremendous job out there," Matta said. "He's a great coach, a great friend. I'm excited to play him."
The excited comment may be a stretch. Matta has been down this road before – coaching against friends – and he doesn't like it. Todd Lickliter, Charlie Coles and John Groce are some of the close friends he's coached against. Matta has described it as difficult.
It's probably even less fun when the opponent is so good.
"I know this, the best team on the West Coast is who we play next," Matta said. "I've seen Arizona play. They are loaded. They are extremely talented. I'm not taking anything away from those other teams ranked higher or whatever, but the best team on the West Coast is Arizona."
If the best team on the West Coast can't beat one of the Midwest's best, Matta and the Buckeyes will have someone cheering for them.
"If I were to lose in this round, not that I'd go as far as saying I wouldn't mind, but I always pull for him and hope he does well," Miller said.