Ohio State is in the Sweet 16 for the fourth straight year, and much of the credit has to go to an apparently overrated rosy-cheeked white guy. Aaron Craft's trey over Georges Niang with half a tick left on the University of Dayton Arena clock was the shot heard round the college basketball world, certainly.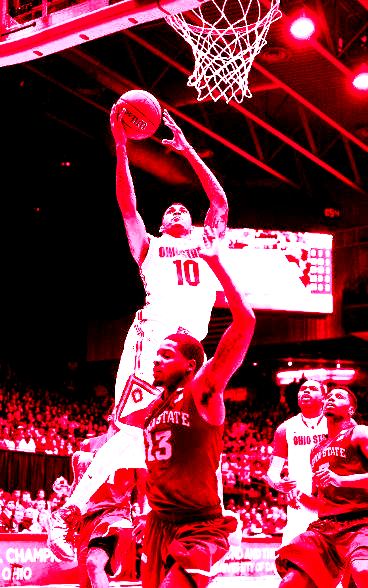 The Crafty one made up for missing the front ends of two 1-and-1s down the stretch, when he avenged Niang's intentional shoulder bump and broke hearts all over Ames, Iowa. It was a spectacular play in a weekend of such for Ohio State's No. 4.
Craft fueled Ohio State's first two NCAA tournament victories of this run, while Deshaun Thomas averaged 23 points over the two games.
Although Craft and Thomas once again led the way, the Buckeyes still wouldn't be California bound without a significant contribution from sophomore wing LaQuinton Ross.
The 6-7 forward from Jackson, Mississippi, had what could be classified as an "OK" season. He averaged 7.5 points per game entering the NCAA tournament games in Dayton, with many of his points coming in garbage time of lopsided games against teams like Chicago State, Long Beach State, and Missouri-Kansas City.
But his game started to take a noticeable turn during the B1G season, especially his 16-point performance in an overtime loss at Michigan on Feb. 5. It seemed that Ross may have turned a corner with that performance.
Unfortunately, he couldn't sustain it.
Despite scoring 11 points in a home loss to Indiana, Ross's play trended downward for much of the rest of the regular season. He failed to score more than six points in six of the last seven conference games, including a scoreless performance at home against Northwestern on Valentine's Day, and he tallied just three points in the drubbing in Madison on Feb. 17.
The two Northwestern games were particularly bad for Ross, who scored just five total points and grabbed two rebounds in the series, playing only 18 total minutes. The Wildcats' Princeton offense gave him fits and he never got going. Thad Matta simply couldn't afford to play him.
He was, in a word, inconsistent.
When the postseason came, Ross elevated his game. In the B1G tournament, Ross played no fewer than 15 minutes in any of the three games. He scored above his average in the first two tourney games, including 11 against Nebraska and nine in the semifinal against Sparty on 3/5 shooting. He posted seven points and four rebounds off the bench in the tournament final win against Wisconsin.
The emergence of Ross coincided with Matta's recognition that his "small ball" lineup of Craft, Thomas, Ross, Shannon Scott and either Sam Thompson or Lenzelle Smith was giving fits to teams without dominating interior players.
On Friday evening, Ross played 20 minutes in the tournament-opening 95-70 beatdown of Iona. His shot wasn't as sharp as it was in Chicago (2/9 overall, 1/4 from the arc), but he played effective defense and pulled down eight rebounds — second on the team only to Thompson's career-high 10.
In yesterday's dog fight against Iowa State, Ross was instrumental in Ohio State's advancing to the Sweet 16. He played 21 minutes and hit 6/10 from the field, including 3/5 from downtown.  He scored 17 points and grabbed two boards. Before Craft's game-winner, Ross was Ohio State's second-leading scorer behind Thomas.
The 17 points were Q's second-highest point total of the season, dating all the way back to the 22 he scored in 29 minutes against the North Kentucky Norse on Dec. 1, in a 70-43 win. His three triples tied a season high, established in that Northern Kentucky game and equaled in the B1G tourney win over Nebrasketball.
"I saw the team needed a spark off the bench, so I came in and did what I had to do," Ross said. "They found me and I got a couple pick and pops and it felt great. My shot was falling.""I saw the team needed a spark off the bench, so I came in and did what I had to do"
In a crucial second-half stretch, Ross scored 10 consecutive points for Ohio State, on a layup, two triples and a pair of free throws. His outburst started with 10:55 to play and helped the Buckeyes turn a 52-51 lead into a 65-53 advantage with 8:31 remaining. Although the Buckeyes melted down the stretch, leading to Craft's heroics, if not for that spurt by Ross, the season might be over.
"I love the fact he was dialed in and he was making big-time plays," Matta said of Ross. "He's just something different for us."
Matta rewarded Ross with playing time. Ross saw the floor for 21 minutes on Sunday, his highest total since he played 22 minutes in Ohio State's Feb. 20 home win over Minnesota. Since the B1G conference schedule began, Ross has only played more than 21 minutes twice. One was the Minnesota game and the other was the overtime loss at Michigan, when he was on the floor for 23 minutes.
Ross is enjoying his current role with the Buckeyes.
"I think coming off the bench I have an advantage because I get to watch the pace of the game, and I get to see what those guys are doing, switches on pick and rolls and all that," Ross said in the postgame presser yesterday. "I was able to come in the game and set a few screens for Aaron and get open. I was able to knock down a couple of shots."
Ross is now averaging 10.2 points in five postseason games. His defense and ball handling are still works in progress, but they've improved. He had four turnovers and three fouls against the Cornhuskers in the first tournament game, but just six turnovers and five fouls in the four games since.
If the Buckeyes are going to make a Final Four run, or better, Ross must continue to provide useful play off the bench, both in the scoring column and on the glass. Like Sam Thompson, another player elevating his game in the postseason, Ross's continued emergence is vital if the Buckeyes are going to make it out of the West Region.
So far, he's delivering.