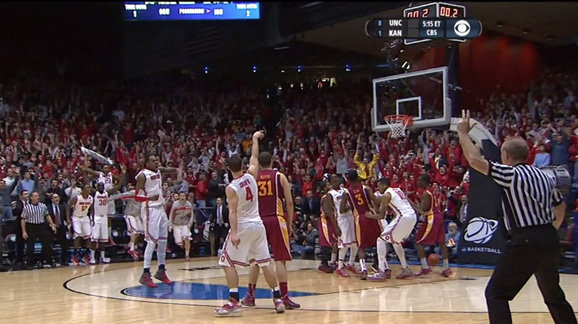 DAYTON – The obituary was already being written. Aaron Craft, Ohio State's do-everything point guard, had wilted down the stretch. Turnovers, missed free throws and untimely fouls made a 13-point Buckeye lead disappear.
Over the past month, during Ohio State's nine-game win streak, Craft developed into a national darling for his style of play, looks and penchant for coming up big in critical moments.
With the season on the line, it was Craft, a defensive ace, waving off the Big Ten's leading scorer, Deshaun Thomas. The scoreboard read Ohio State 75, Iowa State 75 with less than two seconds left in the game.
Craft stood behind the three-point line and released the ball, this time without a hitch that usually accompanies his shots. Time seemed to stand still in UD Arena, 13,000 spectators all clad in some hue of red holding their breath.
Swish.
The game clock still had 0.5 seconds remaining, but the result was final. 78-75, Buckeyes. Craft had just lifted Ohio State to one of its most dramatic wins in program history.
The Cyclones failed to get a shot off, and it was California Dreamin' on such a winter's day.
"That was a big-time shot by a big-time kid and a big-time player," said Ohio State head coach Thad Matta.
It will go down in Buckeye lore as one of the greatest shots ever. The play was drawn up for Thomas, the same play that Ohio State used against Michigan State in the Big Ten Tournament a week ago. It worked that day, and it worked again on Sunday. It just so happened the triggerman was a different person.
When Georges Niang backed off of Craft and gave him space to shoot, the ball was going to go up.
"He did the same thing the possession before," Craft said. "I knew I was going to have space and didn't have to rush it. I just tried to stay as calm as possible."
What preceded Ohio State's version of "The Shot" was a momentous collapse. The West Region has been one implosion after the other and the Buckeyes were about to join the region's 1, 3, 4 and 5 seeds, all losers before the Sweet 16.
Ohio State grabbed a 13-point lead with six minutes left in the game, after LaQuinton Ross did his best LeBron James impersonation, scoring 10 consecutive points for the Buckeyes. But it was all gone in the blink of an eye.
The rugged Big Ten style did no favors for Iowa State. The Cyclones turned the ball over 16 times, contributing to 18 Ohio State points. Still, Iowa State broke through Ohio State's pressure to hit several must-make 3s.
"In the huddle, we told each other we've got to dig down and get stops," Iowa State guard Will Clyburn said. "If we get stops, we knew we were going to make plays on the offensive end, and we did after we got our stop. That's kind of what changed it."
Iowa State scored 13 points over the next 1:57 to tie the game. It led by two with three minutes left thanks to six second-half 3s. Craft's own miscues also contributed to the late-game collapse. He missed three free throws down the stretch, including twice on the front end of one-and-ones, and turned the ball over two times. Craft also missed a jumper with 30 seconds left that would have given Ohio State the lead.
"I was just trying to do the best job I could moving on to the next play, just staying poised," he said. "All the things that were going on that I don't normally do, we were still in the game. That's what it's all about down the stretch. Deshaun did a great job forcing the turnover out of bounds. The ball just happened to be in my hands at the end."
The closing minute featured a role reversal of sorts. Thomas made a crucial steal with 58 seconds left on what looked like a wide-open Cyclone basket. Instead, it gave the Buckeyes possession of the ball until Craft drained his 3.
"That was one of the best defensive plays I've ever had," Thomas said, laughing. "It was just showing heart and competing out there. I knew they were going to run that play.
"They call me the crimestopper now."
There were three lead changes in the final four minutes, and Craft outscored Iowa State, 7-2, in the last 2:37. The Buckeyes march on to the Sweet 16 for the fourth straight year, the first time that's been accomplished in school history.
Iowa State head coach Fred Hoiberg was overcome with emotion during his postgame news conference and found it difficult to speak.
"I told those guys I love them," he said. "It's heartbreaking for those six seniors who won't put on an Iowa State uniform again."
Thomas led Ohio State with 22 points, Craft added 18 and Ross had 17. This is the first time the Buckeyes have been able to escape Dayton unharmed during Matta's tenure. Upsets have been the theme in the previous two trips down I-70.
That history and the theme of the West Region were hanging over the entire game. When Ohio State took a commanding lead and limited the nation's best three-point shooting team to under 35 percent from beyond the arc, travel agencies in Columbus were putting together itineraries for Los Angeles.
Then a Cyclone roared through Dayton.
"They hit tough shots," Thomas said. "We kind of backed down a little bit. But we kept our composure. Coach said, 'This is it. We have to show heart.'"
Iowa State's biggest issue was missing so many two-point baskets. They held an overwhelming 36-22 advantage in rebounds and 10-3 in second-chance points. Misses close to the rim, though, loomed large as the clock wound down. So, too, was the one rebound Iowa State had to have with 30 seconds left that glanced off the hands of two Cyclones.
Ohio State's short lineup has developed into the most reliable unit, and playing against a run-and-gun team allowed Matta to use that setup. It contributed to the lack of rebounds, but also led to 51 percent shooting from the field.
The last one pushed them over that 50 percent threshold.
"Fortunately enough, it went in," Craft said.