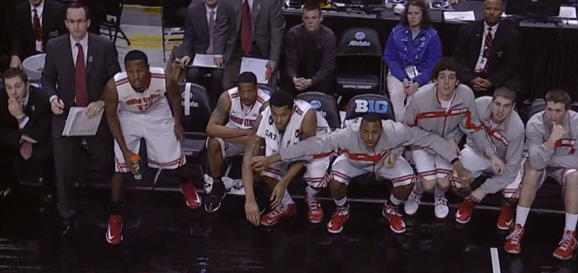 CHICAGO – Rarely if ever has the boogeyman been 6-foot-2, 190 pounds. But when Tom Izzo and Keith Appling lay their heads on their pillows at night, visions of Aaron Craft cause sleeplessness and moments of terror.
Ohio State's defensive-minded point guard once again slashed and dashed through Michigan State's line of defense, carrying the Buckeyes on his back to the Big Ten Tournament championship game with a 61-58 win over Michigan State. 
Craft scored 20 points – 18 in the second half – and added nine assists and four steals.
"Once you get in a groove like that, everything you throw up seems like it goes in," he said.
The story has been written numerous times. Aaron Craft, master of his domain, uses super powers to triumphantly vault Ohio State to victory. Even though it's been seen time and again, how he seemingly does things beyond belief, his own coach was left speechless on Saturday.
"It's hard to put into words," Ohio State head coach Thad Matta said. "You look at what he has accomplished thus far in his career at Ohio State and just the wins, the big plays that he's made. In coaching, you don't get to coach a lot of guys like him, just from A to Z and everything he stands for. He kind of makes us go on both ends of the floor."
In Ohio State's 68-60 win over Michigan State in February, it was Craft who provided the Buckeyes with a second-half spark. He made seven shots – all layups – after the break en route to a career-high 21 that afternoon. But his pestering defense also attracted headlines when he limited Appling to three points on 1-of-6 shooting to go along with three turnovers.
Izzo was complimentary of Craft's abilities after he generated that turnaround with Ohio State trailing by nine. The Buckeyes never came close to facing a deficit of that extent on Saturday, but Craft still gave his team that extra oomph while Ohio State struggled with inconsistent play at both ends of the floor.
"We did not do a very good job on Craft," Izzo said. "He beat us in a different way. The first time he beat us getting to the hole. He almost never got to the hole, and this time he beat us with his jump shot."
Appling only had one turnover, though his entire body of work was unimpressive. He scored 16 points on 17 shots and only had two assists and one steal. After making his first two shots, Appling was in Craft's ear. At the end of the night, though, Appling trudged off the court with a season's worth of frustration built up.
The Spartans led, 29-28, at the half after Ohio State went ice-cold down the stretch, missing its final 10 shots from the field. But Craft came out and scored and then got a steal and an assist to Lenzelle Smith Jr. to put the Buckeyes in front, 32-30. They never trailed the rest of the game.
Michigan State tied it at 45 midway through the half, but Ohio State went on a 10-2 run – nine points by Craft – to regain control. After the Spartans scored seven straight to pull within one with 1:54 left to play, Ohio State held possession of the ball until 22 seconds remained. By then, the Buckeyes had a two-possession lead.
Craft and Shannon Scott's heady defensive play was a key factor in Ohio State's impressive second-half play. Four of their six steals were in the second half. The Buckeyes had an 11-0 advantage in points off turnovers and fast break points. Michigan State turned it over 12 times.
Deshaun Thomas was off the entire game, but even when he's not at his best Thomas' knack for the ball is an asset for Ohio State. With the Buckeyes clinging to a two-point lead in the final minute, Scott missed a 3.
Thomas swooped in, though, and came up with his biggest offensive rebound of the game. It reset the shot clock and gave Ohio State another full possession at a critical juncture. For good measure, Thomas capped it off with a bucket to give the Buckeyes a four-point lead with 22 seconds left. He was just 5 of 18 prior to the game-clinching basket. Thomas finished with 16 points on 6-of-19 shooting and seven rebounds.
"It was great. A lot of (NBA) guys have off nights and come down with the big shot," he said. "Coach told me to be patient. It felt great when it hit the rim and fell in.
"It was a big rebound. A lot of guys talk about my scoring, but I rebound the ball really well to be an undersized 4 man. It was a big play and a big possession. It was a blessing to grab that rebound and kick it back out to Craft."
Michigan State's frontline controlled the first half offensively for the Spartans. Derrick Nix and Adreian Payne combined for 15 of Michigan State's 29 points and eight of 19 rebounds. The duo was 7 of 9 from the field and responsible for the Spartans' overwhelming 20-10 points in the paint advantage. There were only five total fouls called in the first half, and Michigan State made sure to take advantage.
"The Big Ten's a physical league," said Ohio State senior forward Evan Ravenel. "We knew what we were getting ourselves into, especially playing Michigan State. It's difficult, but it's fun. I'm competitive and I love going against Nix and Payne. That's the top frontcourt in our league. Every opportunity you can prove yourself against guys like that, I take full advantage."
The second half featured 10 fouls alone on the Spartans. Nix and Payne made one shot apiece and only attempted four combined. Amir Williams, Ravenel and Thomas fronted the post players and collapsed effectively when the ball was thrown down low. Michigan State had eight points in the paint after the break compared to Ohio State's 16.
Nix led Michigan State with 17 points, Appling had 16 and Payne 12.
"Once again, I think our defense (was great), especially there in the second half, getting our hands on the balls and challenging shots," Matta said. "They made adjustments, we had to make adjustments on the fly, and I thought our guys did a good job of that. Great win for us."
Ohio State advances to its ninth Big Ten Tournament championship game – and fifth straight – in the 16-year history of the event. Matta is responsible for seven of those appearances and three championships. He's tied with Izzo for the most tournament titles.
"It's all Coach, him and the players he recruits," Craft said of the postseason success. "He really takes this tournament seriously. He takes it one game at a time and looks at it as, if you lose, you go home. He does a phenomenal job, and it really trickles down to us."
The Buckeyes play Wisconsin, who upset top-seeded Indiana, at 3:30 Eastern on CBS.
---