It's All-Big Ten season, and the Buckeyes were not to be denied.
Junior forward Deshaun Thomas was named First-Team All-Big Ten by the media and the coaches, while junior point guard Aaron Craft was named to the first team by the media and second team by the coaches.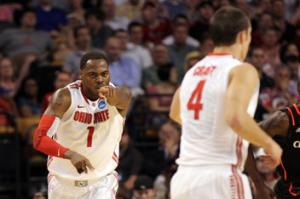 Thomas, the conference's leading scorer at 19.7 points per game, and Craft join Michigan's Trey Burke and Indiana's Victor Oladipo and Cody Zeller on the media's All-Big Ten team.
The All-Big Ten team as selected by the coaches was Thomas, Burke, Oladipo, Zeller and Tim Hardaway Jr. of Michigan.
Michigan State's Keith Appling Gary Harris and Adreian Payne and Wisconsin's Jared Berggren were named to the coaches second team with Craft.
Burke was named Big Ten Player of the Year and Wisconsin head coach Bo Ryan was named the Coach of the Year. 
Thomas was the engine to Ohio State's offense all season. The Buckeyes finished the season 23-7 overall and 13-5 in the Big Ten, tied for second with Michigan State.
Craft has been an energetic presence for Ohio State at both ends of the floor since he stepped foot on campus. That did not change this season. He averaged 9.7 points, 3.6 rebounds and 4.5 assists per game.
Craft was denied the Big Ten Defensive Player of the Year award for a second consecutive season, losing out to Oladipo. But Craft and fellow point guard Shannon Scott were named to the All-Defensive team. Oladipo, Berggren and Michigan's Jordan Morgan rounded out the defenders.
Craft was the catalyst of the Big Ten's second-best defense. He averaged two steals per game, part of the more than 13 turnovers and 6.5 steals the Buckeyes created per game. Scott, a sophomore, added more than one steal per game. Ohio State limited opponents to 58.7 points per game this season.
Craft and Scott have been the leaders in the Buckeyes' current five-game win streak.
Ohio State is the No. 2 seed in the Big Ten Tournament this week and will play the winner of Purdue-Nebraska on Friday night at 6:30 in Chicago.