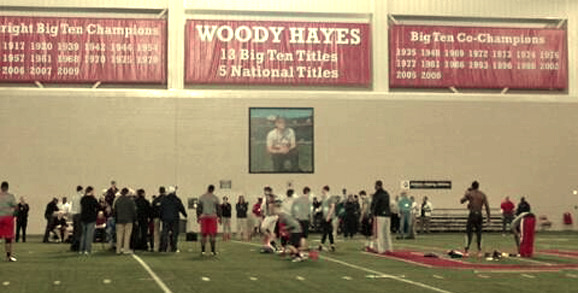 Jake Stoneburner's entire career has been built on potential. After an All-Ohio high school career as a wide receiver, he came to Ohio State with lofty expectations, pegged as the next great tight end. 
His career in scarlet and gray was solid but not spectacular. In four years, Stoneburner caught 53 passes for 714 yards. But nearly 25 percent of his receptions went for touchdowns.
As his NFL career approaches, the same hype is surrounding Stoneburner once again. Carrying a 6-foot-4, 245-pound frame with a wide receiver's speed and agility, Stoneburner is an intriguing option for general managers.
"Why not Jake Stoneburner?" said 2006 Heisman Trophy winner Troy Smith, who was Stoneburner's quarterback at Ohio State's Pro Day on Friday. Several dozen NFL personnel were at the event, including Steelers defensive coordinator Dick LeBeau. 
Stoneburner was impressive in pass-catching drills, running crisp routes and flashing the speed that makes him such a highly regarded prospect. His 4.52 40 puts him near the top of the tight ends available for the draft.
"That's not a dime a dozen at his position," Smith said. "That's what the game has changed into – the Jimmy Grahams, Vernon Davises and Jake Ballards. Hopefully he showed some guys he can really run.
"My main thing was showing that Jake Stoneburner could really run. He's just like his last name, a Stoneburner."
At the NFL Combine last month, Stoneburner referenced his "cat-like ability to run routes" as an advantage over more traditional blocking tight ends. His move to wide receiver last season is being hotly debated on whether it helped or hurt his draft stock.
For Stoneburner, it's irrelevant. He said he would change nothing on the script from his four-year career.
Over the winter, Stoneburner was holed up in Scottsdale, Ariz. Lounging at the pool was not on the agenda, though. Instead, he worked day and night preparing for the combine. The quarterback he worked with is another headliner in Columbus: Tim Tebow.
"You learn a lot from guys like that," Stoneburner said. "(Smith and Tebow's) leadership skills are impeccable. The amount of confidence (Smith) had in me was almost more than myself. That really rubs off on you. I felt more comfortable with Troy out there."
The comfortable surroundings of the Woody Hayes Athletic Center also put Stoneburner at ease. The combine was a different story. When he stepped up to do the 40 – the most important drill for a tight end – Stoneburner said the timer looked at him and uttered, "Here's the money pit."
It didn't exactly calm his nerves. The end result that weekend in Indianapolis was satisfactory, though, Stoneburner said.
Now, it's wait and see.
"I've always wanted to hear my name called (on draft day)," he said. "I feel like I've done enough the past two weeks. But you never know. I've seen a lot of people go undrafted and play a long time in the NFL."
"I've always been a lineman at heart. It's something that came natural."
Former position mate Reid Fragel made the switch from tight end to offensive line last season with his sights set on the NFL. More than a year later, that decision appears to be paying off. In a month, you can add a literal connotation to that.
Fragel did 33 reps on the bench press at the combine and showed elite athleticism for a lineman. Because of that, the right tackle was advised not to do any drills based on numbers or timing at the Buckeyes' Pro Day. The only drill he participated in was a series of blocking techniques. He went up against Columbus Brookhaven graduate and Glenville State product Mark Jackson.
"I just wanted to show my footwork, and I feel I showcased that," Fragel said. "I've always been a lineman at heart. It's something that came natural."
He developed into Ohio State's most dependable presence on a stout line during last year's 12-0 season. It made an impact on head coach Urban Meyer, so much so that he said on Monday a Reid Fragel Award might be christened, going to the player that comes out of nowhere and becomes great.
His physique combined with impressive speed and strength make him a trendy sleeper pick for April. 
Fragel entered draft "silly season" projected as a fifth- or sixth-round pick. He has since vaulted to the second-to-fifth range.
"You hear a lot of things," Fragel said. "I try not to worry about it too much. You take it with a grain of salt. You see what happens every year."
What makes Fragel such an attractive project also works against him. Is he a one-year wonder, or can he progress even further, possibly into a franchise right tackle? 
"Obviously, with only one year of tape, (scouts) want to see me prove I can be consistent," Fragel said. "That's hard to do in workouts. But there's no doubt in my mind I can do it. By the end of the season, I was so confident in my game. I felt totally natural."
As Stoneburner and Fragel's stock has risen, Johnathan Hankins' has tumbled. Once viewed as a top-10 pick, Hankins is now a second-round selection on most mock draft boards.
He performed in the bottom half of a handful of drills at the combine, beginning a free fall. But the situation doesn't have Hankins, an eternal optimist who always carries a wide grin, worried about his future.
"The combine was the biggest thing I've been through, just the experience," he said. "I was blessed to be part of it. I'm just enjoying the process and getting ready for the big day."
Hankins deservedly earned the nickname "Big Hank" when he arrived at Ohio State three years ago. He's done plenty to shed that label, though. At weigh-in during his freshman season, Hankins weighed 350 pounds – and a majority of that wasn't so-called "good weight."
The scales immediately took a liking to Hankins once current strength coach Mickey Marotti got a hold of him just over 12 months ago. Thirty pounds were shed. Hankins said between 320 and 325 is his ideal playing weight for the NFL.
His support system during the past couple months has included Meyer, Luke Fickell, Mike Vrabel, former Buckeye and current Steeler Mike Adams and former defensive coordinator Jim Heacock, who was present at the Woody Hayes.
Hankins lauded Heacock for recruiting him and the opportunity to play at Ohio State. Without it, the NFL might not be a possibility.
"I still keep in contact with Coach Heacock. He's like a father to me," Hankins said. "He gave me an opportunity to play at Ohio State. It's been a journey. He always saw something in me. If it wasn't for him, I wouldn't be here."
Where Hankins is is a position where he can better the lives of those around him. First- and second-round money in the NFL isn't as big as it once was, but it is still life changing. It's going in a bank account, according to the big fella, but his family will be taken care of.
"I always knew I was going to be a great player. I just felt like I had to take it upon myself to prove it, and I feel like I did."
"I'm going to save my money, play ball and enjoy life," Hankins said. "I feel good that my parents might not have to work anymore and knowing I can help my family and be the provider. I'm blessed, and I'm going to take care of that money."
To Hankins, his draft-day moment was inevitable.
"I always knew I was going to be a great player," he said. "I just felt like I had to take it upon myself to prove it, and I feel like I did."
Others taking part in drills were Zach Boren, Travis Howard, Orhian Johnson, Zach Domicone, Nathan Williams and Kharim Stephens.
Boren said he's gained 12 pounds since the combine, which was a goal. He also improved his 40 time. Whether it's fullback, linebacker or long snapper, Boren said he's determined to make an NFL roster.
The entire lot of former Buckeyes is just beginning the chase of their professional careers.