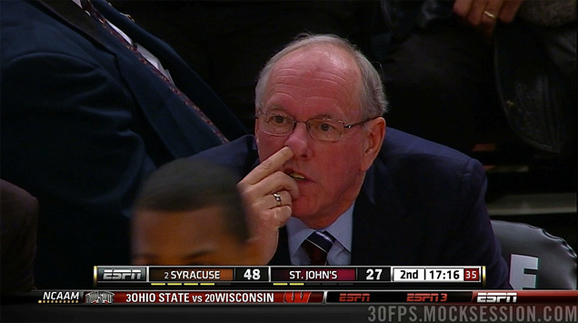 Syracuse basketball may be in for a world of hurt, according to a report from CBS Sports:
Syracuse University basketball has been under NCAA investigation for a period of "years," a source with knowledge of the case told CBSSports.com.

That source said the school has received a letter of preliminary inquiry from the NCAA.

The specific nature of the alleged violations was not disclosed by the source but the transgressions were described as both major and wide-ranging in nature. The investigation also encompasses football but is believed to primarily involve basketball. Syracuse has been penalized only once by the NCAA in a major case according to the association's legislative database. That was in 1992 in a case that focused on extra benefits in the basketball program.
Last year, Yahoo! Sports published a report linking Syracuse to an NCAA investigation into the program's drug policy. This appears to be much bigger:
When asked to characterize how wide-ranging the probe might be, a source with knowledge of the case told CBSSports.com: "Throw a dart at the [NCAA] Manual [and you would hit a violation by Syracuse]."