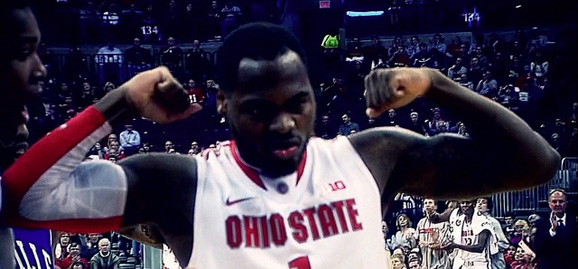 The Wall Street Journal takes a look at throwback approaches coaches are using to balance the new technologies emerging in college basketball. For Ohio State, "war rebounding" is where it's at:
Ohio State runs a drill in practice called "war rebounding," which is about as delicate as it sounds.

Coaches cover the basket with a bubble so the shots can't go in, thus forcing the defense to battle the offense for every loose ball. The torture lasts until the defense claims a certain number of rebounds, or head coach Thad Matta has mercy on the panting, sweating souls of his players. The drill's maximum length: about 45 minutes.

"It's a dogfight," said Ohio State guard Lenzelle Smith Jr.
This sounds amazing and may help explain why Amir Williams has progressed from a big that can't rebound to a big that can rebound a little.
"War rebounding" isn't the only throwback element of the team's practices, though:
The Buckeyes, members of the bruising Big Ten conference, also perform an exercise called "eight-man passing" that consists of eight guys sprinting the court for 35 seconds while whipping around two balls that can't touch the floor. "Eight-man passing does suck," admitted Ohio State guard Aaron Craft.