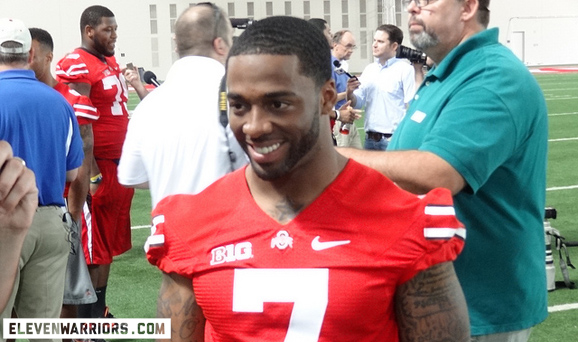 In the 2004 hit comedy Anchorman, Brian Fantana, in describing the effectiveness of his cologne, says 60 percent of the time, it works every time. The same, apparently, can be said for the Ohio State offense.
Asked about Urban Meyer's high-powered unit on Tuesday, running backs coach Stan Drayton said they only operated at 60 percent in 2012. Still, it yielded a perfect 12-0 record. Entering Year 2, expect the percentage to round out at 100.
The players have adapted to the system and all the pieces now mesh together. Braxton Miller and Carlos Hyde provide a bulk of the production, and Philly Brown and Devin Smith can by dynamic wide receivers. Then there is Jordan Hall. The breakout has been coming for four seasons but has never quite materialized.
Returning for a fifth season after receiving a medical redshirt, Hall is poised to finally take flight in an offense that fits his skillset.
"It'll make life easier for the whole operation," Drayton said.
He was in Gainesville when Meyer had the Florida offense performing as well as any in the past 20 years. Tim Tebow and Percy Harvin made for a lethal duo, extinguishing opponents' opportunities at winning by scoring early and often. That's exactly what the coaching staff at Ohio State is looking to do. 
That offense humming along is something Hall has taken to by watching film of past Florida teams on his iPad. One of the reasons the Buckeyes were at well below 100 percent efficiency last season was due to not having the Harvin type of player. Many thought it would be Hall, and even Meyer raved about him. But multiple injuries put a clamp on that.
While Hall missed Tuesday's practice with a minor hamstring injury, the outlook for his final season in scarlet and gray is rosy. He stuck out the first day for all the things Meyer wants – speed, agility, shiftiness. Three missing ingredients encompassed in one player.
"You're going to see the offense work in its full function now," Drayton said. "We're going to be able to displace defenders and have the defenses change the personnel. They won't be able to hone in on just the quarterback and the running backs."
Going back and viewing game film from last season shows opponents unafraid of Miller's arm. Defensive backs and linebackers were not completely keyed in on the throwing and receiving threats Ohio State possessed. With a reliable H-back in the slot, though, the approach from defenses must change.
"We have a lot of playmakers on offense," Hall said. "I think I can just be another one, just another person the defense has to prepare for. I'm looking forward to that."
The appropriate term for the position is "pivot." Meyer left it vacated after Hall was lost for the season, figuring he could adapt a recruit's talents in 2013. That's exactly what can happen in the fall when Jalin Marshall and Dontre Wilson enroll. Both have the requisite skills that fill a void.
But the NCAA played nice, giving Hall a fifth year, and all of a sudden there's an onslaught of playmakers for a once fraught unit.
"You're going to see the offense work in its full function now. We're going to be able to displace defenders."
"Usually when you catch the ball as a receiver there are two people to make miss," Hall said. "As a running back, you have to run through a D-line, linebackers and safeties. I figure I can make two people miss."
Hall might be short in stature, but he's a Mighty Mouse concoction of speed and power. If there's any opening, he has the potential to either run over you or run around you.
"He looks small, but he's a 400-pound bencher. He weighs 200 pounds, he's quick as a hiccup and he can make you miss in space," Drayton said. "If you have a poor angle on him, he's going to break a tackle. He's a valuable threat and a significant threat to this system."
An undefeated season last year verges on the miraculous. Ohio State was a total unfinished project, yet the level of talent won out. The progress compared to the previous season was considerable and improvements this year from having already been in the system are evident.
For Hall, working with strength coach Mickey Marotti throughout the offseason provided an even bigger boost – the hamstring issue is a minor bump in the road. An enduring image is the level of dedication that has been rooted in the Buckeyes. Getting better and having the passion to thrive is contagious.
"All the work we put in during the offseason and during the winter we were out here throwing on our own. Everybody's trying to be great around here," Hall said. "That's what Coach Meyer brought here, and that's what we're trying to do."
That much was obvious on the first day of spring practice when a cheerful Hall didn't hide his enthusiasm. On the field, he gave the entire team an extra dose of energy; off it, he went to Twitter exclaiming his enjoyment for being back with his teammates.
At one point, Hall was the forgotten man. So to inhabit such a momentous position strikes a chord.
"(I'm) real excited," he said. "Being out last year was hard, so this year I'm ready to go."
Gathering in the wide receivers meeting room doesn't mean Hall is exclusively a receiver. He'll contribute to that unit a majority of the time, but he's still a running back at heart. Hall said Drayton told him to keep the running back aspect in the back of his mind because he'll still line up there from time to time.
But Hall is aware of the situation and his teammate Hyde. He ripped off nearly 1,000 yards last season, emerging as the lead back. That type of production silenced any competition Hyde might face from Hall. And that is just fine with the latter.
"I always knew he was good, but actually to get to see him play and do well, that was good for him," Hall said.
Now Hall can be a helping hand to Hyde and Miller, forcing defenses to value himself, but also fret about the backfield.
"It's going to be significantly different," Drayton said.