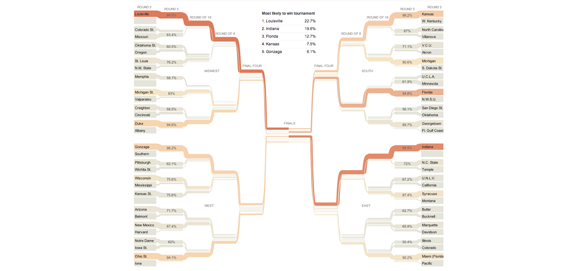 Nate Silver, best known for calling the presidential winner in all 50 states last year (along with nearly all of the Senate races), just released his forecast for the 2013 NCAA Basketball Tournament and he gives Ohio State the sixth-best odds to cut down the nets at 5.8%.
Silver goes on to provide odds for each team to advance by round and he has the Buckeyes with a 94.1% chance to win their second round matchup with Iona, a 73.2% chance to make the Sweet 16, a 45.9% chance to make the Elite 8 and then a 23.8% chance to make the Final Four and a 12.7% chance to make it to the championship game.
Ohio State's Odds of Winning by Round

| RND of 32 | Sweet 16 | Elite 8 | Final 4 | Finals | Champions |
| --- | --- | --- | --- | --- | --- |
| 94.1% | 73.2% | 45.9% | 23.8% | 12.7% | 5.8% |
Louisville is his favorite with a 22.7% chance to win the championship, while Indiana checks in second at 19.6% and Florida is third at 12.7%.
Among the remaining Big Ten teams of note, Michigan is given 2.4% odds, Michigan State 2.1%, and Wisconsin 1.5%.
You can read up on his methodology in detail here, but in short, here it is:
Mostly these projections are based on a series of computer rankings that have had strong predictive power in the past. (Unlike the N.C.A.A.'s dubious R.P.I. formula, each of these computer systems accounts for margin of victory along with wins and losses.) To a lesser extent, the forecasts also rely on the N.C.A.A.'s 68-team "S-curve" — how it rated every team in the field — and preseason rankings, which serve as a measure of a team's underlying talent level.
As for the West Region, Silver had the following to say:
What differentiates [No. 1 seed Gonzaga] is geography, something that is always a high-risk, high-reward proposition for teams in the western part of the country. If they're placed in the West region, as Gonzaga is this year, they may benefit from playing a number of games against jet-lagged teams. Gonzaga could still face tough games against No. 8 Pittsburgh and No. 5 Wisconsin, for instance, teams that the computers regard as underseeded, but it will be easier when those games are played in Salt Lake City and Los Angeles, rather than in Newark or Charlotte, N.C. Ohio State, conversely, faces a potential Round of 16 game against No. 3 New Mexico, a team that the computers are not all that fond of but whichwould be playing closer to home.
The Buckeyes tipoff against No. 15 Iona Friday night at 7:15 p.m. on CBS.