In a new 11W series, I'll take a flashback look (or "FlashBuck," if you will) at some fan favorite Ohio State athletes and coaches. We kick this feature off with linebacker A.J. Hawk.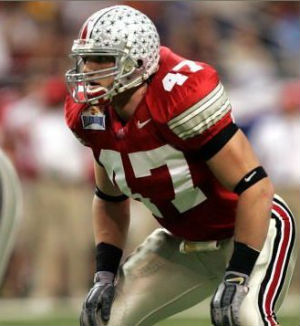 On January 6, 1984, many high school seniors like me were just finishing a short first week back in school after Christmas break. We were dealing with the usual thoughts: Am I ready for the biology exam? What am I going to do for prom? Should I buy Van Halen's new album on record or cassette?
How could we have known about the child born that day in Kettering, Ohio — the one who would be nicknamed after racing legend A.J. Foyt? Aaron James "A.J." Hawk was that child. We had no way of knowing it at the time, but Hawk would become one of the greatest linebackers in Ohio State history.
Hawk immediately made an impact as a 14-year-old freshman at Centerville High School, where he was a teammate of kicker Mike Nugent. He started as a freshman and finished the 1998 season with 142 tackles. During his career with the Elks, he posted a school-record 583 tackles. That mark still stands today, along with his single-game mark of 30 stops and his 12-game single-season record of 192. While known primarily for playing linebacker, Hawk also played running back and punted.
An All-State performer in 1999 and 2000, Hawk was limited to 82 tackles his senior year due to a knee injury. This hurt his stock a bit, but Rivals still ranked him as the No. 30 outside linebacker in the country, giving him three stars. Hawk selected Ohio State over Penn State during his recruitment and enrolled in 2002 — a very good time to join the Buckeyes.
Hawk as a Buckeye
It didn't take Hawk long to make his mark in Columbus. In just his second collegiate game, he intercepted quarterback Josh Cribbs (yes, THAT Josh Cribbs) and returned it 34 yards for a touchdown in Ohio State's 51-17 home win over Kent State.
As a part-time player backing up Cie Grant at the Will, Hawk tallied 26 tackles and 3.5 TFLs as a freshman. He recorded his first half sack in a 19-14 win at Wisconsin, and picked off another pass the following week in Ohio State's 13-7 win over 17th-ranked Penn State. One of his tackles for loss came in the regular season finale against Michigan, a 14-9 win that sent the team to Tempe to play Miami, where the team upset the Hurricanes and won the national championship.
Hawk took over as a starter his second season and excelled immediately. He led the Buckeyes with 106 tackles, with 52 of them solos. He returned one of his two interceptions 55 yards against Philip Rivers of the No. 24 North Carolina State Wolfpack, setting up a crucial field goal in a 44-38 3-OT thriller — the first overtime game in Ohio Stadium history. He was a beast that day, with 12 tackles and two TFLs. One of those tackles for loss ended the game in the third overtime, with the Wolfpack trying to tie it.
Hawk recorded 13 tackles for loss, four sacks, and five pass breakups his sophomore season, en route to becoming an All-Big Ten selection. He capped it with a defensive MVP performance in his second consecutive Fiesta Bowl victory, making 10 tackles on the night against 10th-ranked Kansas State. Hawk and his teammates finished 11-2, but road losses at Wisconsin and Michigan kept the Buckeyes from defending their national title.
Entering the 2004 season, Hawk was a preseason All-B1G selection, but the Buckeyes had big question marks, especially on offense. Craig Krenzel was gone and highly touted sophomore quarterback Justin Zwick took over the offense. Although Hawk was his old self, the Buckeyes started the season just 3-3, before Troy Smith came on to lead Ohio State to a 4-1 mark over the final five games.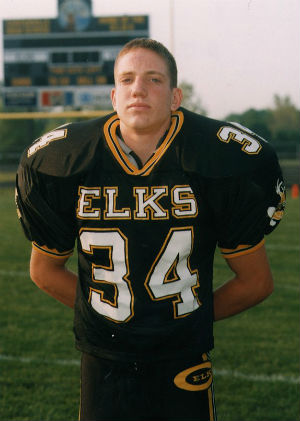 Hawk led the nation with 141 tackles and made pretty much every All-America list. He picked off two more passes, logged eight TFLs, a fumble recovery, a forced fumble and a sack, and broke up five passes. His 20 tackles in a loss to Wisconsin marked the first time a Buckeye reached that total since Chris Spielman 18 years earlier. His diving interception in the final minute at Michigan State preserved a 25-19 lead and helped make Ohio State bowl eligible in a 32-19 victory.
With an unfortunate suspension to Smith, Zwick came on to guide Ohio State to a 33-7 stomping of Les Miles's Oklahoma State Cowboys in the Alamo Bowl. Miles did Les Miles things in the game, including faking a field goal while down 23-0 in the third. It didn't work.
After the game, Hawk, who had a devastating sack of Donovan Woods in the contest, was 33-6 for his OSU career (3-0 in bowl games), Nugent was Ohio State's all-time leading scorer, and Miles was off to LSU.
Ohio State had a more positive outlook for Hawk's senior season of 2005. Ranked ninth, the Buckeyes started the season with a 34-14 thumping of in-state Miami and prepared for a clash with No. 2 Texas.
Hawk was terrific against the Longhorns, racking up 12 tackles. He intercepted Vince Young to set up an early field goal. He also recovered a Young fumble the very next series, and forced another Young fumble later in the contest. Hawk's contributions ultimately were in vain, as Texas won, 25-22, with Ryan Hamby's dropped pass in the end zone a major talking point.
The Buckeyes went on an 8-1 run to close the regular season, with the only conference blemish being a 17-10 loss at No. 18 Penn State. Hawk was a wrecking ball in a 35-24 victory over No. 17 Michigan State, finishing one off his career high with 19 tackles.
In his last home game, Hawk went out in style, with eight tackles, a sack, and a forced fumble. He also scooped up a Slade Larscheid punt that Quinn Pitcock blocked and returned it eight yards for a touchdown. His second collegiate touchdown mirrored the pick-six he had in his second collegiate home game.
"As a defensive guy, you don't get to score touchdowns very often. It's a great way to go out," Hawk told reporters after the game.
Then-Northwestern coach Randy Walker, who died in 2006, said, "I've been coaching football for 30 years. I've seen a lot of good football players, but I haven't seen any better than A.J. Hawk."
Ohio State went to Ann Arbor the following week and left with a 25-21 victory in The Game, over No. 17 Michigan. The Buckeyes were off to the Arizona desert for the third time in Hawk's career — this time for a date with No. 6 Notre Dame. In his last game in the Scarlet & Gray, Hawk earned defensive MVP honors in a 34-20 win over the Irish.
That game will long be remembered as the day Ted Ginn Jr. swallowed Charlie Weis's soul. Hawk made nine solo tackles and 12 overall, with 3.5 TFLs and two sacks of Brady Quinn, who would later become his brother-in-law. The win completed a 10-2 year for Hawk's Buckeyes.
He finished his senior season with a team-best 121 tackles, leading the Buckeyes in that category for the third straight year. He also led Ohio State in TFLs (16.5) and sacks (9.5), with an interception, three pass breakups, two forced fumbles and a fumble recovery. He was the B1G's defensive player of the year, a consensus All-America selection, and won the Lombardi Award and the Jack Lambert Trophy. He also finished as a finalist for the Butkus, Lott, and Bednarik awards. Hawk led the nation's best rushing defense and No. 5 total defense.
Legacy
Hawk was a part of a class that equaled the school mark of 43 career victories. He won two conference titles (2002 and 2005), and four bowl games in four years, including three Fiesta Bowl wins, and went 3-1 in The Game. The BTN ranked him fourth among all B1G linebackers in the 2000s. He finished his OSU career as the school's fifth all-time leading tackler (394) and eighth in TFLs (41).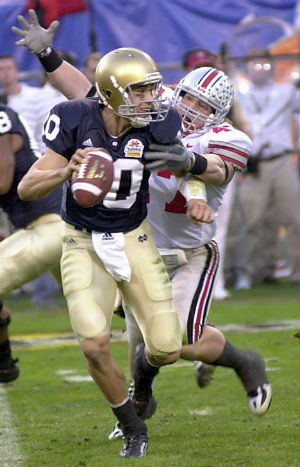 Which moments stuck out for Hawk?
"I'll always remember my first start my freshman year against Penn State and the triple-overtime game against N.C. State when I was a sophomore," he said.
After Ohio State
Hawk was drafted fifth overall in the first round of the 2006 NFL Draft by Green Bay. Before his first NFL training camp, he married Quinn's sister Laura.
Though his time at Ohio State is over, he continues to make Buckeye Nation proud, with a very productive pro career.
He started for the Packers as a rookie and recorded 155 tackles, second most for a rookie in the team's history. He was named to the NFL's All-Rookie squad in 2006. He has started 107 of the 110 NFL games he's participated in during his pro career, missing only two games in that span.
In his seven-year career, Hawk has 500 tackles and 214 assists, with 13.5 sacks, 26 passes defensed, eight interceptions, four fumble recoveries and two forced fumbles.
He won a Super Bowl ring when Green Bay beat the Pittsburgh Steelers, 31-25, after the 2010 season and made the Pro Bowl that year with a team-leading 134 tackles and a career-high three interceptions, tying for the NFL lead in that category among linebackers.
Even if he never played another game, A.J. Hawk will have had an extremely productive football career, and he'll always be remembered as one of the greatest linebackers in a long, illustrious line of them at Ohio State.