Under Urban Meyer, Ohio State has made the defensive line a high priority. Meyer knows games are won and lost in the trenches, and following the model of his past championship teams, is looking to help the Silver Bullets by building talented defensive line groups for years to come.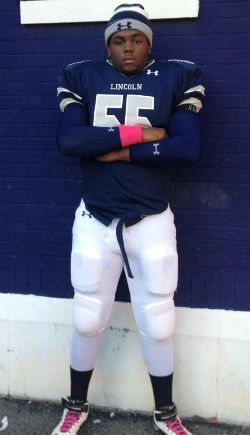 In 2012, Meyer brought in Noah Spence, Adolphus Washington, and Tommy Schutt, who all contributed this past season. Just a few months ago, Joey Bosa, Tracy Sprinkle, Billy Price, Donovan Munger, Michael Hill, and Tyquan Lewis signed on with the 2013 class to bolster the unit.
Even with so much talent, the staff has continued to pursue elite defensive linemen in their 2014 efforts, with the latest offer going out to Brooklyn (NY) Abraham Lincoln defensive tackle Thomas Holley.
Holley, 6-4/290, started his high school career out at Christ the King in Queens, looking to play basketball for the city power. He had always wanted to play football, but had hoops as a focus throughout his life and his mother was scared for him to hit the gridiron.
This past fall he decided he wanted to give football a try and finally convinced mom to let him play. He transferred to Lincoln and missed a couple of games due to needing 15 practice hours before playing in a game, but eventually played in eight contests for the Railsplitters.
It's safe to say his first season in pads was a success. Not only did his team make it to the semifinals of the state playoffs, but the powerful defensive tackle now finds himself with nearly 20 offers, including Ohio State, Alabama, Notre Dame, Clemson, Ole Miss, Penn State, Nebraska, Miami (FL), and others.
The Buckeyes were the latest to extend a scholarship to the rising junior, a development that came out of left field.
"Ohio State first contacted my coach a few weeks ago," said Holley. "Coach Warinner then got in touch with me on Facebook and told me to give him a call. I called him that night and he told me they were offering me a scholarship.
"Coach Warinner said he saw my film and thinks I can do some really good things. He told me to keep in contact with him and to call them regularly to talk to some other coaches as well. I am definitely going to do that."
While football and recruiting in general are relatively new to Holley, he has already taken visits to Rutgers and Penn State. He is planning more visits this spring and summer around his schedule and mentions Ohio State, Alabama, Notre Dame, Florida, Florida State, Miami, and Ole Miss as programs he has on his radar.
The Buckeyes may be a new school on his list, but the four-star prospect certainly likes what he already knows about Urban Meyer's program.
That being said, a decision is not likely to come soon, as Holley wants to get all the information he can on the programs that have offered, take his visits, and spend some time weighing his options.
"Ohio State is definitely a great football program and they have good academics, too. It's another big school, along with places like Alabama and Notre Dame, that I now have on my list and them offering makes my decision even harder."
He is targeting the middle of his season as the time he would like to make his choice, so Meyer and other coaches vying for his services have a few months to make their pitch.
As for the summer, in addition to visits, Holley says he just wants to work on learning the game more, as well as improving his technique, while getting stronger and faster.
Holley has already shown so much with just one year of football under his belt. The sky is the limit for this physical specimen, and as he continues to learn the game, the better he will get.
It's too early to tell where OSU stands in this recruitment, but the first step would be making sure to get him on campus this spring or summer.
HIGHLIGHTS: