It took Urban Meyer all of one season to return Ohio State to the upper echelon of the college football world. One year removed from a disastrous 6-7 season with on and off-field issues, the Buckeyes' problems were erased. A 12-0 record surprised even the most ardent Ohio State supporters.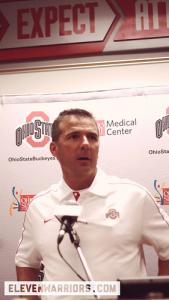 Entering Year 2 of the Meyer era, expectations are soaring. More than a decade removed from its last national championship, Ohio State is poised to finish atop the polls once again. It may have had the opportunity last season if not for a postseason ban. That has left more than three months between the Michigan game and spring practice, which begins in earnest on March 5.
The focal point for the Buckeyes is quarterback Braxton Miller. That's the worst-kept secret in college football. In just one year under Meyer and offensive coordinator Tom Herman, Miller was the Big Ten Player of the Year, putting up school record-setting numbers. And get this – he isn't even close to playing to his full potential.
"Our quarterback fundamentally, he wasn't the best fundamental quarterback in America," Meyer said. "You've got to run the show, the quarterback has to run the show, and he did not (in 2011). He certainly did not early in (2012), but he did begin calling the team together and saying some things to them. His growth was exponential as far as that.
"But I still have no idea where his ceiling is. Pocket awareness, comfort, just the fundamentals of throwing the ball, I don't see the ceiling yet. He's got that much further to go."
With nearly the entire offense returning, opponents have to be shaking their heads. Miller is a bone fide Heisman Trophy front-runner before the season even starts.
"If Braxton Miller becomes fundamentally the best quarterback in America, I think he will be the best quarterback in America.
"It will be comical what he'll do. But he's not there yet."
But he isn't the only storyline with spring practice approaching.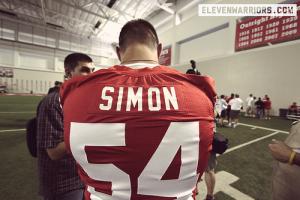 Leadership
With two national championships to his credit, Meyer has been around teams that made it all come together. He's seen rosters become cohesive units and gel into title-caliber teams. It brings out a key ingredient to winning: leadership.
Last season Meyer had the luxury of one of the best senior classes in school history. Guys like John Simon and Zach Boren not only worked hard, but also kept the locker room tightly knit and showed the underclassmen how to be effective on and off the field. There's a reason Meyer referred to Simon as the hardest-working player he's ever coached.
"The memory I'll always have of this season, without getting overly dramatic, is just the complete selflessness," Meyer said. "Arguably the best I've ever seen. You always talk about team. It's a cliché every coach dreams of. You're always taught as a young child to put the team before me, but how many times does that actually happen? It's rare."
It's a quality Meyer hopes and needs the 2013 Buckeyes to embrace. Even more rare than finding a selfless team is having a national champion full of 'me' players – those that only look out for themselves. That was the situation that engulfed Ohio State in 2010 and 2011, when prominent veterans who were looked at as leaders ran afoul of the rules and received significant suspensions.
Seven-loss seasons can happen because of a lack of talent. That much is certain. But Ohio State didn't go from being talented to untalented to talented in three consecutive years. The outlier happened when a consistent direction was missing from the locker room. Get a core group of seniors together, though, and the attitude shifts.
"This group is just incredible character, determination and genuine love for one another," Meyer said about the class of 2012. "For those people who never played the game of football, you're probably like, 'What the hell are you talking about?' It's real, I witnessed it. I saw a team that had holes and filled the holes."
The candidates to step up this season are Miller, Jack Mewhort, Corey Linsley, Corey "Philly" Brown, Christian Bryant, Ryan Shazier and Bradley Roby.
Not everyone listed is a senior. But each has a significant role on the team and demands respect from teammates.
Motivation
Everyone in the world probably knows what kind of team Meyer wants – one that plays angry. There was no shortage last season, with Ohio State playing for pride and the belief that it deserved to showcase itself in the postseason. There was a chip on the team's shoulder from the offseason all the way to the Michigan game.
And it worked.
But will that same level of intensity still be there this season? Remember, the Buckeyes had legions of doubters. That won't be the case in 2013. Ohio State will be ranked in the top five, it's the overwhelming favorite in the Big Ten and it possesses a potential Heisman winner. Ohio State is almost certain to be a media darling.
"My concern here is complacency, and we have to make sure that doesn't take place, because we need an angry team next year," Meyer said. "If we have to manufacture that, we will. If something was taken from you, we're going to use that. We're going to use a lot of things, but we're going to try to push that to get an angry team."
Few coaches are as good as Meyer at the art of motivating players, even if it's artificial. He famously made up quotes from college football media leading up to the 2007 BCS National Championship Game to help spur his Florida Gators. Whether it worked is up for debate. What is not, however, is the final score.
The correlation between this year's team and that Florida squad is that it's Meyer's second year at the school. He improved during Year 2 at Bowling Green and went undefeated at Utah.
"I had a very angry team," said Meyer, about the 2006 Gators. "A team with a chip on its shoulder that went to work every day kind of mad about everything. They went to that school to win, and the best they ever did was the Outback Bowl."
The seniors on Ohio State have a Sugar Bowl win to their credit, though it was vacated. Aside from that, the postseason has been grim: an ugly loss to Florida in the Gator Bowl and a stay at home for the holidays in 2012.
Meyer allows his starters to play large portions of blowouts, deep into the second half. That's one way to keep the edge. Based on the eyeball test, Ohio State's schedule just doesn't do it this season. Letting the Buckeyes beat up on lesser opponents could be the ticket to an angry team.
"If they're not angry and they're complacent, this team is average as dirt, just like any team," Meyer said. "You see across the country there are teams that are highly ranked and with NFL players and they lose three, four, five, six games. And I know exactly why. It's because you've got a team that doesn't have an edge."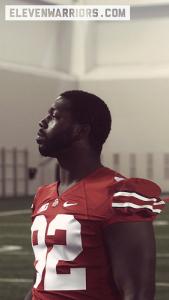 Reloading on Defense?
At college football's elite programs, the thinking goes that teams reload, not rebuild. Look at Alabama a season ago. The Crimson Tide won the national championship in 2011, lost almost every defensive starter and had an even better unit in 2012 when it won the title again.
That's what Ohio State is looking for this coming season. The deficiencies on defense were well documented last year, with rock bottom occurring in Bloomington when Indiana scored 49 points against the Silver Bullets.
From there on, though, Ohio State regained its form and even fielded the nation's second-best defense for the month of November. That's the type of momentum the Buckeyes would like to carry over into the New Year. The largest red flag is planted at linebacker.
The unit had such struggles in 2012 that Boren moved over from fullback to help fill the holes. He, along with senior captain and starter Etienne Sabino and fellow senior Storm Klein, is gone. Left to replace them are young, inexperienced players.
"The linebacker position has to get right," Meyer said. "That's the weakest area of our team right now, and I'm not talking about Ryan Shazier. I think he's an excellent football player."
Shazier led Ohio State with 115 tackles, including 17 for loss, five sacks and four forced fumbles. There's a possibility he could move to MIKE this season, though Cam Williams appears to be the odds-on favorite.
Middle linebacker is the spot most concerning to Ohio State's coaches. Grant, a former No. 2 overall recruit, has barely seen the field in his first two years at Ohio State, lagging behind the other players in his class. The speed of the game has hampered his skills ever since he arrived in Columbus.
Along with Grant, candidates to battle Williams for the spot include Jamal Marcus, David Perkins and Luke Roberts – all members of the 2012 recruiting class. Though he isn't enrolled for the spring, incoming freshman Mike Mitchell will get the opportunity to start. But going the route of Andy Katzenmoyer and starting from Day 1 is a lot to ask.
Josh Perry is the front-runner to start opposite Shazier.
In front of the linebacker corps will be a completely new defensive line. All four starters must be replaced, but several fill-ins are more than ready to become household names.
After an impressive freshman season, Michael Bennett had a sophomore slump filled with injuries. Now a junior, Bennett, who is likely to fill a tackle spot, will be the veteran of a line that is bursting with potential. He'll be joined by three sophomores – Tommy Schutt at tackle and ends Noah Spence and Adolphus Washington.
"Mike Bennett was a big part as well. He has two more years," Meyer said after the Michigan game. "Those guys (Schutt, Spence and Washington) – sometimes you recruit guys that are overrated. The names you just mentioned are not overrated. They're going to be great players here. They're going to be great players here, and I appreciate the effort. On top of it, wonderful people."
The trio combined for 25 tackles, 4.5 for loss, four sacks, one forced fumble and a blocked field goal. Not a bad season for three freshmen reserves.
Spence and Washington have the requisite size and speed to be effective on the end, while Schutt's ability to get through the line and into the backfield is equally as impressive.
The defensive backfield remains largely intact, with Roby, Bryant and CJ Barnett returning. Doran Grant should step in for Travis Howard and play at a high level.
Playmakers on Offense
There's no denying that Meyer has a need for speed. Dating to his days in the Northwestern Ohio hamlet of Bowling Green, fast and shifty skill players has been a necessity for his offense. It's developed into a Meyer calling card of sorts.
Wide receivers Brown and Devin Smith and running back Carlos Hyde were productive last season, but they still didn't approach the level Meyer is looking for. The Buckeyes certainly have to be more efficient if a national championship is the goal.
Ohio State only had 53 plays that gained 20 or more yards, a very small percentage in a 12-game season. Thirty-eight of those explosive plays involved Miller. Undefeated or not, the final offensive stats were underwhelming.
"We were a little bit one-dimensional because we didn't have that piece," running backs coach Stan Drayton said. "We were a little bit more of a power, QB-run football team, and we were pretty good, obviously. Now we can protect that QB run, we can protect that tailback because we have components to our offense that can spread defenders out a little bit more.
"We always felt that if we can bring that type of athlete in this system in the Big Ten that we feel that we can have some incredible success here in the future."
The three aforementioned skill guys return, and Ohio State welcomes a wealth of talent from February's recruiting haul. But none of the skill guys – Dontre Wilson, James Clark, Jalin Marshall and Ezekiel Elliott – are enrolling early. That means the 47th-ranked offense must take the spring to sort out its issues with the current roster.
A majority of that time will be spent on the passing game, which ranked a lowly 101st last season. Part of the improvement will come from Miller working on his mechanics, but his receivers also shoulder some of the blame. Among the areas lacking is route running, holding on to the ball and breaking tackles.
It's important to remember, though, that last season saw the second wide receivers coach in as many years. Miller also still played very young during the first half of the season.
Poised to break out are the likes of Evan Spencer, Chris Fields and Michael Thomas. Spencer has shown flashes during his first two seasons, while Fields' potential has never been realized. The fifth-year senior has been a popular subject each spring, but come fall the hype has never materialized. Thomas experienced that last season after a great spring that culminated in a 12-catch performance in the spring game. He had just three receptions during the season and had trouble even getting on the field.
"Some guys really grew up and did a good job for us – Philly Brown did a nice job – (but) we don't have enough," Meyer said. "I think we're starting to get a little bit of that built up where you're having a Jalin to put out there, and Dontre can play that, that's what he'll do as well. And you can break the formation a little bit and have guys in space."
The wildcard is Jordan Hall, who was granted an extra year of eligibility after missing almost the entire 2012 season with multiple injuries. In the few games he played, Hall was effective and could be pegged for the hybrid position Meyer talks so fondly about.
With the backfield jammed with Hyde, Rod Smith and Bri'onte Dunn, it isn't likely that Hall will receive many carries.
"Ohio State was talented," Meyer said. "We just didn't have enough players who could make guys miss on offense, and I think we addressed that."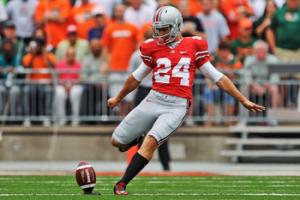 Punter
It's not often that a punter draws headlines heading into spring practice. But when you don't even have one, it's a problem. Of course, Ohio State's offense could contain enough firepower that a punter isn't needed. Even Meyer thinks otherwise, though.
The job was supposed to belong to Johnny Townsend until Florida swooped in late in the recruiting process and kept the Orlando native in state. Meyer called the situation "concerning," and one look at the roster reveals why.
Walk-on Kevin Niehoff is the only player that has a "P" next to his name. Placekicker Drew Basil is capable of handling both duties, but he hasn't punted in college. Wide receiver Frank Epitropolous also could punt. The Upper Arlington product was very effective at the position in high school.
None of the three have ever punted live in a college game. There's a big difference from the spring game and warmups to punting in October with a massive rush bearing down. Ben Buchanan, who was far above average, struggled with pressure the past two seasons, leading to a number of blocks.
If it happened with someone recruited to play the position, what awaits the Buckeyes in an emergency situation?