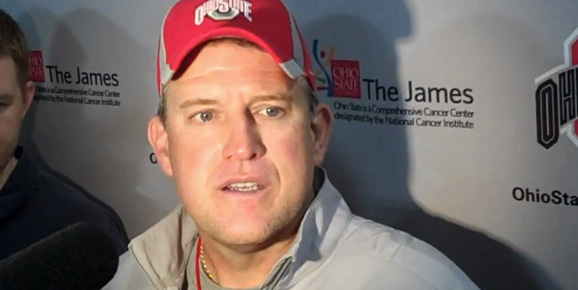 It was a Babe Ruth kind of year in 2012 for Urban Meyer. Every time you turned around the Ohio State head coach was hitting a home run. But perhaps the best swing Meyer took all year was hiring offensive line coach Ed Warinner. 
Replacing the embattled and unpopular Jim Bollman immediately thrust Warinner into a favorable light. But once the season began, he became Mr. Popular. Warinner did yeoman's work, transforming Ohio State's offensive line from a maligned unit into one of the team's strengths. 
So how did he take a ragtag group and mold them into a confident, reliable bunch? Tough love.
"My vision of a line coach is the toughest guy on your staff," Meyer said.
That objective held true. The offensive linemen quickly found out that Warinner rarely talked in an inside voice. An in-your-face, demanding presence, Warinner can also be uplifting.
"He was a cool guy – easy to talk to, good dude – when I first met him," center Corey Linsley said. "Then (the coaches) kind of found out about the offensive line, not that they didn't know coming in, but Coach Meyer really exposed our reputation as being soft and lazy and not playing up to our ability.
"Then the true Coach Warinner came out as a motivator and a screamer and a yeller. But you grow to love Coach Warinner. He'll scream and yell at you out on the field, but that's only because he loves you and wants you to get better as a player. It's made us all better."
The Buckeyes' offensive line resembled the Island of Misfit Toys. Linsley and Marcus Hall had played multiple positions at Ohio State and spent time in the previous regime's doghouse, Reid Fragel spent his career at tight end, and even Jack Mewhort and Andrew Norwell, the most experienced members of the unit, had slid up and down the line.
Put them all together, though, and the pieces fit in concert with precision. The 2011 line allowed 46 sacks – more than 3.5 per game – and that unit included three players on NFL rosters, one of whom was drafted in the second round. Sprinkle some Warinner into the equation and an entirely new picture emerges.
The Buckeye Five limited the sacks to a more modest 30 last season and opened up gaping holes for quarterback Braxton Miller and running back Carlos Hyde to shoot through like cannonballs. Ohio State had nearly 3,000 total rushing yards, up almost 500 yards from the previous season. The Buckeyes ranked 10th in the nation in rushing and had the 21st-ranked scoring offense.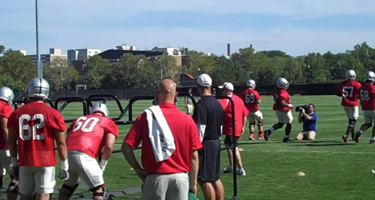 And this came from a group that at one time was called "nonfunctional" by Meyer.
"We're not going to get pushed around," Warinner said.
Hall, who bounced from various spots on the line during his first three seasons in Columbus, found a home at right guard last year. He credits Warinner's perfectionist ways and energetic personality with improving his overall play.
"Coach Bollman was a lot more technique sound and low energy and he liked to teach you a lot," Hall said. "Coach Warinner, I'm not saying he's not technique sound, but he's a high-energy guy. He's always loud and screaming, so we're always pumped up around Coach Warinner. He has a demanding attitude and he always tells us we'd better be ready to go when we leave that meeting room for practice."
It wasn't just on the field where Hall straightened himself out last season. He redshirted his sophomore season due to academic issues and received a one-game suspension in 2011 for his involvement in the Bobby DiGeronimo case. 
Those problems have since evaporated for Hall.
With spring practice less than a week away, Ohio State's offensive line returns almost entirely intact. The lone missing piece is Fragel, and it's a significant blow. He evolved into a stout lineman after just one season at the position, having shifted over form tight end. But Taylor Decker is there to fill in. The then-freshman battled Fragel leading up to last season, before eventually losing the competition.
Mewhort, a 2012 second-team All-Big Ten selection, will anchor the unit.
"He's already a leader," Meyer said. "We're asking him to take over a position that maybe a (John) Simon took, the overall heart. I love him. He's a tough guy."
The "quarterback" of the group is Linsley, who made a seamless transition to center. After four years of Mike Brewster, that position was expected to have a falloff, but it was anything but. Guards Hall and Norwell also return.
"Ed was the offensive coordinator when Kansas went 12-1 and won the Orange Bowl. Think about that for a minute."
With a year in a new system, the coaches and players are through the feeling out phase. Now Ohio State enters Year 2, a Meyer specialty. The Buckeyes are a national championship contender, and the offense is the primary reason for the high hopes. Physical play up front should be Ohio State's friend, especially with weapons at quarterback and the skill positions.
There is one big but, though – depth. In Meyer's first two recruiting classes there has been quality on the line but not quantity. One injury could significantly affect Ohio State's title hopes. It was a situation the Buckeyes didn't have to worry about last season, as the same five starters were available every game. The hope is that history repeats itself.
Warinner is entering his 30th season coaching college football. He's worked almost exclusively on offense, with the line, running backs and quarterbacks. It's no surprise that Warinner contains a wealth of football knowledge. He's coached under George Perles, Nick Saban, Mark Mangino, Brian Kelly and now, Urban Meyer. He's also held positions on the staffs at West Point and the Air Force Academy.
The information started pouring in during Warinner's playing days at Mount Union. His offensive coordinator was a guy by the name of Larry Kehres. Warinner has been a sponge, soaking up tidbits of coaching knowledge from high school all the way up to his position at Ohio State. His level of football intelligence affords him the ability to teach offensive players every nuance there is to be known.
"Ed was the offensive coordinator when Kansas went (12-1 in 2007) and won the Orange Bowl," Meyer said. "Think about that for a minute. I think Kansas is a great place, but that was a heck of a football team."
Warinner was the brains behind quarterback Todd Reesing's record-setting season and, eventually, career. For his part, Warinner was a finalist for the Frank Broyles Award, giving annually to the top assistant coach in the nation. In 2007 Kansas, a football program short on a winning tradition, had its best season in school history and fielded the highest scoring offense in the country – 42.8 points per game.
Tagged with the job title co-offensive coordinator at Ohio State, Warinner doesn't call plays – that job rests with Tom Herman – but he does offer input.
"I wanted to hire a tough guy that's very involved in the game-planning, because sometimes line coaches just go live in their world," Meyer said. "The thing I liked about Ed Warinner is he was the offensive coordinator at Kansas when they went to the Orange Bowl.
"He's got a great concept of the big picture."