The Ohio State defense got off to a tumultuous start last year, but came together around the midway point of the season and was a force to be reckoned with at season's end.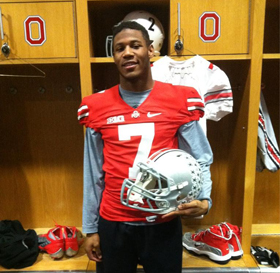 The good news coming out of that is that there will be plenty of momentum for the Silver Bullets heading into this year, but the bad news is that the unit will lose 7 out of 11 starters from last year's squad.
All four defensive linemen, two linebackers, and a cornerback have departed due to graduation or the NFL Draft, so it will be up to some of the younger players on last year's team, as well as the incoming freshman class to step up and fill the voids left by those talented players.
On Monday we took a look at which offensive players in the recruiting class of 2013 could make an instant impact this coming season, and now in the second and final part of this segment, we will take a look at which defensive players could be seeing the field this fall to help the Buckeyes work towards their next crystal ball.
Defensive Line
It is a fight between the secondary and defensive line in terms of which group is deeper for the 2013 class, but one thing for sure is that Urban Meyer did an excellent job bringing in Joey Bosa, Donovan Munger, Billy Price, Michael Hill, Tracy Sprinkle, and Tyquan Lewis.
I will be absolutely shocked if the Fort Lauderdale (FL) St. Thomas Aquinas star, Bosa, does not see the field this year. At 6-5/270 and getting bigger by the second, Bosa has the body to get in the two-deep immediately and has proven over and over again how disruptive he can be at multiple positions along the line. It is my guess he plays behind Adolphus Washington at strongside end, but works his way on to the field on third downs and passing situations as the season goes on, where he can use his combination of strength and speed to get to the quarterback from end or tackle.
On the other hand, Munger is a player who is more raw and I think the former Shaker Heights star will need a year to redshirt. At 6-4/285, the size is certainly there for the four-star prospect, but I just get the sense he has a lot to learn from a mental standpoint when it comes to moving up to the college ranks. Munger was also an excellent offensive line prospect in high school and it wouldn't shock me to see him there at some point in his career.
Many people think Billy Price could eventually move to the offensive line at OSU, but I think he'll surprise many in what he does when he arrives at campus in June. At 6-4/300, it looks like Price will end up inside at tackle and with the position more uncertain than end right now, I think there is a great chance he can come in and earn a spot in the rotation.
Michael Hill is another candidate to make a move at defensive tackle, but his fate this season could depend on how quickly he bounces back from a hand injury that shortened his senior season. At 6-2/315, Hill is a big boy, but like the departed Johnathan Hankins, the four-star talent has tremendous athleticism that will help him at the college level. I'm a bit on the fence when it comes to Hill, but right now I'd lean to him seeing the field at some point in 2013.
Tracy Sprinkle and Tyquan Lewis are two players who have enrolled early and have a leg up on their classmates to see the field, as they went through winter workouts and will have spring practice. I think both are talented players, yet need some time to develop, so early signs would lead me to think both redshirt. I could be completely wrong in that assessment and after watching spring ball I can revisit this, but I think the staff wants a year to figure out the plan for these two after some time with Mickey Marotti.
Linebacker
Zach Boren and Etienne Sabino have exhausted their eligibility, leaving Ryan Shazier as the only returning linebacker heading into 2013.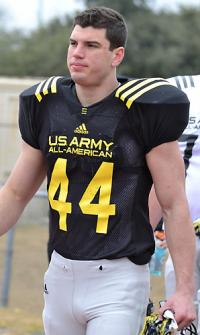 Josh Perry, Camren Williams, Curtis Grant, and others will have enough on their hands in fighting for the two open spots, but the staff brought in Mike Mitchell and Trey Johnson this recruiting season to push the veterans currently on the roster.
Mitchell, nicknamed "The Abusement Park", made a name for himself on the national stage this summer at Nike's The Opening, where he ran a 4.39 40-yard dash and earned a 154.57 SPARQ rating, tops in the nation.
The Army All-American is a freak of nature to say the least, and gives the Buckeyes a linebacker that can run sideline to sideline, as well as make plays in the backfield from the day he steps on campus.
Mitchell is capable of playing all three linebacker positions and I think he'll earn playing time early on special teams before eventually working his way into the two-deep at some point this season.
Trey Johnson is a talented player in his own right and the four-star prospect comes to Columbus as the 247 Composite second-ranked inside linebacker after notching 140 tackles during his senior season at Lawrenceville (GA) Central Gwinnett.
While Johnson may not be as athletic as Mitchell, he has good size at 6-2/220 and more importantly has a very high football IQ, which should certainly help him adjust to the more complex schemes at the college level.
Johnson played middle linebacker in high school, but early word is that he could move to the outside at Ohio State. Like Mitchell, I at least expect him to contribute on special teams and be competitive for a spot in the two deep.
Outside of Mitchell and Johnson, Cleveland Glenville's Chris Worley falls into the linebacker category for now, and I think he will start out at the hybrid Star position to begin his career, before eventually moving to linebacker down the road.
At 6-3/190, Worley certainly needs to bulk up for college, but he has the frame to do so easily and entering OSU's weight training program should yield big results. The athleticism, ability to deliver the big hit, and great football instincts make the sleeper prospect one to watch this coming year, as word is the staff if high on him and he could see the field on special teams.
Defensive Back
As previously mentioned, the secondary is right up there with the defensive line in terms of the plethora of talent the Buckeyes brought in this year. Gareon Conley, Eli Apple, Cam Burrows, Vonn Bell, Darron Lee, and Jayme Thompson are excellent prospects and there's certainly a chance all and any could see the field this season.
Conley, at 6-1/175, could end up at either cornerback or wide receiver in college, although it seems the former is where he'll start out. I think he has the skills to see some green in year one, but if I were a betting man, I would say the staff takes a year to evaluate the best position for him or improve his cornerback skills, much like they did with Bradley Roby, a similar prospect coming out of high school, during his redshirt freshman season in Columbus.
Apple is already enrolled at OSU and has a leg up on most of his future teammates by getting on the field this spring. The nation's fifth-best cornerback according to the 247 Composite is almost a shoe-in to get some sort of action this fall, and he'll certainly get a chance to compete with Doran Grant, Armani Reeves, and others for the starting spot opposite Roby. I don't think Apple will win that job, but I think he will definitely play on special teams and contribute where he can in the secondary.
Burrows is also an early enrollee and while I think safety is his eventual landing spot, he proved to many at the Under Armour Game that he is more than capable of starring at cornerback, where the Buckeye coaches currently have him slotted. Cam is another player I see at the very least contributing on special teams this coming season and like Apple, will compete for time in the defensive backfield.
Bell is the stud catch of the class and probably has the best chance out of any freshman to avoid a redshirt. Bell will provide quality depth behind CJ Barnett and Christian Bryant at safety, and could also challenge Devan Bogard and Corey "Pittsburgh" Brown for time at the Star position. The five-star athlete is the real deal and you just know Urban will find a way to get him onto the field this year.
Lee is very much like Worley in that he was recruited by the Bucks as an athlete and they'll have to find a position for him when he gets to campus. It looks like that position will be safety to start, but he earned his offer after working out at linebacker last summer, so that is always a possibility in the future. Either way, while talented, I think Lee is headed for a redshirt while they figure out what to do with his unique skill set.
Finally, Thompson is an intriguing safety prospect and I can honestly see him going either way this year. I think if he does play it will be solely on special teams, as Barnett, Bryant, Bell, Brown, Bogard, Tyvis Powell, and Ron Tanner all start fall camp ahead of him on the depth chart. I think Thompson is capable of having an excellent career in Columbus, but I'm just not sure it starts this season.