Even in the offseason Monday belongs to football. At least that was the case this week with the NFL Combine taking place in Indianapolis. The weekend belonged to offensive players, while defensive linemen and linebackers had their opportunity to impress NFL front office personnel yesterday.
It's an especially deep year for defensive prospects, with a majority of the top 10 picks projected to come from that side of the ball. Some mock drafts have defensive linemen representing one-third of the selections in the first round. One of those players could be former Ohio State defensive lineman Johnathan Hankins. Big Hank is widely considered to be a first-round selection in April and some have him slotted among the top 10.
The weekend actually presented bad news for some of the best defensive players available. It was discovered that Utah defensive tackle Star Lotulelei has a heart condition. Lotulelei is considered to be the No. 1 overall pick by several draft experts. He did not participate in any workouts. Georgia linebacker Jarvis Jones was found to have a spinal condition that could send him plummeting down draft boards.
And then, of course, there is Manti Te'o. The Notre Dame linebacker answered questions from the media for the first time since his infamous girlfriend hoax story broke in January.
Along with Hankins, former Buckeyes Etienne Sabino, John Simon and Nathan Williams all received invites. The quartet will attempt to continue a proud Ohio State tradition of placing talented players in the NFL. 
Johnathan Hankins
Of all the pro prospects on Ohio State last season, Hankins clearly has the most potential. At the combine, Hankins graded out as an "immediate starter." He's a mastodon with a combination of strength and agility that doesn't come along too often for defensive linemen.
Standing 6-foot-3 and weighing 320 pounds, Hankins actually did below-average in the 40-yard dash (5.31 seconds), vertical (26 inches) and broad jump (104 inches). But his size and athleticism kept him solidly positioned to be selected in the first round. 
Hankins declined to do the bench press, choosing instead to partake in the drill at Ohio State's Pro Day on March 8 because of a minor pectoral muscle injury.
"I've been working extremely hard," he said. "I'm just going to let my talents and my efforts speak for themselves. Wherever I get drafted, I'm blessed to even be there. Where I go, I'm happy with that."
Even with his skills, Hankins said his decision to leave Ohio State was tough. He revealed that he had second thoughts and that head coach Urban Meyer was surprised when Hankins delivered the news about his departure one year early from Ohio State. In the end, though, Hankins' inner circle believed the NFL was the appropriate path when the advisory council indicated he was projected to be a first-round pick.
Hankins said Baltimore Ravens defensive lineman Haloti Ngata is his football idol and someone he models his own game after.
"I like how he plays sideline to sideline," Hankins said. "The way he uses his hands and feet, I think I do the same and could potentially do it better."
A common opinion on Hankins has been how well he can play laterally, especially for his size. His feet are exceptionally quick. Hankins has continued to lose weight since his freshman season, making him more effective with added speed. And unlike college, he won't be going against double teams every game. Granted, the offensive linemen are better in the NFL.
"I'm good going lateral," Hankins said. "I definitely can get some pressure or some push. Anywhere is good for me."
Etienne Sabino
The combine is a huge event for fringe late-round players like Sabino. It looked like he'd make the most of his opportunity, running a 4.75 40 – not great, but not awful. However, Sabino injured his hamstring on the run and shut down for the day.
Prior to that, he managed to rep 225 pounds 24 times, eighth-best among linebackers. His broad jump was 114 inches.
Now, Pro Day in Columbus will be Sabino's last chance to impress scouts.
John Simon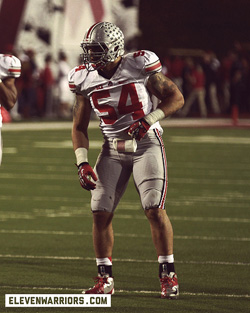 Not many wore the Scarlet and Gray better than Simon. For four seasons he played with reckless abandon, making a name for himself as a gym rat that relished lifting weights. Simon enjoyed an almost cult-like following, and it grew once Meyer became coach.
Meyer preached the John Simon Gospel vigorously this past season. In what turned out to be his last game as a Buckeye, Simon, the Big Ten Defensive Player of the Year, delivered a masterpiece performance, tallying a school record-tying four sacks in an overtime win over Wisconsin. But he missed the season finale against Michigan due to a knee injury. It was a gut-punch to Simon, Meyer, the team and the fans. No one wanted to see him not be able to compete in his final home game.
In Indianapolis, it was a shoulder injury that shelved Simon. The issue first cropped up at the Senior Bowl in January, eventually prompting surgery. That kept him from participating in any drills at the combine. Instead, Simon only partook in interviews with team personnel.
"I never got it fixed and thought I could go one more game with it, and that wasn't the case," Simon said about the bum shoulder. "I had to go get it fixed. Fortunately, it was just a clean-out, and I should be back to doing everything in about two to three weeks."
At the Senior Bowl, Simon was in the process of molding his defensive end skills with those of a linebacker. He'll likely have to play outside linebacker in the NFL, coupled with defensive end.
"I feel like I'm very versatile, and that can help me at the next level," Simon said. "I feel I can play multiple positions, and that's something that will work to my advantage in the draft."
Simon is expected to be ready for Pro Day.
Nathan Williams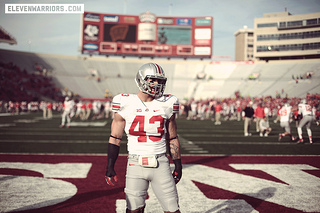 Simon isn't the only Buckeye vying for time at linebacker. Williams is in the same boat. A lack of speed in the 40, however, raises questions as to how well he could stack up in the NFL against top-flight offensive players. Williams also dropped catchable "interceptions" during linebacker drills. He participated in the defensive line segment of the combine as well.
Williams was timed at 4.88. He did have a notable vertical measured at 35 inches, as well as a 113-inch broad jump and 24 reps on the bench press.
Williams is only 17 months removed from a serious knee injury that required microfracture surgery. He rehabbed vigorously in the 2011 offseason to return for 2012, though Williams did miss two games because of overexertion.
"It was a very rough process throughout the whole offseason trying to get back," he said. "I did everything possible to make it back the first game. That was my goal. I met my goal, and I really had gotten better each week as the season went along. The more I went along the better I got. I feel the best I've ever felt."
That injury is a major sticking point with NFL GMs and the primary reason why Williams in considered a late-round pick or undrafted free agent. But the one spot where he's coveted is weakside linebacker. Pro Football Weekly rates him No. 1 at thet position and a mid-round selection.
"They have me at defensive line. I know I'm going to have to do some linebacker stuff," Williams said. "I'm prepared to do both. I've heard everything from outside linebacker to middle linebacker in the 3-4 scheme. I haven't heard too much as far as 4-3 schemes."