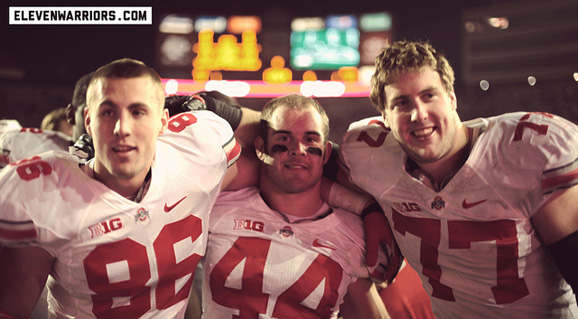 It's the equivalent of an up-and-coming employee having an interview with the CEO. At the NFL Combine, a plethora of football players meet with executives from franchises for the biggest job interview of their lives. Interviews, 40 times and the bench press can either raise draft stock or send it plummeting. 
Seven former Ohio State players were invited to the 2013 Combine. Each carried a dream of playing professional football. Only the best of the best get the coveted invites, so all seven players could hear their name called during the draft in April.
When it comes to the college game, Ohio State is one of the most storied programs. The Buckeyes have seven Heisman Trophies, seven national championships and countless legendary coaches and players. That success has translated to the NFL, where Ohio State coaches and players have gone on to have illustrious professional careers. Nine Buckeyes have been enshrined into the Pro Football Hall of Fame.
Another could come from this season's crop. Undoubtedly, they had something to prove to scouts and front office personnel over the weekend. Can Zach Boren be a fullback? Is Reid Fragel an NFL offensive lineman? What position will Jake Stoneburner play?
All those questions and more were answered. The combine gives you the image of a cattle convention and auction. Players are ushered to various stations where tests are administered. They are poked and prodded like a piece of meat until big money franchises are satisfied with what they see.
The unluckiest of the bunch are relegated to the NFL's version of the slaughterhouse – undrafted free agency. Some have made that route work, but, by and large, it leads to a career that never materializes.
That's why, love it or hate it, the combine is so precious to the few who are invited. 
Zach Boren
Few players traveled a journey similar to Boren's in 2012. The three-year starter at fullback was finally getting touches in Urban Meyer's offense when it all came to an end. Halfway through the season a depleted Ohio State defense needed a linebacker, and Boren, a former state defensive player of the year in high school, was the fill-in.
When it first came to light, there was uncertainty about whether it would be a short-term or long-term change. But it eventually became evident that Boren's move to linebacker would indeed be permanent. In six starts on defense, he made 50 tackles.
Boren is the fourth-rated fullback available, but that position is rarely drafted. He graded out as a fourth- to seventh-round pick. He was at the combine as a fullback and said he's willing to play any position that will get him on the field – defense included.
"I came here as a fullback, so I guess that's what I'm here for," Boren said. "I don't know. Whatever a team wants me to do, I'll do. Whatever will get me on the field."
None of Boren's numbers were eye-popping at the combine – 5.0 40, 25 reps on the bench press, 32-inch vertical – but his smarts and football acumen make him an intriguing possibility for NFL general managers.
"I was talking to some coaches and they were having me draw up offensive plays," Boren said. "I'm like, 'Man, obviously I came prepared, but I haven't seen offensive plays in three months because I've been doing defensive things.' That was a little different, training my mind to get back to the offensive side."
Following the regular season, Boren had minor knee surgery, though he also tore his ACL in the same knee in high school. It became a popular target when he met with team doctors. 
"Obviously, my knee is not going to look like a normal 21-year-old's knee or a perfect knee," Boren said. "I played four years on it, and I think at a high level. Even this year when it wasn't 100 percent, I think I played pretty well."
Reid Fragel
Ironically, Fragel had a similar incident to Boren. But instead of having less than a week to become acclimated to a new position, Fragel had an entire offseason. When Meyer was hired, Fragel decided to move from tight end to the offensive line where he played right tackle.
"It was big sticking to the plan, as grueling as it was, as tough as it was, Coach Meyer got the best out of me."
"It's something a year ago that Coach Meyer told me had the potential to be sitting with you here at the combine," he said. "It was big sticking to the plan, as grueling as it was, as tough as it was, Coach Meyer got the best out of me."
A quick learner, Fragel, 6-foot-8 and 315 pounds, excelled on the line and was All-Big Ten caliber. At the combine, he continued a string of successes. He had three top-five categories, including first on the bench press among tackles. Fragel did 33 reps of 225 pounds. He also had a broad jump of 113 inches, third among offensive linemen, while placing fifth with a 30-inch vertical jump. Fragel finished inside the top 20 in every category.
He entered the combine with mid- to late-round credentials after an ankle injury prevented him from competing at the Senior Bowl. Working out with former Buckeye and NFL offensive lineman LeCharles Bentley in Arizona, Fragel got a crash course in preparation. 
"Reid's best football is coming up, the next 24-36 months," Bentley said. "When the dust settles, if Reid Fragel chooses to be in that top echelon, Reid Fragel could be a top 10-tackle in the National Football League ... if he chooses."
Now Fragel becomes an appealing possibility for NFL teams. The athleticism he exhibits is much greater than almost any other prospect on the line. It's the techniques that Fragel still has to get down. Regardless, his potential is overflowing. Due to his impressive showing at the combine, Fragel is sure to be a headliner at Ohio State's Pro Day on March 8.
"I think after this week's over, I think you'll see that I possess a lot of strength and speed and there's a lot of tread left on my tires," he said. "Whereas some of these linemen might be worn down a little bit more, I think my best football is ahead of me."
Jake Stoneburner
Like Boren, Stoneburner was nothing more than a glorified offensive lineman during the Jim Tressel era. But that came to an abrupt end in the wide-open offense of Meyer. 
"Sometimes, you've got to take a little bit of the blame on yourself and say maybe you didn't perform as well as you'd like to," Stoneburner said. "But I also feel it was a product of the offense."
The tight end-turned wide receiver-turned tight end caught 16 balls for 269 yards and four touchdowns during his senior season. Stoneburner has long been considered a supremely talented tight end that has the ability to stretch the field. Some of his combine statistics provided more ammo for GMs and coaches.
Stoneburner's 40 time – 4.65 – was among the highest at his position, as was his 20-yard shuttle time of 4.27 seconds and 60-yard shuttle time of 11.50. Other top 10 finishes included the broad jump (fourth, 116 inches) vertical (fifth, 34.5 inches) and the three-cone drill (ninth, 7.12).
Projected as a late-round pick, Stoneburner certainly helped his stock with such impressive times and measurements. In his final two years at Ohio State, despite differing philosophies on offense, Stoneburner caught 11 touchdown passes.
"A lot of tight ends, they might have their hand down in a three-point (stance), but they're running routes 60-75 percent of the game," he said. "I think that's going to play to my advantage because that's something that I'm used to – running routes and being able to catch the ball with playing receiver. I feel that could play to my strengths with that being one of the predominant things in the NFL."
He showed up to Indianapolis weighing 252 pounds, 10 more than his college playing weight. Fear not, though – the gain was all muscle. Another effective outing at Ohio State's Pro Day could send Stoneburner's stock soaring up the draft board.