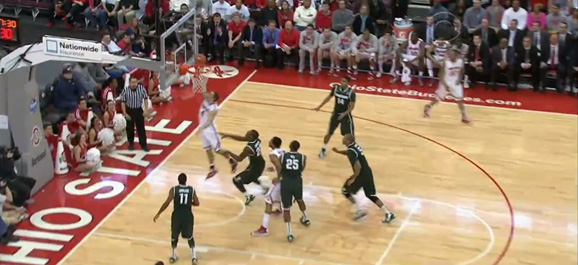 There are just two weeks left in the B1G's regular season and, while things aren't exactly settled completely, we're starting to see our 'best picture' of the likely final standings and tournament seedings. (Dig our topical Academy Awards reference!)
The Indiana Hoosiers got their Bachman-Turner Overdrive on, takin' care of business in East Lansing. With the win, Indiana closed in on both a B1G title and a No. 1 NCAA seed in March.
The Spartans went from contender to yet another longshot chasing Indiana with their loss Sunday in Columbus. It's not over, but the Hoosiers appear to be a safe bet to capture the 2012-13 B1G title now, although the Buckeyes and Wolverines each get a last shot at Indiana.
Minnesota and Northwestern continue to trend downward, while most everyone else held their position. Ohio State is one of those teams holding its spot, with only its additional loss in B1G play, and the beatdown in Madison, keeping the Buckeyes from rising above Wisconsin this week.
Here are our power rankings for this week:
1. INDIANA (24-3, 12-2)
We've reached the point of the season when we can start talking about teams that control their own destiny. No. 1 Indiana controls said destiny in the B1G after nipping the Spartans in East Lansing Tuesday, 72-68.
The Hoosiers outscored Michigan State 9-2 in the final 2:37 of the game to snatch a crucial road victory. Victor Oladipo scored six of those nine points on a go-ahead put-back, a breakaway dunk off an inbound play, and two clutch free throws to seal it.
Oladipo was outstanding, scoring 19 points, nine boards, five steals and a block. Cody Zeller added 17 points and five rebounds. Jordan Hulls and Christian Watford chipped in 12 points each for the visitors. Indiana won this game with defense down the stretch, despite almost derping away a late three-point lead.
Will Sheehey fouled Gary Harris in the act of shooting a triple. Harris, who entered the game as a 76% free throw shooter, missed the first of three with four seconds to play. He made the second and intentionally missed the third, but Oladipo rebounded and sealed the game with two freebies.
The Hoosiers visit the Golden Gophers at Williams Arena tomorrow night and return home to face Iowa on Saturday.
2. MICHIGAN STATE (22-6, 11-4)
The Spartans will be kicking themselves for the loss Tuesday to Indiana. Harris missed a layup and three of five free throws (one intentionally) in the final minute of the game, and Michigan State as a team scored just two points in the final 2:37.
Harris led the Spartans with 19 points and Adreian Payne added 17 with seven boards. Keith Appling was kept under wraps by Indiana's defense. The junior point guard struggled, scoring six points on 1/8 shooting (0/4 outside the arc) and 4/7 from the line. As a team, Sparty shot just 27% (4/15) from deep.
Michigan State dropped back-to-back games for the first time all season when the Spartans fell, 68-60, to Ohio State in Columbus on Sunday. Although Sparty shot pretty well from the field (46%) and outrebounded the Buckeyes (31-25), it committed too many turnovers (14) and couldn't handle Aaron Craft.
Appling had his second straight tough game, hitting only 1/6 and finishing with as many turnovers as points (3). Harris led the Spartans with 14 points and five assists. Payne posted a double-double on 12 points and 15 boards. Derrick Nix added 12 more points and six rebounds.
Michigan State is off until Saturday's trip to Ann Arbor for Round 2 in the battle for Mitten State supremacy. The earlier beatdown of Michigan is the only reason the Spartans are still ranked ahead of the Wolverines this week.
3. MICHIGAN (23-4, 10-4)
The No. 7 Wolverines played only once this week but made the most of it. Michigan dismantled the suddenly hot Fighting Illini in the second half Sunday, winning 71-58. TTUN outscored Illinois, 43-27, after halftime.
Trey Burke was stellar, scoring 26 points on 8/11 shooting, with eight assists, three boards and a steal. Tim Hardaway Jr. added 13 points and seven rebounds, with Glenn Robinson III chipping in 10 points. The Wolverines held slight advantages in rebounds and turnovers, but their 51% shooting helped the cause.
Michigan hosts Penn State on Wednesday before the rematch with Sparty on Sunday.
4. WISCONSIN (19-8, 10-4)
Jared Berggren and Ben Brust both scored 12 points and grabbed eight rebounds to lead No. 19 Wisconsin to a 69-41 beatdown of Northwestern Wednesday. The Badgers held the Wildcats to just 12 first-half points and 29% shooting for the game.
Wisconsin crushed the Cats on the boards, 43-19, and outscored Northwestern, 18-3, at the stripe and 27-9 from the bench.
The Badgers have home games this week against Nebraska (tomorrow) and Purdue (Sunday).
5. OHIO STATE (20-7, 10-5)
The No. 18 Buckeyes rode 19 points from Deshaun Tomas and a 16-0 run to crush Minnesota Wednesday, 71-45. Shannon Scott added 11 points, five assists, three steals and three blocks, with LaQuinton Ross tossing in 10 points.
While a 26-point win is nice, Wednesday night may have been more of a product of Minnesota's ineptitude during its current swoon. The Gophers turned the ball over an unbelievable 21 times and shot only 29% overall and 13% from the arc.
Ohio State's rebounding and interior play left a bit to be desired and the Buckeyes still did quite a few dumb things and had some prolonged scoring droughts. But they did win big, due mostly to a return to form defensively. Aaron Craft joined Scott with three steals and forced some shot clock violations.
Craft's career-high 21 points, six assists, three boards and a steal led the Buckeyes' upset of No. 4 Michigan State Sunday, giving Thad Matta yet another 20-win season. He and Evan Ravenel (10 points) provided unexpected offense to offset Thomas's 14 points on just 4/16 shooting (2/7 from the arc).
It was great to see Craft finishing at the rim for a change, and if he can do that with consistency, Ohio State can be very effective in the postseason. As Kyle told you, MSU Head Coach Tom Izzo praised Craft, saying, "In the second half, he tore us apart. He beat us every way you can beat us."
Ohio State played outstanding defense in the second half and outscored Sparty, 43-29, after the break.
The Buckeyes travel to Evanston Thursday to face Northwestern at Welsh-Ryan Arena Gymnasium.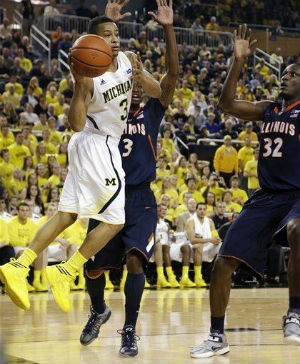 6. ILLINOIS (20-9, 7-8)
The Illini struggled, but still won their fifth straight game Thursday with a 64-59 home victory over Penn State. D.J. Richardson scored 18 points and Brandon Paul added 16 in a game that was anything but beautiful.
The Illinois bench outscored Penn State's, 11-0, in the game. The Fighting Illini enjoyed a 23-9 scoring edge from the stripe, despite shooting only 64% from the line. Penn State hit only 56% of its free throws. The Illini were hurt by not rebounding — the Nitts grabbed 11 more total rebounds and seven more on the offensive end — but helped by 31 Penn State fouls.
Richardson, Paul and Tracy Abrams each scored 10 against Michigan, but it wasn't enough. The Illini led by three at the half, but couldn't maintain their edge. The loss snapped a five-game winning streak, but dropping a road game against a top-10 team isn't a sign that Illinois is reverting to the earlier form during a streak of six losses in seven outings.
The Illini are off until Saturday, when Nebraska pays a visit to Assembly Hall.
7. IOWA (17-10, 6-8)
In a game originally scheduled for Thursday but postponed to Saturday due to a winter storm, the Hawkeyes got iced, 64-60, in Lincoln. Iowa blew a 16-point halftime lead and scored only 19 second-half points, falling behind on Dylan Talley's three-pointer with nine seconds to play.
Roy Devyn Marble scored 18 points for the visitors and Aaron White kicked in 15 points with 13 rebounds. Eric May added 10 off the bench. Iowa outrebounded Nebraska, 38-27, but shot only 37%.
The loss is a tough blow for Iowa, which had won three straight games and was trying to solidify its spot in the NCAA Tournament.
Despite losing to one of the conference's weaker squads, the Hawkeyes have trended much more upwardly recently than Minnesota.
Iowa hosts Purdue on Wednesday and visits Indiana on Saturday.
8. MINNESOTA (18-9, 6-8)
Andre Hollins scored 11 points with eight rebounds in the loss at Ohio State. Oto Osenieks chipped in 10 points and five boards. The rest of the Gophers did very little.
Hollins outscored all four of his fellow starters, combined. The other four posted nine points, with Joe Coleman and Rodney Williams failing to score. Both were in foul trouble early and didn't play much.
Tubby Smith's seat is getting warmer as Minnesota's struggles continue. The Golden Gophers have lost eight of their last 11 games after a 16-1 start.
To make matters worse, the Hoosiers visit Minnesota tomorrow night. The Gophers will entertain Penn State on Saturday.
9. PURDUE (13-14, 6-8)
The Boilermakers bombed Northwestern Sunday in West Lafayette, winning 74-43. Terone Johnson's 22 points and six boards led the way, as the undermanned Wildcats were never in the game.
D.J. Byrd scored 13 points, dished out five assists and grabbed four rebounds. Ronnie Johnson and Rapheal Davis added 10 points each.
Purdue shot 53% on the night, including 47% outside the arc. Meanwhile, Northwestern hit just 29%.
The win snapped a three-game losing streak for the Boilers, who will travel twice this week — to Iowa on Wednesday and Wisconsin on Sunday.
10. NEBRASKA (13-14, 4-10)
Talley's triple pulled Nebrasketball's feet out of the fire against Iowa, enabling the Huskers to get their third win in the last five games. Tim Miles has his team playing better of late. Talley led the way with 18 and Shavon Shields added 17 points and seven boards.
Importantly, four starters scored in double figures, as the Nebraska bench was outscored, 19-0, by Iowa's reserves. Brandon Ubel (12) and Ray Gallegos (11) also reached double digits.
Nebraska visits Wisconsin at the Kohl Center tomorrow and travels to Illinois Saturday.
11. NORTHWESTERN (13-15, 4-11)
Reggie Hearn scored 13 in the home loss to Wisconsin, but it took 14 shots to get there. The rest of his team scored only 28 total points.
Remember Kale Abrahamson's three-pointers at Ohio State? On Wednesday he went 0/5 (0/4 from the arc) and failed to score. Abrahamson will be happy to see the Buckeyes return to the schedule this week.
The curb stomping in West Lafayette Sunday evening was the fifth straight loss for Bill Carmody's Wildcats. Tre Demps scored nine points on 4/10 shooting and no Cat reached double figures.
If Carmody's seat isn't white hot right now, despite Northwestern's rash of injuries, it should be.
The visit from the Buckeyes Thursday is the only game on the Wildcats' schedule this week.
12. PENN STATE (8-18, 0-14)
Jermaine Marshall scored 20 points and Sasa Borovnjak added 17 in Penn State's loss at Champaign Thursday. Two Lions fouled out and four others finished with four among the team's 31 fouls.
The Nitts also turned the ball over 15 times. Penn State finished the first half with just 20 points.
Despite still being winless in the B1G this season, Penn State has been keeping games much closer of late, and has remaining contests against Northwestern and struggling Minnesota. Unfortunately, both are on the road.
The Nittany Lions host Michigan on Wednesday before visiting the Gophers at Williams Arena on Saturday.
NEW FRIENDS
Maryland (19-8, 7-7)
Maryland's topsy-turvy ACC season continues. After winning three of four and knocking off Duke to climb into the "others receiving votes" category, the Terrapins fell, 69-58, at Boston College on Tuesday. The Terps missed 22 of 26 shots during one stretch. But they bounced back Saturday with a 72-59 home win over Clemson, improving to .500 in the ACC.
Right now, the Terrapins would be ranked on par with Illinois or Minnesota.
Rutgers (13-13, 4-11)
The Scarlet Knights kicked off the week by blowing a 12-point lead at Villanova Monday night and losing to the Wildcats, 71-63. It was the eighth loss in nine outings for reeling Rutgers. On Saturday the Knights made it nine losses in 10 with a 76-72 home loss to Providence.
Rutgers would be ahead of Penn State in our rankings this week, but perhaps no higher than 11th.