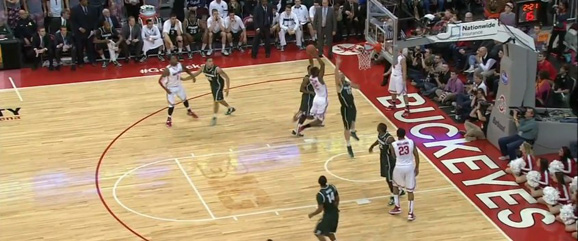 COLUMBUS, Ohio – All season long Ohio State has preached defense. It's been the offensively-challenged Buckeyes' key to hanging with elite opponents. But for the first 25 minutes on Sunday against Michigan State, defense was a missing link.
Then Thad Matta called a timeout.
The fourth-ranked Spartans led by six at the half thanks to a late 6-0 run and then hit a 3 to open the second half. After Deshaun Thomas countered with a 3 of his own to cut the lead to six, Matta quickly called a timeout.
No. 18 Ohio State responded with a 24-5 run, taking a double-digit lead. The Buckeyes never trailed again, winning 68-60.
"He just said he wanted us to be aggressive on defense, get some stops and create some turnovers," Thomas said of Matta's fiery message. "Momentum was on our side. That was big. Our defense led to our offense.
"When we become a defensive team, we can be the best in the country. That's what it takes, energy and effort. We got back to our defensive principles and played hard."
And that was precisely what happened. The blue-collar Buckeyes forced Michigan State into 14 turnovers – eight in the second half – and scored 19 points off of them. This after the Spartans shot 50 percent from the field in the first half. And that includes a 1-of-7 mark from long range. Counting only two-pointers, Michigan State connected on a robust 63 percent of its shots in the half. Twenty-four of Michigan State's 31 first-half points came in the paint.
"I just said, 'Enough, this has got to change,'" said Matta, about his animated expression during the timeout. "Fortunately, it did. They got the message today, and that was just a light version."
It was Aaron Craft who engineered the dramatics on both ends of the court. He finished with a career-high 21 points, three rebounds, six assists and a steal. It was the breakout performance Ohio State has been waiting for from Craft.
Better late than never.
"Give Aaron Craft credit," Michigan State head coach Tom Izzo said. "In the second half, he tore us apart. He beat us every way you can beat us."
On the defensive end, Craft forced Michigan State point guard Keith Appling into three turnovers and an underwhelming 1-of-6 showing from the field. Appling had just one rebound and one assist.

"He's the best defender in college basketball, no question about it," Matta said.
Craft's offense provided Ohio State with a major boost as Thomas, the Big Ten's leading scorer, had a rare off day. Michigan State limited him to 14 points on 4-of-16 shooting.
Taking it upon himself to help produce offense, Craft drove to the hoop time and again with little resistance from the Spartan defense. A handful of Craft's seven field goals were layups.
Izzo thought the point guard was more aggressive going to rim than he's been in the past, and he was right.
"After watching the first game, (Michigan State) did a great job of playing downhill," Craft said. "I don't think anyone did a good job of challenging their bigs."
After combining for only six points in the first half, Craft and Thomas tallied 29 after the break. The entire roster caught fire. Ohio State shot a dismal 34.5 percent in the first 20 minutes, but after a stern talking to from Matta, the Buckeyes found a rhythm that had been in hiding.
They shot 12 of 21 in the second half, including 4 of 7 from three-point range.
"Fifty-seven percent shooting in the second half, that shouldn't happen," Izzo said.
Evan Ravenel also got involved, scoring seven early points and finishing with 10 for the game, including two clutch free throws in the closing minutes. But it was a ferocious blocked shot that sent the sellout crowd into a frenzy.
With 25 seconds left, Michigan State had the ball down five points when Appling thought it was a good idea to attempt a layup with Ravenel waiting at the hoop. The ball ended up being swatted out to Shannon Scott near the three-point line, extinguishing the Spartans' chances of winning.
"I thought Rav was as effective as he can be," Matta said. "I was very, very pleased with how he played."
Dayton native Adreian Payne helped keep the Spartans in the ballgame, though. He had 10 rebounds in the first half and finished with 15 for the game. He also scored 12 points, with a block and a steal. Payne has developed into a bit of nuisance for the Buckeyes, playing at his best against his homestate school.
It was Payne who helped limit Thomas to his worst offensive output of the season.
"I think Adreian Payne has been our most improved player this season, there's no question," Izzo said. "He's done it with his brains, skills, rebounding, added strength. For him to defend was the final chapter. He took some pride in that. Adreian Payne has done a lot of good for us."
Gary Harris led Michigan State with 14 points, but his offense took a slide after halftime. The Spartans' Big Ten title hopes took a severe hit with the loss. They are now two games behind first-place Indiana with three games to play.
The win is just Ohio State's second against a ranked opponent in nine tries this season. But both wins have come against top-five teams – No. 2 Michigan and No. 4 Michigan State. Conversely, four of the losses have been to teams ranked inside the top 10.
The Buckeyes sit alone in fifth place, a half-game behind Michigan. The top four get a first-round bye in the Big Ten Tournament. It was also win No. 20 for Ohio State, meaning Matta is a perfect 13 for 13 in 20-plus win seasons as a head coach.
"I hope it propels us in terms of guys trusting the system," he said. "We're getting down to the nitty-gritty of college basketball. The adversity they fought and overcame – I'm proud of them. We'll find out Thursday night if it paid off."
That would be in quirky Welsh-Ryan Arena against gritty Northwestern, a team that always seems to baffle the Buckeyes. 
"We can't overlook Northwestern," Thomas said. "We have to come back tomorrow and continue to get better."