Each year, in the days and weeks following National Signing Day, fans across the nation get excited – maybe a little too excited – over the new kids in town. Visions of how they will help the team in the coming season start to come into place and labels as "the next great (enter position here) for University X" are placed on 17 and 18-year-old kids.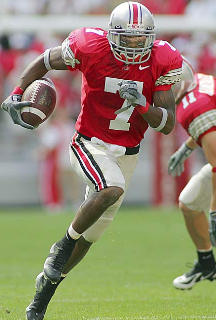 While some of these prophecies come true six to seven months following the signing of letters of intent, the straight facts are that most freshmen football players across the country make very little impact on their team's season in year one on campus.
Of course there are the exceptions like Ted Ginn Jr., Terrelle Pryor, Braxton Miller, and others, but if you take a look closely at each recruiting class for any college football program across the country, it is a rarity to have impact freshmen on the roster.
That being said, there are those exceptions, and with Ohio State bringing in possibly their best recruiting haul ever, it's worth taking a look at which of those players could be difference makers as Urban Meyer and his staff make a run at the national championship in 2013.
In this two-part series, we'll do just that, starting today with the offense. Join us after the jump to see which of Urban and Tom Herman's toys could see the field this season and make an instant impact for the 2013 Ohio State Buckeyes.
Quarterback
The Buckeyes brought in just one signal caller in the class of 2013 and that is early enrollee JT Barrett.
The 6-1/225 quarterback from Wichita Falls (TX) Rider was targeted early by Meyer and Herman and they landed their man early in the recruiting process. Barrett was a bit of a gem in the sense that many felt he was underrated by recruiting services a bit and would blow up his senior season.
That blow up was set to happen until a knee injury ended his season early and left him in rehab. Barrett is continuing that rehab currently at OSU after enrolling for spring semester, and is going through workouts with the team.
He is expected to throw, but not run, this spring and is supposedly on schedule to return by the opening game next year, but with Braxton Miller, Kenny Guiton and Cardale Jones on the roster, it's hard to imagine a scenario in which the star freshman doesn't redshirt.
I think, pending all goes well with rehab, Barrett has a bright future with the Buckeyes, but it won't start in 2013.
Running Back
Just like with quarterback, there is only one true running back in this class and that is Ezekiel Elliott of St. Louis (MO) John Burroughs.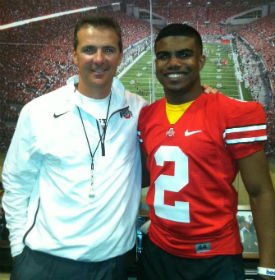 Like Barrett, Elliott was a player who flew under the radar a bit early, but the Bucks targeted him from the get-go and landed him on April 1, 2012.
Elliott is a big-time player who has the strength to line up in the I-formation and take it to you up the middle, while also possessing the versatility to move out to the slot and do some work in the passing game. He also has had success as a return man on special teams, which could come in handy when he arrives at Ohio State.
One again like with Barrett, depth could stand in the way of "EzE" seeing the field in 2013. Starter Carlos Hyde returned for his last season, while Rod Smith and Bri'onte Dunn both were in the rotation at times last year and will be back. On top of that, Warren Ball will be a redshirt freshman after coming off a foot injury that forced him out all of last season, and more importantly, Jordan Hall was granted a medical redshirt and will come back to play a hybrid running back/receiver role this year.
I like Elliott and he'll have every chance to get on the field in year one, but I just don't see how it wouldn't be worth redshirting him to create a year of separation between him and the competition.
In addition to Elliott, one player to note in this section is preferred walk-on William Houston. Houston has already enrolled at OSU this semester and will get a head start on his classmates in terms of workouts and spring practice. He is someone I could see earning a scholarship if there is one open before fall camp and I think he could be a factor on special teams and at fullback down the road. 
Wide Receiver/Tight End
The Buckeyes brought in five players in this category and they are Middletown (OH) ATH Jalin Marshall, DeSoto (TX) ATH Dontre Wilson, New Smyrna Beach (FL) WR James Clark, East Mississippi WR Corey Smith, and Riverside (CA) JW North TE Marcus Baugh.
Marshall is someone who will almost definitely see the field immediately in some capacity because he is an electric player. A high school quarterback who has only played receiver in camps and things of the sort, Marshall looked like a natural down at the Under Armour All-America Game and he is currently working hard to prepare for his first full season out wide. I see him in the "Percy Harvin" hybrid role Meyer used at Florida, and while I'm not sure how it will happen or how much it will happen, I'd bet some good money you see the ball in Marshall's hands this season.
Wilson was a high school running back, but is no stranger to catching the ball, as DeSoto utilized his tremendous speed and agility in the open field. The fact that he was a former Oregon commit should tell you enough about his skill set, and like Marshall I can see him getting time in the slot at the hybrid role. It will be on Dontre in terms of how much he sees the field in 2013, but one area I definitely think he can make an immediate impact is on special teams in the return game, as he is an exceptional talent in that area.
Clark was a bit of a late surprise for the Buckeyes, but they were very happy to land a true slot receiver of his caliber. Unlike the aforementioned players above, Clark won't play the hybrid, but he will be an inside receiver who is more likely to get the ball on shorter routes and use his speed to grab and go. The four-star prospect is good enough to see the field this year and will get every chance to do so, but between his fellow classmates and who is already on the roster, I'm not sure how often that will happen in 2013. I don't think he redshirts as of today, but I'm not sure he plays a ton of meaningful minutes.
Smith might be the biggest lock of all of the incoming receivers to see the field, since he comes already seasoned from the junior college ranks and plays outside receiver, where OSU really needs help. I truly believe that Urban Meyer will only take junior college players he believes will help his team from day one, and Smith, who only has two years of on-field eligibility remaining, falls into that bucket.
Finally, with Jeff Heuerman, Nick Vannett, and Blake Thomas on the roster it may be hard to see where Marcus Baugh sees the field, but this kid is one of the more underrated players in OSU's 2013 class and I think he makes an instant impact in a big way this year. Urban Meyer tells many tight end prospects they could be the next Aaron Hernandez for him in Columbus, but Baugh definitely has the combination of athleticism, strength, speed, and good hands to make that claim come true. I don't think there is really a player like him on OSU's roster currently and I look for Tom Herman to incorporate the four-star tight end into the offense however he can this fall.
Offensive Line
The Buckeyes would have liked to have bring in at least three offensive linemen in this past year's class, but only ended up with two. That being said, Tim Gardner and Evan Lisle are good ones and both have a chance to crack the two-deep this season.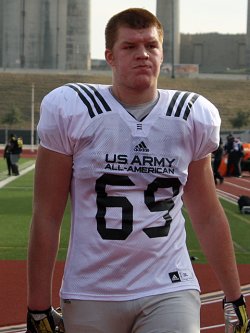 Gardner is set to play inside at Ohio State and will provide talent at both right and left guard this year. With both Andrew Norwell and Marcus Hall set to graduate following this season, 2014 might be where Gardner makes his big splash, but there is an opportunity to beat out Antonio Underwood for a spot in the two-deep in 2013.
That opportunity will rest heavily on how Gardner is training to get himself into shape for when he arrives on campus in June, but if history indicates anything, the kid who did that once just to earn his OSU offer will put himself in the best place he can to earn some early playing time this year.
Evan Lisle's high school system was supposed to put him behind a bit in terms of pass protection, but he proved all the doubters wrong during the US Army All-American Bowl practices in San Antonio back in January.
Lisle was extremely impressive, and while he needs to add some weight before fall camp, he is certainly athletic enough and disciplined enough to fight for a backup tackle spot behind Jack Mewhort and Taylor Decker. He will be going up against Kyle Dodson, Darryl Baldwin, Tommy Brown, and possibly Chase Farris (who I have at back-up LG, but can play OT too) for a spot in the two-deep at either right or left tackle, and if his strength is where it needs to be, I like those chances that he wins out for one of them.
Like Gardner, Lisle will not be starting in 2013, but I definitely see him playing a little due to low depth and his surprising improvement in pass protection this year.