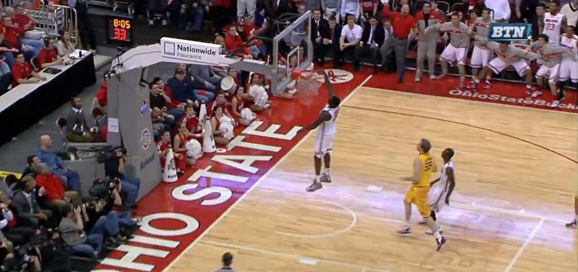 COLUMBUS, Ohio – Ohio State got win No. 1 in a make or break week. Coming off three losses in four games, the latest a complete embarrassment, the Buckeyes defeated Minnesota, who's also treading water, 71-45, on Wednesday.
And they did it using their identity: defense.
Minnesota was out of sorts all 40 minutes on offense. The Golden Gophers only scored one more point than their season low, shot less than 30 percent from the field and turned the ball over a season-high 24 times. It was a welcome change for Ohio State to have an opponent struggle on the offensive end.
"We played real well. We played with a lot of energy, we played with enthusiasm and a lot of heart," Ohio State's Deshaun Thomas said. "We played great defense. That's what Ohio State basketball is all about."
The motivation came from an unlikely source. It wasn't Buckeye legend Jerry Lucas, honored Wednesday night for being one of the best 75 players in NCAA Tournament history, that delivered a rousing pre-game speech. It was linebacker Ray Lewis.
The Baltimore Raven wasn't in Columbus, but rather head coach Thad Matta enlisted video coordinator Greg Paulus to find a speech that would be uplifting to a team in need of a spark.
"Believe it or not, I don't know a whole lot of what goes on in the world, but I kept hearing that guy's name," Matta said, sheepishly. "I told Greg to pull me up something unique."
What he found was Ray Lewis' message to the Stanford basketball team at last season's NIT, a tournament the Cardinal eventually won.
Asked what Lewis said in the video, Thomas responded, "It was a bad word," and then elaborated that the theme was effort, an area lacking in Sunday's listless loss at Wisconsin.  
"Wins and losses come a dime a dozen," said Lewis, emphatically. "But effort? Nobody can judge effort. Effort is between you and you. Effort ain't got nothing to do with nobody else. So that team that think they ready to seen you? They think what they seen on film. They ain't saw what film shows. Because every day is a new day. Every moment is a new moment.
"So now you got to go out and show them that you a different creature now than I was five minutes ago. Cause I'm pissed off for greatness. Because you ain't pissed off for greatness, that mean you OK with being mediocre."
Matta has delivered a similar decree the past few days.
"He didn't want us to forget the Wisconsin game," sophomore point guard Shannon Scott said.
Effort was not a problem against Minnesota, but the dividends didn't pay off immediately, as the first half quickly developed into a slopfest. The officials called 10 fouls in the first four minutes, slowing down the pace of the game considerably.
"We stayed aggressive," Thomas said, despite the whistles. "We didn't let it get in our heads."
It got so bad, so early that little-used freshman Amedeo Della Valle entered the game before the first TV timeout after Lenzelle Smith Jr. picked up two fouls.
"Amedeo has really played well the last couple weeks in practice," Matta said. "I like his energy, I like his basketball savvy. The biggest thing with that young man is he cares. Guys like that in this program have done really well for us."
Della Valle didn't score during his three first-half minutes, but he rewarded his coach – and the fans – with two 3s late in the game. They were the two loudest moments of the game. 
Once the Buckeyes got up to speed after the many fouls, they showed glimmers of why they're still considered one of the top teams in the nation's best conference. Ohio State scored 26 points off turnovers and had 10 steals and five blocks. The Buckeyes also outpaced the Gophers with 20 fast break points.
Ohio State used an 8-2 run to end of the first half with a 29-23 lead. The capper was an Aaron Craft 25-footer at the buzzer. Much of the offensive problems stemmed from Thomas starting slow. But after beginning 1-of-5 shooting, he finished 5 for his last 11, leading Ohio State with 19 points. Shannon Scott finished with 11 points and LaQuinton Ross added 10.
A 16-0 second-half run is what separated the Buckeyes from Minnesota and turned the game into an old-fashioned blowout. The highlight came on a fast break engineered and finished by 6-foot-8 big man Evan Ravenel.  He took possession of the ball at midcourt and raced to the basket, slamming it home with authority.
During the spurt, Minnesota went more than 10 minutes without a field goal.
"When things are not going well and you're making some bad mistakes, it's like a storm that starts to build on you," Minnesota head coach Tubby Smith said. "Ohio State was feeling pretty comfortable and was making shots, and we had something like five or six turnovers in that stretch. Even when we got a good look or had the opportunity to score, we did something else with it."
The intensity for Ohio State will have to stay at a high level, because the No. 4 Michigan State Spartans are the opponent this coming Sunday. And the Spartans arrive unhappy, having lost to top-ranked Indiana on Tuesday night. Michigan State is the seventh consecutive team Ohio State has played coming off a loss.
"We just need to treat that game like any other," Scott said. "We shouldn't think of it as any different from the game we just played. We just need to stay focused as a team."
It's just another week in the Big Ten.
---