Hello, Buckeye fans. We are exactly one month away from the start of the NCAA Tournament, and let's hope Ohio State rediscovers its defensive prowess before then.
Ever since the OT loss to Michigan, both teams seem to be a bit broken and each has reached its lowest ranking of the season in the latest polls. Ohio State is No. 18 while Michigan is No. 7.
During the Wisconsin game on Sunday, I nearly did something I never do and came close to turning the TV off well before the game was over. 
But I'm a completist. I suffered through all 15 hours of Les Misérables1 because I like to watch all the Best Picture nominees before the Oscars, so I sucked it up and watched the Buckeyes, well, suck it up. As displeasing as that game was — more of an eyesore than both their cursed alternate uniforms and that Rocky Dennis doppelganger Mike Bruesewitz — it's on to a new week and two more tough opponents.
First up is a typically mercurial Minnesota team2, who may be without Rodney Williams, thus denying us a dunk contest between him and Sam Thompson. A special guest, however, will be in attendance:
Then it's another Sunday game on CBS, this week against Michigan State. The Spartans have a huge matchup tonight in East Lansing against Indiana, their fellow conference leaders. Tipoff is 7 p.m. on ESPN.
While the outcome of that game may ultimately decide who wins the Big Ten regular season, I'm more concerned, of course, with how Ohio State responds to their latest drubbing and what it means for the team going forward. They were able to shake off the early conference loss to Illinois, and hopefully they can do the same now.
SEED OF DOUBT. Even though there's still quite a bit of basketball to play before the Tourney begins, at the same time, we're getting a better idea of who will make the Big Dance and who will be seeded where. To a point, that is. 
Rob Dauster of College Basketball Talk explains why, for example, he would give Illinois a higher seed than Ohio State, despite the Buckeyes' higher position in the B1G standings. Besides the head-to-head result, Dauster believes that the Illini's four wins over top 20 RPI teams make up for their bad losses, at least compared to Ohio State's resume, which lacks a key road win.
Jay Bilas, on the other hand, argues that Ohio State isn't getting enough credit. Apologies for linking to a paywall article, but I thought this was interesting:
Of course, when VCU plays teams tough and "almost wins," the basketball cognoscenti treat such losses as positives. Ohio State is not a great team, but this is a good team that should be a 3-seed or 4-seed in the NCAA tournament.
First of all, I've often wished that the word "cognoscenti" would find its way in more people's vocabulary, but his point is that although Ohio State doesn't have many wins against good teams, all their losses have come, more or less, against top-notch competition and that's clouding some bracketologists' judgment. 
Personally, I'm in wait and see mode. The Buckeyes have played like a 3-seed or better this season, yet their most recent performances make it easy to forget those halcyon days of a couple weeks ago and suggest that there's more wrong with this team than a brutal schedule. 
NO BIG LOSS. When it comes time to fill out brackets, we're always warned about picking a champion who has had a big loss, points-wise, on the season. After a week — and quite frankly, an entire season — that has seen its share of blowouts, Peter Tiernan of BracketScience.com breaks down whether a bad loss for a team means that an unforgiving March is on the horizon. 
Twenty years ago, eventual champion North Carolina3 fell to Wake Forest by 26 points during the regular season, but that's the exception, not the rule.
As Tiernan figured, "only three of the 28 champions in the 64-team bracket era have suffered a pre-tourney loss of 20 points or more."
He looked at the top 20 teams, at least according to last week's AP poll, and half of the them have been defeated by 17 or more points this season. Indiana, Kansas, and Louisville have not lost by double digits this season, and while that could speak well of their chances next month, this is also a strange college hoops year, one without a truly elite team. The usual criteria for a national championship may not apply this time around.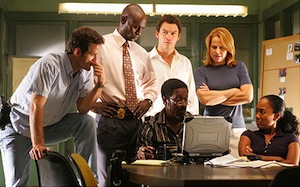 WAY DOWN IN THE HOLE. Ever since Yahoo! brought our attention to booster Nevin Shapiro and all the debaucherous yacht orgies at Miami, we've been waiting for the NCAA to hammer Da U. 
Then the NCAA naturally screwed up by abusing their power in the investigation and after the investigation about the investigation, vice president of enforcement Julie Roe Lach has been fired. Roe Lach gave the OK, against legal advice, for the NCAA to put Shapiro's attorney, Maria Elena Perez, on their payroll. 
NCAA president Mark Emmert is pretty much, "nothing more to see here, folks" and is ready to focus back on Miami now:
Emmert said the NCAA's investigation into Miami remains active and will go forward to the committee on infractions, likely ruling out a summary disposition in the case. But as a result of interviews stemming from two "tainted" depositions by Perez, the NCAA has thrown out 20 percent of its evidence in the case.
But Miami president Donna Shalala unsurprisingly feels that her school should be off the hook, saying, "we have been wronged in this investigation, and we believe that this process must come to a swift resolution, which includes no additional punitive measures beyond those already self-imposed."
The university self-imposed a bowl ban after both the 2011 and 2012 seasons, along with scholarship reductions. 
While this all makes it seem like the NCAA should hit itself with a lack of institutional control, the amount of corruption all around, the institutional failure, and the feeling that justice will not be served for anyone also brings to mind The Wire. As does this:
Yes, the NCAA used a burner phone to call Nevin Shapiro in prison. And paid Shapiro himself, their star witness, $4,500 for his cooperation.
Stringer Bell approved.
COMBINE FORCES. The NFL Combine starts this week and seven former Ohio State players, including Johnathan Hankins and John Simon, will take part. For those not invited to Indianapolis, Ohio State's pro day will be March 8. 
Players who either attended a smaller school or aren't coming straight out of college, however, may try to demonstrate their skills at a regional combine, such as one that was held on Sunday in Berea. Among the participants were guys eligible for the NFL Draft, like Akron's Quentin Hines, and older players who are trying to return to the NFL, like Glenville product and former Wolverine Pierre Woods.
There are 10 regional combines and the players who did the best in their drills are selected to move on to a super regional at Cowboys Stadium in April. Last season, 14 players who started at a regional combine made an NFL roster and 14 more were signed to practice squads.
LINK OUTSIDE THE BOX. Gene Smith says there's a "strong likelihood" that Ohio State and Michigan will be in the same division... Spring practice dates around college football... Crean being Crean... Manziel being Manziel... The Hamburglar is upping his game... Dog name trends... I had never noticed this suggestive Easter Egg in Prisoner of Azkaban before... Methopoly: Breaking Bad Monopoly.
1 I'm not anti-musical at all, but it was bloated, boring, and sterile with one-dimensional characters who I didn't care about. Definitely my least favorite of the Best Picture nominees. I mean, I had my issues with Amour but at least I could respect it on an artistic level. ↑
2 In what is becoming a common theme recently, Ohio State's opponent is coming off a hard-to-digest loss. ↑
3 They beat the Fab Five* in the title game. ↑