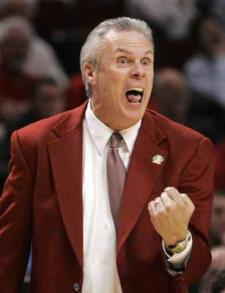 Life on the road in the Big Ten is brutal. And then, there's the Kohl Center.
Prior to the Buckeyes' win last season, they had gone more than 10 years without tasting victory in Madison.
Wisconsin wins at a better than 90 percent clip at home. Its win percentage against ranked opponents sits above 70 percent. In winning three consecutive Big Ten titles and five of the past seven, Ohio State head coach Thad Matta knows a thing or two about winning on the road. In fact, the Buckeyes have been victorious in more than two-thirds of their road games during their current three-year stranglehold on the conference. 
But throughout one of the most successful eras in Ohio State basketball history, the Kohl Center remained as a house of horrors. Even for the nation's best teams, winning on the road is no given.
"That's something that is a lot easier said than done," said Matta, of winning away from your home arena. "No. 1, it's just the competitive nature of how this league is. No. 2, it's the venues you go into. Every game is a challenging environment."
Ohio State learned that the hard way this season, posting a 3-4 record outside Columbus. Those four defeats came in some of the most hostile arenas against a handful of the best teams of 2012-13 – Duke, Illinois, Michigan State and Michigan. The only wins have come against Big Ten bottom feeders Purdue, Penn State and Nebraska.
"In this league, you have to protect your home court," Buckeye forward Deshaun Thomas said. "We know (Wisconsin) is going to have momentum from last year and say, 'We aren't going to let these guys come in and win here again.'"
With less than a month remaining in the Big Ten schedule, Sunday's game will have a major impact on the seeding for the Big Ten Tournament. If Ohio State wins, it will have a one-game lead and own the tiebreaker over the Badgers, giving the Buckeyes the inside track on the four seed.  
"(A win) ignites everybody and gives us confidence in our team," Thomas said. "If we get this big road win, it'd be good for us and the program. It'd be a big boost."
As Matta said, in the Kohl Center that's easier said than done.
Opponent
Three straight overtime games. Some players don't experience that many during a four-year career. Wisconsin has done so in the past week. The Badgers are 2-1 during that stretch, with the loss coming on Thursday at Minnesota.
Just as amazing as playing three consecutive 45-minute games was Wisconsin's 11 minutes without a field goal against Minnesota. Scoring lapses might be expected in games involving the Badgers, but not to that extent.
Bo Ryan-coached teams will never be full of one-and-done NBA talent or high-flying superstars. Wisconsin is a place that gets the maximum out of role players and slows the game down to a crawling pace. The shot clock begins with 35 seconds, and buddy, you better use all 35. When scores creep into the 70s and 80s, it's as if offense has become out of control.
Wisconsin is able to be so successful with its style of play because a) it is efficient on offense and b) the defense is usually confounding to opponents.
"We just find a way to get it done," senior Jared Berggren said.
Ain't that the truth. During Ryan's career, stretching back to 2001, the Badgers have never finished lower than fourth in the Big Ten. Once again, Wisconsin is flying under the radar. It sports an 8-4 record in the conference and has wins over Indiana and Michigan.
Not surprisingly, defense was the catalyst in each of those wins. Indiana was held to a season-low 59 points, while Michigan shot less than 40 percent from the field and was horrific from beyond the arc. But in the first matchup between Ohio State and Wisconsin this season, that patented Ryan defense was nowhere to be found. The Buckeyes shot better than 50 percent from the field and connected on 60 percent of their three-point attempts. Thomas, the conference's top scorer, had one of his finest games to date, finishing with 25 points on 10-of-17 shooting.
As previously mentioned, however, when ranked opponents invade the Kohl Center, they often leave a notch lower. And the better the team, the more likely the Badgers are to win. They're 6-1 in their past seven homes games against top-five teams. That, of course, includes the Buckeyes' stunning defeat two years ago, when hot-shooting Wisconsin upset then-undefeated Ohio State. This season alone, Wisconsin has five wins over top-15 teams at home and on the road.
"They will strike you quick," Matta said of the Badgers. "They'll shoot 3s, they'll push you in transition. To play two teams that are considered slow in pace back-to-back, hopefully it's a good thing. There's no doubt in terms of the focus, the concentration that you have to have, it has to be at an all-time high in games like this."
Even though this year's version of the Buckeyes is much less high octane, limiting possessions is still in Wisconsin's favor. Obviously it puts a premium on scoring, but it also forces opponents to play defense for long stretches. Against an already offensively challenged Buckeye team, fatigue can become another friend. 
That aspect is magnified by Wisconsin's propensity to shoot 3s. Berggren, Mike Brusewitz, Ben Brust and Sam Dekker are all viable three-point threats, and Ohio State allowed 11 to Wisconsin once this season and 11 to Northwestern on Thursday. But the rub for the Badgers is they rarely get to the free throw line. When they played Ohio State in January, they attempted zero free throws in the nine-point loss.
"We have to do a better job at guarding the three-point line," Matta said. "It's going to be huge in Sunday's game."
Buckeye Breakdown
The day-to-day life in the Big Ten has been ongoing for months now. With Ohio State experiencing its first season away from the top of the standings in four years, Matta said it's felt like a single-elimination tournament since January. That series continues on Sunday in Madison.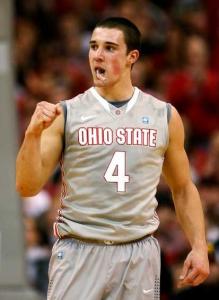 Ohio State and Wisconsin are jostling for position in the Big Ten title race and trying to establish firm footing for the Big Ten Tournament, which is fastly approaching. The Buckeyes already own one win over the Badgers, but a season sweep hasn't occurred in this series since 2004, when Wisconsin took both games from Ohio State.
"Guys are thinking about it," said Thomas, about the conference's pecking order. "If we lose one more game, it could be not our chance this year to win the Big Ten."
While players might be aware of it, Matta said he and his assistants don't make it a point to reveal that kind of information.
"Some schools have standing boards," Matta said. "We don't have that. We've never discussed it with our players. I don't think we've ever talked about a Big Ten championship in terms of that. I know they know. They understand where we are."
Thomas said he still thinks back to the losses. He labeled each one as a missed opportunity, even the thumping at Illinois. Those defeats carried the theme of coming against ranked opponents. Well, Wisconsin is ranked, so Ohio State will have a chance to prove it can beat some of the best – and do it on their floor.
Matta rarely loses, and when he does, it's almost exclusively to good teams. So when he gets asked the question, 'Why do you always have trouble at Wisconsin,' the answer is easy to come up with.
"Because they have really good basketball teams," he said.
"They've always got continuity to what they have in terms of vets, fifth-year seniors. I don't think you can ever put a price tag on that."
Get Smart
OSU: 84-66 all-time vs Wisconsin, winners of four of past six in series, but 28-43 in Madison.
Deshaun Thomas is 15 points away from his 2nd season of 500+ points.
Tim Brando and Bill Raftery have the call.
Wisconsin might not be the most athletic team, but the Badgers are experienced, disciplined and well-coached. When you combined all of that, it easily explains why they'd win a vast majority of their home games.
A year ago, Ohio State limped through February before finally coming together in March to win another Big Ten title and make a run to the Final Four. Thursday night's win over Northwestern was ugly, but it could be another starting off point for the Buckeyes, just like last season.
Ohio State's next three games represent golden opportunities: at Wisconsin and Minnesota and Michigan State at home. Win all three and you're playing with house money. Go 2-1 and you start to feel really good about yourself.
Even though they've lost to good teams, it would be understandable if some doubt starting creeping into the Buckeyes' minds. Losing has that effect, regardless of whether you've experienced "good" or "bad" losses. Establishing a new line of confidence with wins the next two weeks would be ideal with March straight out the front windshield.
"You can't change what happened in the past," Matta said. "We are where we are. You have to play forward. To sit and think, 'Hey, we're in second place or whatever it is and I wish we were in first and I wish we had done this or done that,' you can't change it."
All the Buckeyes can do is play their schedule and let things fall into place.
| # | Name | YR | HT/WT | PTS | REB | ASST | P | # | Name | YR | HT/WT | PTS | REB | ASST |
| --- | --- | --- | --- | --- | --- | --- | --- | --- | --- | --- | --- | --- | --- | --- |
| 4 | A. Craft | JR | 6-2/190 | 9.5 | 3.8 | 4.5 | G | 1 | B. Brust | JR | 6-1/195 | 11.2 | 5.3 | 2.6 |
| 32 | L. Smith Jr. | JR | 6-4/207 | 10.3 | 5.3 | 1.8 | G | 12 | T. Jackson | SO | 6-2/213 | 6.2 | 2.2 | 2.4 |
| 12 | S. Thompson | SO | 6-7/190 | 7.0 | 3.3 | 1.1 | F | 31 | M. Brusewitz | SR | 6-6/223 | 6.9 | 5.4 | 1.7 |
| 1 | D. Thomas | JR | 6-7/225 | 20.2 | 6.2 | 1.5 | F | 5 | R. Evans | SR | 6-6/208 | 10.6 | 7.8 | 1.9 |
| 23 | A. Williams | SO | 6-11/250 | 4.5 | 4.2 | 0.1 | C | 40 | J. Berggren | SR | 6-10/235 | 11.7 | 6.9 | 0.9 |