On Sunday, Ohio State added its fourth verbal commitment for the 2014 recruiting class, and the second of the day, when Lawrence Marshall of Southfield, Michigan, committed to the Buckeyes.
It was an unusual event for a variety of reasons. For one, Ohio State does not recruit often in the Mitten State. The state does not have elite talent that Ohio State could not find elsewhere, and without the hassle of trying to pry them from the Wolverines' grasp. Even if Detroit is good for a player or two in the national Top 100, it's often convenient for Ohio State to ignore the area and look elsewhere.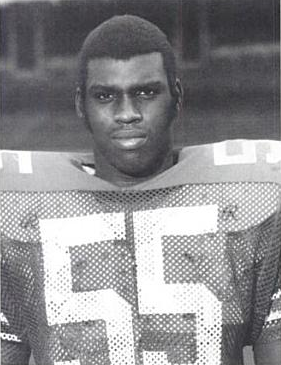 It's also unusual for Ohio State to get a recruit from Michigan that early in the process. A guy like Vernon Gholston extended the process into late January.
Further, Ohio State fans are used to it being the other way around. Michigan football needs Ohio football more than Ohio State football needs Michigan. Players from Dennis Franklin to Zoltan Mesko have left the Buckeye State to wear maize/sun and blue. In fact, that's been much of the lore in the rivalry.
Two of Michigan's three Heisman winners, and the only ones in our lifetime, were both from Buckeye-friendly northern Ohio. It was Marcus Ray, as fans may recall, who left Archie Griffin's high school alma mater in Columbus, Ohio, to matriculate north and find himself on a Sports Illustrated cover upending David Boston in 1997.
It's difficult to quantify perception, but the last five full Lloyd Carr recruiting classes attest to this, in part. From 2002 to 2006, Michigan signed 11 players from Ohio. In the same window, Ohio State signed only two players from Michigan: Vernon Gholston (2004) and Aaron Gant (2006).
Finally, what made Lawrence Marshall's announcement really unusual in that it was the second such prospect from which Ohio State got a verbal commitment in 2014. Damon Webb, a cornerback from the Cass Tech program in Detroit who was recently named by Rivals.com as the #32 player in the country for next year's recruiting class, had committed before him.
We can attribute a lot of this to the success of Kerry Coombs, the cornerbacks coach who made considerable inroads in Detroit while an assistant coach for the Cincinnati Bearcats. Now Coombs is just recruiting with more ammunition in what is familiar territory for him.
Still, there is something unique that Ohio State can sell. In fact, the recruiting pitch for Ohio State to players from up north is one that follows because of the rarity by which Ohio State adds prep school stars from that state. Because Ohio State does not add players to its roster from Michigan with regularity, and because high school stars from Michigan often do not think of the option of heading south to Columbus for college football, Ohio State has enjoyed the luxury of carefully selecting players who have turned out great.
Not every selection has been excellent (e.g. Ricky Bryant, James Jackson), but a lot of them have. It's enough to present as a package to recruits on visits who are beginning to entertain the idea of Ohio State as a destination, and it make a lot of sense.
Jerome Foster may not be the first prominent high school athlete from Michigan to land at Ohio State, but he is at least the earliest I can name. Jerome Foster was in the 1978 recruiting class, the last full Woody Hayes class. However, he redshirted his first year of eligibility and had four years with Earle Bruce. In short, he enrolled in time to see Woody Hayes punch Clemson's Charlie Baumann and started in time to be on an Ohio State team that finished the 1979 regular season undefeated.
A member of the 1978 recruiting class, he was from the same Kettering High School football team and graduated the same year as Stan Edwards. Stan Edwards, a tailback on that Kettering team, was one of the high school's most prolific athletes ever, a statement that rings true because the high school that was founded in 1964 closed doors in 2010. Of those two teammates, Stan Edwards signed with Michigan and Jerome Foster broke ranks and signed with Ohio State. Stan Edwards had a very good career at Michigan. It was so good that his son, Braylon, decided to follow in his footsteps as a "Michigan Man".
As for Jerome Foster, his decision to head south proved as fruitful as a decision to stick with one of the in-state programs. He was a four-year starter after his redshirt year and a captain in 1982. He finished his Ohio State career ninth in overall tackles (currently 15th), which is more impressive considering that Jerome Foster was a 3-4 nose tackle and 2/3rds of Ohio State's overall tackles leaders are linebackers. He also left holding the most tackles for losses in program history, though is now seventh on that list. Foster was drafted in the fifth round of the 1983 NFL Draft and spent five years in the league, very similar to high school teammate Stan Edwards' career trajectory.
The next familiar name that appears on this list is Pepper Johnson, a 1982 graduate of the former Mackenzie High School in Detroit. Pepper lettered every year for which he played while donning the scarlet and gray. As an upperclassman, Pepper led the team in tackles in 1984 and in 1985, with 140 and 141 tackles, respectively.
While this coincides with the emergence of Chris Spielman as a fan favorite as a true freshman and sophomore, it was Pepper Johnson's leadership that carried the Buckeyes into great outings in his final two seasons. As a result of Pepper Johnson's defensive presence, Ohio State won nine games apiece in Johnson's final two seasons, including a trip to the Rose Bowl in 1984 and a win over the defending national champion Brigham Young Cougars in the Citrus Bowl. He was a first team All-American for Ohio State, by way of Detroit, Michigan, and a two-time captain for the Buckeyes. Few others have shared this distinction. He still is sixth all time in career tackles.
While this, by itself, is a nice recruiting pitch while Kerry Coombs is "planting flags" around the Mitten State, it's Pepper Johnson's career after Ohio State that makes his success at Ohio State, by way of Michigan, a great story to tell recruits.
Drafted in the second round of the 1986 NFL Draft, Pepper Johnson has quietly been an example of excellence at the professional level. He had a 13-year NFL career, in which he was selected to two Pro Bowls. Further, he won two Super Bowls as a starting inside linebacker for the New York Giants and has won three other Super Bowls as a defensive assistant to Bill Belichick's New England Patriots team. Bill Belichick has had a lot of turnover in his coaching staff at New England through the years, but the Buckeye by way of Detroit, Michigan, has been a steady presence for him since Belichick took the job in New England.
The other name that comes to mind is one that Buckeye fans who came of age in the early 2000s will appreciate. While John Cooper's tenure in charge of Ohio State football saw him nationalize Ohio State recruiting, this usually resulted in forays into California, Florida, and Texas. Rare was the case that John Cooper and Gary Moeller/Lloyd Carr would butt heads over players in Michigan's backyard. Unknown to John Cooper at the time, he signed an important player in Ohio State's history when he accepted Craig Krenzel's letter of intent in the 1999 recruiting class. Krenzel, of Henry Ford II High School in Sterling Heights, Michigan, was an honorable mention All-American as a high school senior.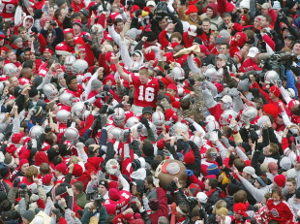 Krenzel redshirted his first year on Ohio State's campus, and his first year of eligible playing time also happened to be the last year for John Cooper in Columbus. Not known, before the fact, to be an heir apparent to Steve Bellisari when Bellisari finally graduated, he got the nod when Bellisari was suspended for the Michigan game in Ann Arbor on a drunk driving charge.
Shockingly, Craig Krenzel, along with first year head coach Jim Tressel, changed the course of the rivalry by securing the first win for the Buckeyes in Ann Arbor since 1987, which was Earle Bruce's send-off. Krenzel struggled in the Outback Bowl loss against South Carolina, but had established himself as the quarterback of the future in time for the 2002 national championship season.
Yes, a "Michigan Man" — rather, a man from Michigan — played a key role in turning around the fortunes of Ohio State football and leading the Buckeyes to a national championship, a role that can hypothetically be replicated by any ambitious prospect from our neighbor to the north.
The other name to note from Buckeye lore is the aforementioned Vernon Gholston, who signed with Ohio State for the 2004 recruiting class. Vernon Gholston's decision was unlike what we have seen recently from Damon Webb and Lawrence Marshall, who both committed very early. The alumnus of the famous Cass Tech program ("Michigan's Glenville") decided among the in-state Wolverines and Spartans, as well as the resurgent Iowa Hawkeyes program before deciding for the Buckeyes a month from his signing day. Ohio State had his last official visit and were able to get his verbal commitment just days after the official visit. Gholston admitted that Michigan was his second option.
Turning down the in-state Wolverine program in favor of the rival Ohio State program proved to be a beneficial one for both Gholston and Ohio State. For Ohio State, Gholston played an important role in signature wins against the Wolverines in 2006 and 2007, both of which gave Ohio State outright conference championships at the expense of Michigan. The 2006 game was not one people will remember for its defense, but still, Buckeye fans saw Vernon Gholston turn Jake Long inside-out routinely through the game.
In one play in particular, Gholston powered through Jake Long, and the pass protection of Mike Hart, to level Chad Henne after he had just released a pass.
The next year's contest was more about the defense. In this game, Michigan, and Jake Long, in particular, had no answer for Vernon Gholston. The Wolverines' offense was held to three points. Michigan's loss that game gave the tandem of Chad Henne and Mike Hart a perfect 0-fer in the series against Ohio State, the first time that had happened since 1960-1963.
It was a performance good enough to induce Vernon Gholston to forgo his final year of eligibility and declare for the 2008 NFL Draft. He was selected 6th overall by the Jets. While his professional career has been one that NFL observers would label a "bust", that first-round selection and that NFL money are still enough for conversation fodder in the living room of a Michigander thinking of taking his talents to Columbus for college football.
The next names to this list will be Johnathan Hankins and Reid Fragel, both who came to Columbus, Ohio, as a nice byproduct of the Rich Rodriguez era at Michigan. Both have intriguing potential to solidify themselves as the next great native Michigan products who have etched their names in Ohio State lore.
Hankins will surely be a first-round pick, providing yet another name for Kerry Coombs to mention when he's recruiting in Detroit. Reid Fragel has a lot of potential to be a dependable offensive tackle, which are always premiums in a pass-happy league.
After hearing of Lawrence Marshall's verbal commitment to Ohio State for the 2014 recruiting class, the thought had occurred that Urban Meyer and Kerry Coombs are going to cash in these bargaining chips that Ohio State, as a program, had acquired over the years. Ohio State's potential in successfully recruiting in Michigan comes because of its lack of a real tradition in recruiting Michigan. In this case, recruiting Michigan lightly in the past will help Ohio State recruit Michigan more heavily.
Because Ohio State football has been content to lock down Ohio, recruit elsewhere in the Midwest (e.g. Western Pennsylvania), and round out the roster with prospects from Florida and Georgia, it hasn't felt a need to bother with Michigan. Those players always choose among the Wolverines and Spartans, and, in the case of players like Randy Kinder: Notre Dame.
However, the tide might be changing. In early projections for 2014, the state of Michigan has three of the top 100 players in the country. As it stands, Ohio also has three of the top 100 players in the country, and one of them — the top one, Michael Ferns — committed to Michigan very early in the process. There is no time like the present to return the favor, as Ohio State has so far.
There is a lot more to be said about Urban Meyer's draw among recruits, as well as Kerry Coombs' diligence on the recruiting trail, in particular. The point to be belabored here is Ohio State is in great position to recruit players from up north precisely because it has not done much of this previously. As a result, Ohio State football has selected very well in the state of Michigan.
Because Ohio State does not need a certain percentage of the recruiting class from Michigan (or anyone, really), it can afford to be very choosy. The story it can tell a prospect like Damon Webb, or Lawrence Marshall, is not that he can be a Buckeye as if he would be just a percentage of the program, as there will always be some important percentage of Wolverines from Ohio.
Rather, a recruit can be a Buckeye and have an experience like a Jerome Foster, who had the career equivalent of his more famous high school teammate, Stan Edwards, at Michigan. He can break ranks from Detroit-area pressures and be a Buckeye like Pepper Johnson, who enjoys a very prominent place in Ohio State's NFL lore. He can be a Buckeye like Craig Krenzel, and put a mitten-outlined stamp on Ohio State's history forever. He can be a Buckeye like Vernon Gholston and essentially enjoy a heel turn that sees him terrorize the flagship institution of his home state. The road to the NFL is all the same.
Even if the recruit sitting in his living room hearing these pitches from Urban Meyer and Kerry Coombs may not have heard of Jerome Foster, or may not have thought much of Craig Krenzel's experience (if they remember it at all), these stories are still accessible. They're personalized stories of success for a recruit who may have never really thought of venturing south to Ohio State for football.
Recruits may like to hear stories like that, and Ohio State has these unique stories to tell.