Mornin', Sunshine!
Or, as it seems to be popular to refer to NSD as Christmas Day... Merry Day After the Day After Christmas, to you and yours!
HIGH SCHOOL PUNTER UPDATE. While Wednesday was obviously a fantastic day for Urban Meyer and his entire staff, Jim Tressel had to be smiling as well. Though it seemed that Vonn Bell's commitment to Ohio State would be the story of the day in Ohio, a high school punter managed to steal some of the five-star safety's thunder.
Johnny Townsend, an Ohio State commit since June, was expected to fax his NLOI to OSU at a ceremony at his school at noon on Wednesday. The ceremony was pushed back several hours initially, and then ultimately canceled. 
Speculation began as to what was going on behind the scenes and, while I won't discuss some of the more "out there" theories, the most common one was that circumstances had changed and his scholarship offer had been pulled. Townsend's father was adamant that was not the case, his scholarship offer still stood at Ohio State, and that the recent indecision was due to personal issues.
Yesterday, Townsend did fax his NLOI, only to Will Muschamp and the Florida Gators. Alex Gleitman reported that, though the situation was evolving, it was possible that his opportunities had changed once Urban Meyer landed Bell, Clark and Wilson. Later, however, the Orlando Sentinel interviewed Townsend, and reported that his opportunities only changed in the sense that Florida, his dream school, had offered him a scholarship in the 11th hour. 
In the interview, which you can watch here, Townsend talks about his personal history with the University of Florida, his respect for Ohio State and the coaching staff, and why he had to make this decision for himself to decommit and attend his dream school. Surely we can all respect that.
And, for those of you that can, Townsend had a message via Twitter for you last night:
S/o to the real #BuckeyeNation you all are the best fans and I hope my decision is respected and understood. #gogators

— Johnny Townsend (@johnnytownsend1) February 8, 2013
IF MAMA AIN'T HAPPY. One of the more bizarre stories out of the recruiting world this week, other than Reuben Foster committing to the rival of the team he had tattooed on his leg, was that of Alex Collins' mother confiscating his NLOI and refusing to sign it. The running back out of Plantation, FL, was set to commit to Arkansas, prompting concern from his mother about him being so far from home. Apparently, she had wanted him to attend Da U.
Well, now this story makes perfect sense. I can see why such a concerned mother would want her vulnerable son to be at a place that's battling allegations of hookers, yacht parties, and abortions paid for by boosters. To each her own. Collins eventually was able to get his father to sign his NLOI, and commit to Arkansas like he had intended. 
Yesterday, Forbes contributor and professor of Law Roger Groves presented an interesting take on the whole scenario with Collins' overprotective mother, analyzing the ways in which this control that parents can have over the NLOI until age 21 can influence college football on a much broader scale, and whether or not parents should be playing a more active role than they currently are in the decision making process.
So imagine the press conference where Ms. McDonald stands at the podium stoic as Condoleezza Rice, charismatic as Michelle Obama, and says,

"I have convinced Alex to attend a school that not only promised to take care of him, but actually did the best job of teenagers much like him. They earned the opportunity – and here is my list from which I found the right fit."
It's an intriguing perspective and I'll let you read through it, if you're interested, rather than paraphrase the whole thing for you; but, here's some other food for thought: You have to be 21 to not require a parent's signature on a NLOI to receive a scholarship? My mind is suddenly bombarded with all the other things you're allowed to do in this country at the age of 18, but this you need to be 21 for? Ridiculous.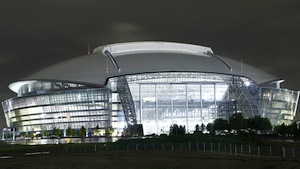 PLAYOFFS?! The BCS commissioners met on Thursday in Dallas to discuss the upcoming college football playoff system. While some information as to the new format has come out of the past couple months, the question still remains as to who will make up the selection committee that will decide the four teams that will have a chance to compete for the national championship each year, and was the biggest topic of the meeting on Thursday. 
The commissioners are envisioning something very much like the NCAA basketball tournament selection committee, with a football committee made up of 14-20 members, and including representation from each of the 10 FBS conferences. So, for all the people that are mad that a bunch of computers decide the two teams that get to play for the national title, get excited. Now you'll have a bunch of men deciding the four teams that get to play for the national title. 
From ESPN's Brett McMurphy:
The committee members could come from all walks of life, including former commissioners, former and current athletic directors and former coaches, Hancock said.

"We want experienced football purists, experts," Hancock said.

The selection committee will receive a "jury charge" from the commissioners. In ranking the teams, the committee will consider strength of schedule, where the games were played, conference championships and whether teams lost games because of injuries to key players.

In the playoff, the top four ranked teams -- as determined by the selection committee -- will meet in the semifinals. After those four teams are selected, the league champion or top available team from the Pac-12 and Big Ten will play in the Rose Bowl presented by Vizio, SEC and Big 12 teams in the Allstate Sugar Bowl and ACC in the Discover Orange Bowl.
If we're going to have a playoff, can we just fast forward to the eight-team format already? Doesn't Boise State whine enough as it is?
The commissioners are scheduled to meet again in April in Pasadena to discuss and announce more details about the first title game, scheduled to take place on January 12, 2015.
HOOPS. The 10th-ranked Ohio State Buckeyes men's basketball team plays host to the top-ranked Indiana Hoosiers this Sunday. That top rank, however, won't mean as much as it was supposed to when the Hoosiers head to Columbus this weekend, following their loss to the Illinois Fighting Illini Thursday night. 
Though the Illini got off to a 13-1 start, the month of January wasn't kind to them once conference play began. Illinois went 2-7 during this calendar year, up until their upset over Indiana this week. One of those wins was a steamrolling of Ohio State, perhaps making Illinois one of the most Jekyll and Hyde teams of this season. 
While not completely relevant to the game last night between the Hoosiers and the Illini, or the upcoming game between the Buckeyes and the Hoosiers, I just thought you might enjoy this. But be sure to grab some tissues.
LINKS. LINKS. LINKS. What. The. Eff... Messed around and hit a 65-foot prayer... Because you think it's stupid, but still have to get something... This is, apparently, a thing... Twitter was pretty awesome yesterday... This almost killed the fantasy...