On the eve of Super Bowl XLVII, Cris Carter was announced as one of the newest editions to the Pro Football Hall of Fame. Joining prominent names like Larry Allen, Bill Parcells, Warren Sapp, and Jonathan Ogden, among others, Cris Carter was given a hearty ovation from those in attendance at the Superdome when he was introduced with his fellow new inductions at the coin toss. A prominent fixture for NFL coverage with ESPN's crew, Cris Carter is well-regarded among consumers of professional football.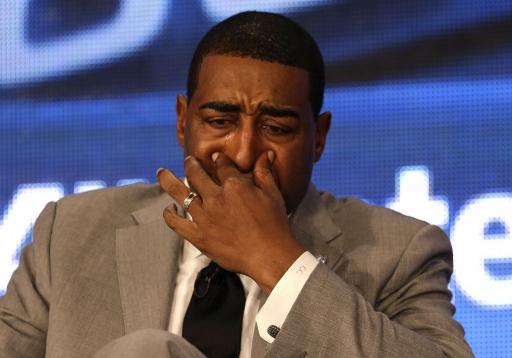 As a retired former player on the four-letter network, and well-liked by general consumers for the "C'mon, Man!" segment, the reaction from NFL patrons for Cris Carter's selection was almost a unanimous, "finally!" Carter was elected into the Pro Football Hall of Fame on his sixth year of eligibility, having been retired for a decade.
It was not the case that Carter's Hall of Fame credentials could be disputed. They can't be. Carter has 1,101 career receptions, 13,899 career receiving yards, and 130 career receiving touchdowns. He is 4th all time in receptions, 9th all time in receiving yards, and 4th all time in receiving touchdowns. The list of men ahead of Cris Carter in those multiple statistics include Hall of Famers like Jerry Rice, or future Hall of Famers like Marvin Harrison and Tony Gonzalez.
An eight-time Pro Bowler and All-1990s NFL Team player, it is any wonder it took six years for Carter to get this honor.
This was the same reaction from the legion of Ohio State fans. He will join Paul Warfield in Canton as the only other wide receiver and Ohio State product to have a bust in the Pro Football Hall of Fame, but it was Carter, and not Warfield, who was Ohio State's first All-American at wide receiver. Really, we can think of Carter as the foundation of Ohio State's claim to "Wide Receiver U".
Ohio State had some quality players that played wide receiver before Carter, such as Brian Baschnagel, Doug Donley, and the woefully underappreciated Garry Williams, but those players played on very run-heavy teams. Even a guy like Paul Warfield was more of a running back at Ohio State than a wide receiver.
But for Carter, do we have the foundations of the wide receiver pipeline to the National Football League. After Cris Carter came Joey Galloway. After Joey Galloway came Biletnikoff Award winner Terry Glenn. Terry Glenn left just in time for David Boston to arrive. After David Boston left, we enjoyed the likes of Michael Jenkins, Santonio Holmes, Ted Ginn Jr., Anthony Gonzalez, and Brian Hartline, among others. It started with Cris Carter.
Ohio State fans and general consumers of professional football alike were nearly unanimous in their joy that Cris Carter was finally elected into the Pro Football Hall of Fame. However, both sets of football fans seem to forget the gray area from 1987 to 1990. Ohio State fans forget and have understandably forgiven Cris Carter for the nature of his exit from Ohio State. Other football fans forget just how rough Cris Carter's pro career was at the beginning.
Cris Carter did not necessarily choose to forgo his senior season for the NFL Draft. The standard track these days for high profile wide receivers is to simply opt for the NFL Draft upon the first moment of eligibility, which is three years after completing high school. Carter, who had put a lot on film to demonstrate readiness for the next level, had actually decided to return to Ohio State for his senior season in 1987. However, he also decided to secretly sign with an agent before the senior season.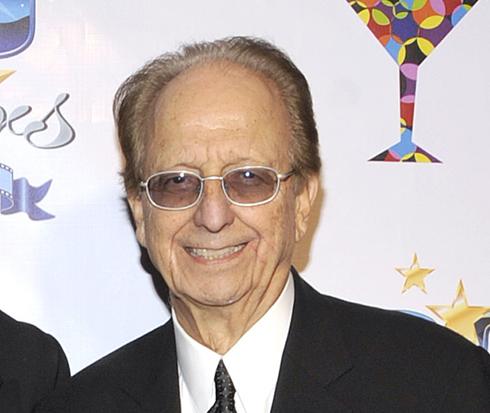 Enter Norby Walters, a guy that most football fans have forgotten as time has progressed. Norby Walters was the agent that signed Cris Carter to a professional contract under a shroud of secrecy. Walters was a new face in the world of sports. For many decades, Norby Walters made his name representing musical acts as a booker. He worked with prominent acts like Patti LaBelle and Kool and the Gang, among others. Only in 1985 at the age of 55, Walters decided to acquire a new venture: representing professional athletes.
His scope was ambitious. Walters didn't want to just diversify his portfolio, of sorts, by representing professional athletes; he wanted to corner the market. He combined forces with a 26-year-old attorney in New York City, Lloyd Bloom, to form World Sports & Entertainment, Inc. Their success was almost immediate.
Using a startup of around a $1 million investment, Walters and Bloom signed 30 top prospects. This included guys like Reggie Rogers and Rod Woodson, among many others. Maurice Douglass, now better known as the head coach of Trotwood-Madison High School, was among those represented by Norby Walters.
Walters' method was shrewd, if not 100% original. He would sign the top prospects he could while they were still in college and still exhausting their collegiate eligibility as amateurs. He would provide things like an interest-free loan and monthly payments, for which Walters would easily expect a return when these top prospects were drafted and signed to more lucrative deals. The scheme would work because no party had an interest to disclose the terms. The loyalty norm was strong. The athlete would enjoy the money now as a taste of what's to come, all without formally forgoing eligibility. In addition, Walters would sign the top prospect to a contract before anyone else could talk to the athlete, per NCAA regulations.
As a result, Walters lived lavishly. He flaunted his success in front of rival agents, who despised him as a result. Per Walters' words, he lived the life of a dope dealer, a unique choice of words to underscore the high life he was living and the notoriety he was enjoying.
For Norby Walters, Cris Carter was no different than anyone else he and Bloom targeted. In April 1986, before his junior season, George Carter — one of Cris' brothers, a former Illinois State basketball player, and convicted felon — was in Cris Carter's Columbus apartment and observed an unopened envelope from World Sports & Entertainment, Inc. The envelope contained a letter essentially floating a proposal by Cris Carter to be represented by Walters and Bloom, but it was George Carter that opened the envelope and read its contents. Shortly thereafter, George Carter flew to New York City, where World Sports & Entertainment, Inc. was located. It was all on Walters' dime.
George Carter seemed to have made it his mission to serve as a runner for Cris Carter and deliver him to World Sports & Entertainment, Inc. Lloyd Bloom soon flew to Columbus and drove around with George Carter and Cris Carter in Cris Carter's car. Bloom threw out the terms he was willing to offer, including an interest-free loan of $5,000 and payments to be made every month while Carter continued playing for the Buckeyes. After some pleading, and especially after being assured that Bloom could postdate the contract to January 2nd, 1988, Carter agreed. He was given $5,000 up front as an interest-free loan and was given $1,800 in monthly payments.
The scheme wouldn't last forever. The sheer visibility of Walters and Bloom infuriated rival agents, who had sound, if possibly incomplete, ideas of what exactly Walters and Bloom were doing. By 1987, other events seemed to tip Walters and Bloom's hand. On March 16th, 1987, Steve Zucker and Kathe Clements, the wife of current Packers' offensive coordinator Tom Clements, were found slashed and severely beaten in their Skokie, Illinois office. Walters and Bloom became immediate suspects of orchestrating the assault as both had accused Clements and Zucker of taking former clients of World Sports & Entertainment, Inc., some who were also alleged to still owe money to Walters and Bloom.
In coordination with another tip that Michael Franzese, a former New York mobster with the Colombo crime family, was part of the startup for World Sports & Entertainment, Inc., the FBI began its investigation into Walters and Bloom before unleashing what became one of the biggest scandals in collegiate sports history. Walters and Bloom were charged with racketeering, mail fraud, and conspiracy to commit extortion in connection with signing 44 athletes to professional contracts before their eligibility had expired. Walters was eventually sentenced to five years in prison and Bloom was sentenced to three years in prison.
Cris Carter was part of that fallout. Ready to begin his senior season, his name eventually emerged as part of Walters and Bloom's payroll. In addition, his brother, George Carter, appeared on the payroll as well.
Earle Bruce and the athletic department went into damage control mode and tried to plead the truth from Cris Carter, who steadfastly denied the claim that he had signed with an agent while still playing collegiately. After an intervention by one of Cris Carter's other brothers, Clarence "Butch" Carter (the former Hoosier basketball great), Carter confessed. With it, his senior season was over before it began and Carter petitioned for the NFL Supplemental Draft.
A severely disappointed Earle Bruce could not bring himself to soften his words about Cris Carter. While noting he hoped to forgive Cris Carter for lying to his face about signing with Norby Walters, he added it would be difficult to forget his lies. They were costly too.
Carter, a preseason Heisman candidate, proved to be the vehicle of Ohio State's offense in 1987 in absentia. A preseason #5 team with quality players like Chris Spielman and Eric Kumerow, Ohio State's offense sputtered without Carter. Tom Tupa had no one to whom he could deliver the ball if Vince Workman, George Cooper, and Carlos Snow couldn't successfully run the ball against stacked defenses. A three-loss stretch in November ultimately led to Earle Bruce's dismissal before the Michigan game.
For his role in this scandal, Cris Carter confessed to and was convicted of obstruction of justice and mail fraud. His cooperation with the investigation led to a lighter sentence of a $15,000 fine and 600 hours of community service.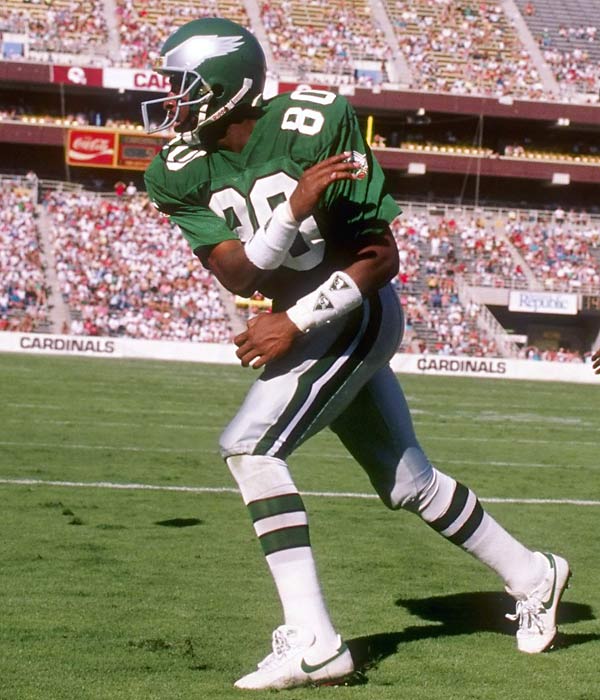 Taken in the 4th round of the 1987 NFL Supplemental Draft, Carter did not have an immediate impact. He played in only nine games his rookie year, finishing with 5 catches for 84 yards and 2 touchdowns. This improved in his second year in the NFL. Carter started all 16 games for the Eagles and finished the season with 39 receptions, 761 yards, and 6 touchdowns.
It was his third year that proved to be his undoing. By all accounts, his statistics took a turn downward in his third year. He finished with 45 receptions, but for 156 yards less than the previous year.
He did finish with 11 touchdowns on the year, which was third in the NFC in 1989. However, nearly one quarter of his receptions going for touchdowns was not enough to impress then head coach Buddy Ryan. When Buddy Ryan made the surprising decision to release Cris Carter before the start of the 1990 NFL Season, he punctuated his disappointment in Carter with the infamous statement of "all he does is catch touchdowns."
On the surface, this is preposterous statement by Buddy Ryan, but a deeper inspection reveals a hidden truth. Buddy Ryan was so disappointed in Carter's inability at that point to move beyond a simple red zone threat that he believed he could be replaceable. In Ryan's view, Carter had plateaued as a receiver and was not a consequential component of a team that had made the playoffs in 1988 and 1989. It's easy to think of Buddy Ryan's infamous quote as hare-brained, but there is a lot of truth hidden in that dismissive statement.
The other truth to Cris Carter's career trajectory at this point was his drug addiction. Carter had not taken care of himself during the offseason. In lieu of a strict training regimen, Carter spent more time ingesting copious amounts of alcohol and a variety of illicit drugs, ranging from marijuana to ecstasy. Just four years after being considered high priority to sign to a secret contract by Norby Walters, Carter was on the verge of being a disgraced Ohio State alumnus (albeit one who left with multiple career records) and an NFL bust.
The Minnesota Vikings grabbed him on waivers for the 1990 season. With his career at a crossroads, Carter got himself clean (with encouragement from former coach Buddy Ryan) and began training and taking care of himself in earnest. It took him a year to earn the trust of the Vikings coaches, but his career took off in 1991. He finished that season with 72 receptions and 962 yards. His career only moved forward from that season. He made his first Pro Bowl in 1993. He made his first All-Pro team in 1994.
The rest? Well, that's why he's going to get a bust in Canton, Ohio in August.
It's easy for NFL fans to forget just how grim Carter's career was when he started, and how ignominious his entry into the NFL was. It's easy for old and new generations of Buckeye fans alike to forget how Carter concluded his Ohio State career abruptly, and in disgrace. That is one of Cris Carter's many triumphs. We forget that ugly period in Cris Carter's career from 1987 to 1990 because Carter had worked his ass off so that we would forget. Carter was not unique in having a career stuck in neutral, or in having a life that was spiraling out of control. But his turnaround is fairly unique in the broad scheme of things.
I tend to see two molds of hall of fame athletic careers that get told as such a stretched narrative that they almost become tropes. One is the athlete growing up in adverse circumstances who uses his athletic craft as a release and an escape, ultimately finding fortune and glory. The other story is one of consistent excellence, for whom proficiency in sports is almost second nature and for which their athletic brilliance overawes us all.
Cris Carter's story draws elements from both, but his road to Canton, Ohio, is one he paved for himself.
It's convenient to think of "setbacks" and "obstacles" in professional sports as athletic hurdles (usually championship games or injuries) that need to be cleared, such as John Elway's two career-ending Super Bowl wins or Steve Young's "monkey" he finally got off his back in Super Bowl XXIX. Cris Carter's obstacles were self-imposed. It was his decision to follow the lead of his brother George, who was just released from an Illinois state penitentiary after serving 16 months for burglary and forgery. It was his decision to purposely fish for reasons to accept a contract from Lloyd Bloom, ultimately leading to convictions on mail fraud and obstruction of justice. It was Carter's decision to forgo offseason training regimens in lieu of drugs and alcohol. It was also Carter's decision to commit himself to overcoming those obstacles.
The takeaway from Cris Carter's career trajectory between 1987 and 1990 is the truism that nothing is perfect, and no one is perfect. Excellence isn't perfect. It's too easy to think of those terms as synonymous or, worse yet, equivalent. It's also easy to be misled when watching hour-length documentaries of your favorite athletes, for whom the athlete and his character are infrequently questioned while athletic shortcomings are overanalyzed. That Cris Carter's career was far from perfect, and wasn't the consistent stretch of excellence we have observed with current household names like Tom Brady and Peyton Manning, doesn't make it any less special. For this observer, it makes it all the more impressive.
When the legion of NFL fans, and likely Ohio State fans as well, flock to Canton, Ohio, in August to see Cris Carter's Hall of Fame bust unveiled, the enthusiasm from everyone involved will be as if 1987-1990 didn't happen at all. When Cris Carter finally earned that enshrinement, it's because he turned the corner in his life and career in such an impressive manner that we forgot about that four-year stretch.
And, who knows, maybe Earle Bruce has forgotten about it too.