We've reached the halfway mark in a grueling B1G basketball schedule. While there's still a long way to go, and anything can happen, the beginnings of a pecking order are starting to take shape.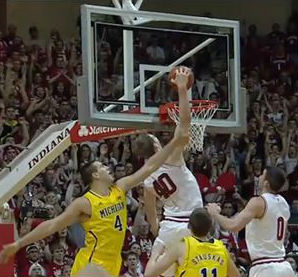 The Wolverines and Hoosiers locked horns in prime time on Saturday night as the No. 1 and No. 3 teams in the country, respectively, and represented the conference quite well (more on that game below). The two teams that appear to be the best in the league, at this point in the season anyway, will meet again in Ann Arbor at the end of the regular season.
The Spartans and Buckeyes are waiting in the wings in case the Hoosiers and Wolverines should stumble. Beyond that, it appears that everyone else is battling for fifth place on down. But still, there are a lot of hoops yet to shoot. A key injury or a sudden slump could turn the title chase on its head. I mean, where would Michigan be without Trey Burke? Or Indiana without Victor Oladipo?
Ohio State, as Kyle told you, kept pace with a win on Saturday night. The Buckeyes are just one game out of the B1G's top spot at the midway point of the season. The road ahead is tough, with two games against the Hoosiers still on tap, plus a trip to Ann Arbor this week, a trip to Madison, and the return leg against Sparty.
Still, despite this year's obvious flaws, Ohio State seems to be improving as we move along. A fourth consecutive B1G title will be difficult, but at this point it isn't out of the question.
This is how the rankings shake out this week:
1. INDIANA (20-2, 8-1)
The Hoosiers reclaim the top spot in our rankings with their 81-73 home win Saturday night over Michigan. Cody Zeller scored 19 with nine boards, and all five Indiana starters reached double figures.
The game ultimately lived up to its hype, but the first half looked a lot like Michigan's trip to Columbus, with the Hoosiers threatening to blow TTUN out of the building. Oladipo added 15 and Christian Watford threw up a double-double with 14 points and 10 rebounds.
Despite 16 turnovers, the Hoosiers prevailed by hitting 52% of their shots and beating Michigan on the glass, 36-22. A 25-7 advantage in free throw attempts didn't hurt either.
Indiana started the week by dropkicking in-state rival Purdue, 97-60. Zeller dropped a dub-dub with 19 points and 11 boards, and all five starters reached double figures. Watford and Oladipo each chipped in 17 points.
Indiana won on the glass (34-23), in turnover margin (+10), hit 49% of its shots, and scored a sick 1.44 points per possession in a complete domination of the Boilermakers.
The Hoosiers hit the road this week, visiting Illinois Thursday and Ohio State on Sunday.
2. MICHIGAN (20-2, 7-2)
The Wolverines prepared for their showdown in Bloomington by slapping Northwestern around, 68-46.  Once again, Trey Burke set the tone for Michigan, scoring 18 points to go with his eight assists, four rebounds and two steals. Burke is emerging as a national POY front runner, which proves once again that nothing good happens for TTUN without the help of someone from Ohio.
Glenn Robinson III helped the cause with 13 points and Jon Horford had a good game, with 10 points, seven boards and three blocks.
In the B1Ggest showdown of the week, Burke poured in 25 points, with eight assists, five rebounds and two steals. Tim Hardaway Jr. chipped in 18 points, but the Wolverines were exposed inside.
Michigan overcame a large early deficit, but a late 7-2 run ultimately was its downfall. By acquitting themselves well on the road in Bloomington, the Wolverines slide only to our second spot.
This is a crucial week for Michigan. The Wolverines will try to avenge their loss in Columbus tomorrow night on their home floor. They travel to the Kohl Center Saturday to face the Badgers.
3. MICHIGAN STATE (18-4, 7-2)
Michigan State kept pace with the conference leaders, winning its only game of the week. Keith Appling bounced back from a tough game at Indiana by dominating in Michigan State's 80-75 home win over Illinois Thursday.
Appling tallied 24 points, eight rebounds and seven assists. Branden Dawson added 12 points and was one board shy of a double-double, and Gary Harris kicked in 14 points.
Sparty shot a torrid 59.5% and won on the glass, 29-22. It was the fourth straight MSU game decided by five points or fewer.
The Spartans host Minnesota on Wednesday and travel to Purdue on Saturday.
4. OHIO STATE (17-4, 7-2)
The Buckeyes took a big step toward keeping pace with the conference leaders by dealing with Wisconsin, 58-49, on Tuesday, as Kyle told you. Deshaun Thomas was in beast mode, with a game-high 25 points and four assists.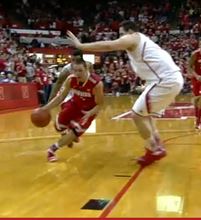 Ohio State shot 51% from the floor and hit three of its five three-point attempts. Aaron Craft added 13 points and a team-high seven rebounds for the Buckeyes, who won on the boards, 32-26.
The Buckeyes were almost, but not quite, able to throw away a 15-point, second-half lead at Lincoln. But this is Nebrasketball, so Ohio State prevailed, 63-56. Lenzelle Smith Jr. scored 21 to lead the way.
Deshaun added 15 points and six boards. Aaron Craft scored 14 points, six rebounds, six assists, two blocks and a steal.
Amir Williams was an unexpected force, grabbing eight rebounds and scoring seven points — all from the stripe. It's a good thing, too, because Evan Ravenel struggled, playing only 12 minutes without scoring.
The aberrant performance in Champaign is the only thing separating Ohio State with league-leading Indiana halfway through the conference schedule.
With back-to-back games at Michigan and home against Indiana, this week will reveal whether the Buckeyes can stay in the chase for a fourth straight B1G title.
5. WISCONSIN (15-7, 6-3)
The Badgers aren't a conference favorite this season, but they're solidly in the B1G's second tier, and they're lurking in case the front runners slip.
Traevon Jackson's 12 points led Wisconsin in the loss at Ohio State, and Jared Berggren added 11 points and nine boards.
Wisconsin fell in love with the three-point line in Columbus, jacking up 28 versus Ohio State's five. For a while it worked. The Badgers led much of the game until the shots stopped falling in the second half. They finished 11/28 (39%) outside the arc, but were only 8/24 (33%) on two-pointers.
The Badgers got back on track Sunday with a solid road win at Illinois, 74-68. Ben Brust led Wisconsin with 20 points, despite missing both technical free throws to open the second half. Frank Kaminsky added 19 points, playing for Jared Berggren, who ran into foul trouble.
Wisconsin hosts Iowa Wednesday and TTUN Saturday. Yes, sadly, you might actually have to root for Bo Ryan this weekend.
6. MINNESOTA (17-5, 5-4)
The Golden Gophers snapped a four-game conference skid Tuesday, crushing Nebrasketball at Williams Arena, 84-65. Rodney Williams filled the stat sheet, leading Minnesota with 23 points, to go along with five rebounds, two assists, two steals, and a block.
Minnesota took care of the ball, committing only six turnovers, and destroyed the Huskers on the glass, 34-17. Andre Hollins added 14 points and Austin Hollins chipped in 13.
The Gophers made it two straight wins by finishing on a 7-0 run to defeat Iowa, 62-59, when Mike Gesell's three-pointer at the buzzer missed.
Minnesota shot 45% behind Austin Hollins (17 points, five rebounds) and Andre Hollins (15 points, six boards, eight dimes and two steals), but it was Iowa's inability to score down the stretch that tipped the scales.
Goldy Gopher visits East Lansing Wednesday before hosting Illinois on Sunday.
7. NORTHWESTERN (13-10, 4-6)
Center Alex Olah was the lone Wildcat in double figures in the loss at Michigan, with 10 points. Northwestern shot only 37%, including a dreadful 4/19 (21%) night behind the arc. Northwestern forced only two Michigan turnovers.
Northwestern turned the beat around on Saturday, because they love to hear percussion. Reggie Hearn's career-high 26 points led the Cats past Purdue, 75-60, in Evanston.
Dave Sobolewski and Jared Swopshire chipped in 13 points each for Northwestern, which shot 53% from the field and 42% (11/26) from three. And now, Northwestern has a better shot at the NCAA tourney than Purdue.
The Wildcats are off until Saturday, when they visit Iowa.
8. PURDUE (11-11, 4-5)
A.J. Hammons was a bright spot for Purdue in the beatdown against Indiana. Hammons scored 30 points, with five rebounds and five blocks, acquitting himself nicely against Zeller. Unfortunately, he got little help.
Ronnie Johnson scored 13 points, but the other three Purdue starters combined for eight points and the bench added only nine. With 18 turnovers, the Boilers were their own worst enemy.
Hammons started the Northwestern game on the bench because he was late for the team bus. It didn't affect is play, however, as he posted a double-double on 19 points and 13 rebounds — both team highs.
D.J. Byrd added 12 on 4/7 three-point shooting and the Boilers owned the glass, 39-27 (17-4 on offense), but poor field goal shooting (33.3%) was the difference. Terone and Ronnie Johnson combined to go 5/22 from the floor.
Purdue heads to Happy Valley tomorrow night to face Penn State, before welcoming the Spartans on Saturday.
9. IOWA (14-8, 3-6)
The Hawkeyes grabbed their third win of the conference slate in Thursday's 76-67 home victory over Penn State. Aaron White went beastmode, with 27 points, five boards and two blocks. Melsahn Basabe chipped in with a dub-dub on 10 points and 10 rebounds.
Iowa shared the basketball well, assisting on 18 of 20 made field goals.
The Hawkeyes scored only five points in the last 5:17 of the game and just nine in the final 7:14 in the loss Sunday at Minnesota.
Gesell led Iowa with 11 points and six boards. Zach McCabe chipped in 10 points off the bench. White was held to 10 points on 10 shots.
After the Hawkeyes visit the Kohl Center Wednesday, they'll play host to Northwestern Saturday.
10. ILLINOIS (15-8, 2-7)
Illinois is now 1-6 since beating Ohio State.
Surprisingly the Illini came up just short at Michigan State. Tracy Abrams posted 16 points, five rebounds, six assists and four steals. D.J. Richardson (14), Brandon Paul (13), and Myke Henry (11) also reached double figures.
The Fighting Illini shot 45% and won the turnover battle (14-8), but ultimately couldn't handle Appling. Nnanna Egwu fouled out in 25 minutes with six points and just one rebound.
Joseph Bertrand scored a team-high 17 for reeling Illinois against the Badgers, grabbing seven boards. Nnanna Egwu scored 14 and also pulled down 17 rebounds.
Paul started the game on the bench, playing 25 minutes and scoring 13 points on 13 shots. He missed his first seven field goal attempts.
It's another tough week ahead for the Illini, as they host Indiana Thursday and visit the Golden Gophers Sunday.
11. NEBRASKA (11-12, 2-8)
Ray Gallegos scored 30 points and the Cornhuskers hit 54.5% of their shots, but Nebraska still fell big at Minnesota. The Huskers committed almost twice as many turnovers as the Gophers (11-6) and were doubled up on the glass.
Brandon Ubel added 13 points and Shavon Shields had 10. Bench scoring was a problem. The Husker reserves were blasted, 23-6, by the Gopher bench.
The Huskers gave Ohio State some problems, beating the Buckeyes on the glass, 34-30 overall and 13-6 on the offensive end. David Rivers led Nebraska with 13 points on 5/7 shooting, grabbing six boards. Dylan Talley added 12 and Ray Gallegos chipped in 11.
Second-chance points made it a two-possession game late, but Nebraska's 37% shooting prevented the complete comeback.
Nebrasketball is off until Saturday, when the Nittany Lions visit Lincoln. The Huskers won the first meeting in Happy Valley.
12. PENN STATE (8-13, 0-9)
The Nittany Lions hit the halfway mark of the B1G schedule without a win. They seem more entrenched in the basement than any sports blogger. Let's face it, they've been awful.
In the loss at Iowa, D.J. Newbill scored 20 points to go with six rebounds, four assists, and two steals, but he also turned the ball over five times. As a team, Penn State coughed up the rock 17 times. You'll (angrily) recall that Ohio State forced only four turnovers in its meeting with Penn State.
Jermaine Marshall added 15 points, four boards, four assists, three steals and two blocks. Brandon Taylor fouled out in only 19 minutes.
Penn State hosts Purdue tomorrow night and visits Nebraska Saturday in what could be its final shot at a conference win this season.
NEW FRIENDS
Maryland (16-6, 4-5)
The Terps fell for the fifth time in seven games in a heartbreaking 73-71 loss at Florida State Wednesday. Michael Snaer's triple with 1.1 seconds remaining gave the Seminoles a season sweep. Maryland took out its frustrations on Wake Forest Saturday, crushing the Demon Deacons, 86-60. The Terps would be in the Minnesota/Northwestern range at this point.
Rutgers (12-8, 3-6)
The Scarlet Knights led by 10 at one point, but still lost their fourth straight game, falling 62-54 at Cincinnati in their lone game this week. Rutgers would reside in the bottom third of the B1G — certainly above Penn State and Nebraska, but not too much higher.