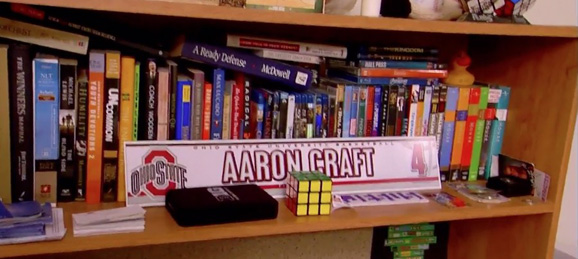 The road to 205 steals did not begin when Aaron Craft arrived at Ohio State. An ability to deceive defenders and perform thefts at a rate that would land him in jail if not done on a basketball court was instilled in Craft at a young age.
The son of a basketball coach, Craft began tagging along to practices not long after he began to walk and talk. 
"I think Aaron was three or four when he started going to basketball practice with dad," said Wendy Craft, Aaron's mother. 
It was then that a blue-collar work ethic was established in Craft. He may not be the tallest, fastest or most athletic basketball player around, but he made a promise to himself long before the bright lights of Division I college hoops that no one would outwork him. So far, Craft has delivered on that oath.
From extra hours in the gym with his tag-along kid sister, Cait, to doing defensive slides with bricks in his hands, Craft's football mentality shines through on the basketball court. He was twice an all-state quarterback and the 2009 Division V offensive player of the year.
"I love working out with him because he sees things I don't necessarily see myself," said Cait, a freshman on the Ohio State women's team. "It's very helpful and he's so supportive."
Diving for loose balls and taking charges have never been something Craft shies away from – not when you grow up playing on cement courts with an older brother. Craft quickly turned his attention to defense while playing against his brother, Brandon, and his friends. 
The competitive fire continued to simmer when the two boys returned home. Roughhousing in the Craft family home led to a few holes being punctured in the walls. Mom and dad just shrug now looking back on it.
In a recent win over Iowa, Craft dove headfirst for a ball that caromed over the first row of courtside seats. He nearly landed on his face when a fan put up their hands to try and brace him from the fall. Being the escape artist he is, Craft managed to get his hands down before hitting the ground.
"Don't scare me like that, man," sophomore center Amir Williams said to Craft after the game.
"When he wouldn't back down playing amongst all these nationally known players, we thought we had something."
It wasn't that long ago, however, that the prospect of Craft and Williams being teammates seemed far-fetched. Craft piled up wins at Findlay Liberty-Benton and teamed up with Jared Sullinger and an abundance of other future Division I stars on the AAU circuit, but he still couldn't draw that coveted offer from his home-state school. It eventually took Sullinger needling head coach Thad Matta for the elusive scholarship.
"Where (Aaron) made big strides was with his AAU basketball team," John Craft, Aaron's father, said. "We took him around to different events and let him take part in different camps. When he wouldn't back down playing amongst all these nationally known players, we thought we had something.
"But it's a real blessing having him with Coach Matta. He's a real salt of the earth person. The way Aaron approaches the game and academics and life in general, it's a perfect storm for Aaron with Coach Matta, Ohio State and the program."
The winds kicked up as soon as Craft stepped foot on campus. As a true freshman on a team that won its first 24 games and was ranked No. 1 for much of the season, Craft was able to distinguish himself from the core group of seniors. He was named the Big Ten's Sixth Man of the Year for his efforts.
In 29 minutes per game, Craft averaged 6.9 points, 4.8 assists and two steals per game. He led the conference in assists with 177 and was fifth tallying 73 steals. The highlight of the season came in the second round of the NCAA Tournament against George Mason, when Craft had a school-record 15 assists.
That style of play drew attention during his freshman season, but Year 2 at Ohio State is when the legend of Aaron Craft really took off. Not only was he named the Big Ten Defensive Player of the Year, Craft also drew the tab "Hottest Guy" of March Madness from Cosmopolitan magazine. The sensation grew even more when he fueled a Final Four run.
Taking notice was three of the best coaches in the game – Billy Donovan, Mike Krzyzewski and Tom Izzo. The ability to facilitate the offense combined with superb defense and a high basketball IQ describes every coach's dream point guard.
"He is as good as any guard there is out there," said Donovan, after Craft harassed his Florida's guards last season in an 81-74 Ohio State win. "I have a lot of respect and admiration for him. He is a tough, hard-nosed kid that probably does not get the proper respect he deserves."
Times have since changed, as evidenced by Sports Illustrated's recent profile on the Buckeye heartthrob. That's right, it's not just coaches that are starry-eyed when they see Craft. It turns out girls on Ohio State's campus also swoon for the point guard, albeit for different reasons.
Craft and his coach share an almost unbreakable bond. It's common for point guards and head coaches to have a more developed relationship than any other player-coach relationship in the locker room. The dynamic is similar to quarterbacks and head football coaches.
When Craft was mired in the biggest offensive slump of his career, it was Matta who delivered a vote of confidence, and it wasn't the hollow gesture the sports world has become used to.
"I have no problems with Aaron," Matta said in December. "I don't know as a coach if you could ever have a more secure feeling knowing he's out there. Yeah, I want him to score more, but that's going to come back for him. I have no doubt in my mind."
The confidence comes from Matta knowing Craft isn't one to get too high or too low. He always understands the moment and stays level. Matta also knows Craft can find other forms of production.
He's averaging 8.8 points, 3.3 rebounds, 4.7 assists and two steals per game this season.
After Craft had four steals and forced a five-second violation against a Northern Kentucky team that finished with 20 turnovers, head coach Dave Bezold didn't shy away from praising the pest that just ruined his Saturday afternoon.
"You can't simulate the defensive pressure of Craft in practice," Bezold said. "He is like having two guys on you. He changed the game in the second half to disrupt our offense. We wanted to send whoever he was guarding to the other end of the floor, so he couldn't get near the ball and disrupt our offense."
Keep in mind all this talk is about someone whose career points average is eight per game. But when you're a whirling dervish on the defensive end, shooting ills are exonerated.
"He's the best defender in college basketball. There's nobody better than him," said Matta. "What makes him a tremendous defender is a desire to be a great defender. He wants to be a defensive stopper. He wants to be a pest to the opposing team. He wants to create chaos."
Michigan point guard Trey Burke, a national player of the year candidate, has found out the hard way – twice. In the last two meetings between the Buckeyes and Wolverines, Burke has finished a combined 5 of 24 from the field with 12 turnovers.
"Craft is as good as there is and as I've ever seen," said Michigan head coach John Beilein, after Burke was limited to 4-of-13 shooting and committed four turnovers in a 56-53 loss at Ohio State on Jan. 13. "He's tremendous."
Craft set the school record for career steals last week, a mark that may never be broken considering he has a season and a half left in his playing career. The style change since he graduated high school has been drastic. As a senior, Craft averaged 26 points per game. His role in college might be different, but that doesn't mean the mindset has changed.
"Craft is as good as there is and as I've ever seen."
"There are so many other ways I can impact the basketball game to help the team be successful," Craft said. "You just have to find that and trust the coaches when they tell you what you should do. It can be tough at times, but winning and having fun with your teammates overrides being upset that you're not scoring or doing what you did in high school."
The term gym rat has been redefined by Craft. But it's not just outworking his opponents that makes him such a heady player – he also outsmarts them. He was named a first-team academic All-American last season, the first Buckeye to earn that distinction in 44 years.
"Aaron was one we never really had to worry about playing video games or sitting in front of the television for hours upon hours," John said. "He'd play for 30 minutes and then be bored. He's always been a go-getter, somebody who would always be doing things instead of sitting there idle."
That same sentiment holds true today, especially on the basketball court. Last season Craft set the single-season steals record at Ohio State with 98, a mark that could be threatened again this season.
But if there's one thing Craft dislikes more than allowing an opponent to drive past him unimpeded to the basket, it's talking about himself. Whenever he's asked about the many personal records he's set, Craft, naturally, goes on the defensive and deflects the praise.
"I can't even imagine what the number would be if Mike would've stayed," he said recently, alluding to the fact that Mike Conley Jr. left after one season. "Luckily, he didn't, and it worked out for him. It's working out for me, as well.
"It doesn't mean a ton in the middle of a season. We have much more important things to worry about, especially with this team. Maybe towards the end of the year we can kind of reflect back, but right now we have much more important things to talk about and worry about."
The future, at least two years down the road, also isn't at the forefront of Craft's thought process. He's drafting a remarkable legacy at the moment, but does the script end shy of the NBA Draft?
The thought was Craft's shooting shortcomings made him a complete liability. More and more, though, NBA teams are valuing defense, and that's where Craft provides a niche. Current 2014 mock drafts have him going in the second round.
"You want to play as long as you can, but we're still planning on nothing happening after college except for medical school," he said. "That's the mindset were trying to take right now and if something else happens outside of that, then that's great news. If not, I want to make sure I cover all my bases."
The basketball player using baseball terminology. Surely, Craft would have been Rickey Henderson.