Good mornin'.
It's Sunday morning in America again. The Super Bowl is just seven days away, which means there are only seven days for ESPN to ask out loud if Tim Tebow could have led the San Francisco 49ers to the NFC Championship.  
Meanwhile, there are sufficient doin's a-transpirin' with respect to the world of Ohio State sports that merit a Sunday Skull Session like this.
So, on with it.
 DERRICK GREEN COMMITS TO THE MITTEN STATE TEAM. Odd that the first item of the day involves Michigan recruiting, but it's a fairly noteworthy event.
On Saturday, Derrick Green announced a verbal commitment to play for the Wolverines this fall, capping a recruiting process that seemed likely to end with a commitment to Michigan as things neared conclusion.
However, Green's story is a little more nuanced than that. He was long thought to be a favorite for an Ohio State pledge. He grew up in Richmond, Virginia, a Buckeye fan and has always fancied himself as a B1G TEN tailback. He wears #27 in honor of Eddie George, his inspiration for football. He also had an Ohio State offer, so what happened?
A lot of things, actually.
Ohio State already has a small army of running backs, with Carlos Hyde returning for his senior season and Jordan Hall receiving a medical redshirt to return to action in 2013. Beyond that, Ohio State has Rod Smith, Warren Ball, and Bri'onte Dunn, in addition to Ezekiel Elliott in the 2013 recruiting class. Elliott committed first and Taivon Jacobs may have taken Green's spot as Ohio State shifted gears towards other needs. 
That Ohio State is getting docked another three scholarships this year means Urban Meyer is sort of precluded from taking fliers on prospects that don't address core needs for the roster. Undaunted, Green will get his wish to play in the B1G TEN and add his name to the rivalry, only wearing sun and blue in lieu of scarlet and gray.
Green's commitment makes him the jewel of Michigan's recruiting class and may solidify Hoke's class as best in the conference, if you care about that sort of thing (you shouldn't). Beyond the highest profile recruit in their class, he'll help address a glaring deficiency for next year's roster at tailback. Really, those carries next year could be all his if he pans out. He and the emergence of Devin Gardner will help soften some of the attrition from last year's team, especially its offense.
 DECOMMITMENTS ELSEWHERE IN THE B1G TEN. In my piece on Iowa football that aired Tuesday, I suggested that Iowa's problems are really par for the course for the rest of the conference. In large part, no one in the conference is recruiting on the level of Ohio State or Michigan. In fact, some key players from recruiting classes elsewhere in the B1G TEN have jumped ship.
Earlier this week, Nate Andrews, a cornerback prospect from Fairhope, Alabama, flipped to Florida State from his previous pledge to Minnesota. It was a noteworthy defection too. Andrews is a 3-star prospect, but was maybe the best Jerry Kill had in his recruiting class. Importantly, the Gophers are losing both starting corners from last year's squad, which may have been the strength of the entire defense. Andrews could have played right away, but felt the need to flip to something closer to home. It leaves the Gophers with 14 scholarship players to be added on signing day, which is battling Purdue for worst in the league.
More recently, new conference mate Nebrasky lost a wide receiver prospect, who decommitted to Auburn. As noted in the Buckshot, it did not go well either.
So, really, we're returning back to the observation that no one is really recruiting on par with Ohio State or Michigan at the moment. Speaking of which, one of the other jewels of Michigan's recruiting class, Henry Poggi, took a visit to Tuscaloosa this weekend. This weekend, his father and high school football coach put Big Ten recruiting on blast, sparing Ohio State and... no, that's it. Just Ohio State. Brady Hoke must be thrilled with that.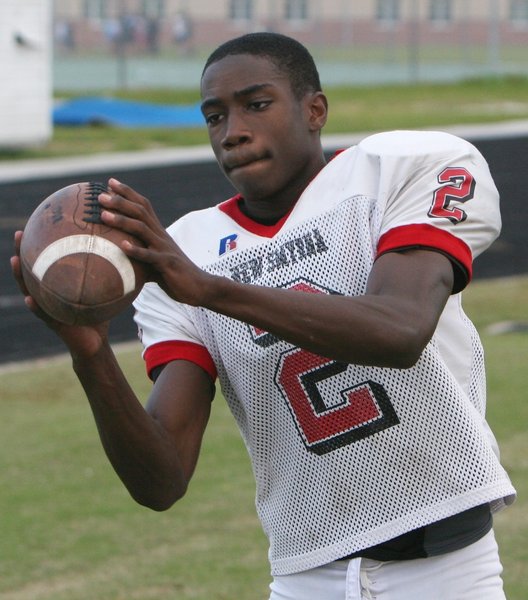 IMPORTANT RECRUITING WEEKEND FOR OHIO STATE. In Ohio State news, Urban Meyer and company are essentially finished with the 2013 recruiting class. There might be two more additions at the most. Other core needs have been satisfied, with one glaring exception: wide receiver. 
In particular, Ohio State really needs a "slot" guy at the "H receiver" in Meyer's offense. Nowadays, we commonly think of this as "the Percy position", which I think was also the collection of B-sides to Gary Numan's The Pleasure Principle.
Maybe priority #1 right now for Ohio State at that position is James Clark, who visited over the weekend. The recruiting crew at Eleven Warriors will keep you up to date on what to expect from a guy like Clark as signing day approaches, but James Clark himself essentially live tweeted his official visit. You can get a glimpse of how he saw things.
The other visit was Dontre Wilson, who is also being given a look at that H receiver position for Ohio State. He was apparently being chauffeured by early enrollee JT Barrett, a quarterback from Wichita Falls, Texas. 
If you follow Ohio State's assistants on Twitter, you can probably read between the lines to determine the staff was happy with Barrett's pitch to the visitors. According to our own Alex, the visit was going well.
Elsewhere, Ohio State commit Ezekiel Elliott took an official visit to Missouri this weekend. During the Tigers' basketball game against Vanderbilt, he was serenaded with chants of "M-I-Z, E-Z-E". For what it's worth, it sounds a lot like a courtesy visit. Buckeye fans should not worry.
MISCELLANY. The Senior Bowl was played yesterday. You probably didn't watch it, which is understandable since John Simon and Reid Fragel had to bow out of the game due to injuries. The South squad beat the North, 21-16...  Derek Dooley landed with the Cowboys as a wide receiver coach... Dick Vitale and The Schwab hit up the club.